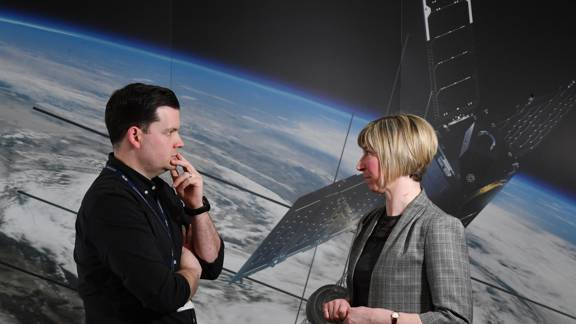 Scotland's reputation as an important player in the international space industry is strengthened by our aptitude for small satellite manufacturing, data analysis and earth observation. Discover why more than 8500 people are taking their space career to new heights in leading global businesses across the country.
The space sector in Scotland
8,500 people in Scotland

have a career in the space.

Scotland employs 18% of all space roles

that's more people in the space sector than anywhere else in the UK.

£4 billion by 2030

Scotland aims to quadruple development within the decade.
Scotland's space leadership
Scotland has the UK's fastest-growing space sector. From initiating the use of radar to discovering the composition of Saturn's rings, we're also accustomed to being first. We're doing it by: 
Developing Europe's first orbital spaceport
Building more satellites than anywhere else in Europe
Planning to grow to a £4 billion space industry by 2030
Employing 18% of all UK space roles — double Scotland's share of the UK's population (9%)
Your skills are in demand
Our climate conscious approach to space means we're generating jobs that are rewarding, green, and impactful. There are opportunities to build expertise in disciplines such as design, testing, manufacturing, and launching small satellites and vehicles. 
Explore roles in Scotland's space sector
We're consistently breaking new ground, so whatever your passion, and however niche your expertise, you'll find a home for it in Scotland.
How Scotland supports space
Scotland's culture of creativity, innovation and research is built on collaboration. When you work in Scotland, you join a connected space community offering unique opportunities to work across industry and academia. 
You'll also benefit from active government support, funding, and progressive policies. These include 2021 spaceflight regulations that allow the UK to be the first European country to launch spacecraft and satellites from home soil. 
When it comes to advancing your space career in Scotland, the opportunities span the entire sector. You can work in dynamic areas including fundamental and applied research, system design and spacecraft manufacture, launch and operations, and data processing and service provision. 
You can also take your career further in related fields like manufacturing and aerospace, engineering (especially software engineering). Or you can transfer your skills in other thriving specialisms like AI and Data.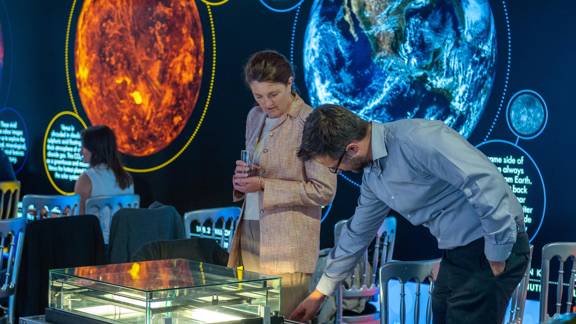 Space at a glance
Scotland's fast-growing space sector is built on broad expertise and experience in defence, electronics, aerospace, geospatial science, geophysics, subsea oil, and gas engineering. 
Just as importantly, steady funding and investment continues to increase job opportunities in exciting projects. Just two examples include:
A £29 million investment in developing launch operations from Scotland £29 million invested
A £23 million investment to expand Prestwick as a growing centre of excellence for space and aerospace 
Scotland is a powerhouse for small satellite manufacturers. In fact, we're on target to become the leading small satellite launch market in Europe.
The UK is also one of the founding members of the European Space Agency (ESA). This broadens your scope to be part of space programmes and activities throughout Europe and beyond. 
Scotland's outstanding record of industry and academic engagement is supported by 19 world-class universities and higher education institutions. From propulsion and space radiation to orbital dynamics and advanced materials, Scotland is the place to build a career in space innovation. 
Innovative and highly collaborative
Industries, innovation centres and universities work together in Scotland in a highly collaborative environment. Projects include: 
Quality of life
Scotland has lots to offer outside of work. 
 
Wherever you decide to work in Scotland, you'll discover welcoming communities, rich history and vibrant culture. Enjoy shorter commutes, world-class education, free healthcare, and plenty of green space on your doorstep. 
Building a career in Scotland comes at a lower cost of living than many other major locations.  You'll benefit from flexibility for hybrid and remote working while being fully supported by reliable digital connectivity. 
As one of the best-connected places in Europe, Scotland has six airports with daily direct flights to 150 destinations worldwide. We also have fast and frequent rail links to all parts of the UK.