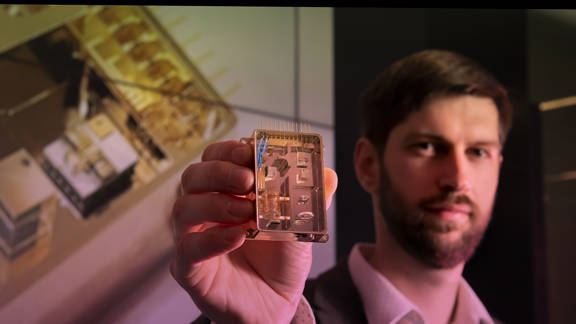 Fraunhofer's investment in Scotland takes quantum technology to another level
Last updated: February 2021
Scientists in Scotland are leading an ambitious £10 million project to drive the development of faster, thumbnail-sized technology using quantum physics.
Quantum technology from lab to market
Quantum technology involves exploiting the properties of atoms and photons – units of light – to develop ultra-high performance applications in areas including sensing, imaging, communications, and computing.
"We're investigating another level of the natural world of physics, and using the phenomena we find there to do things in a radically improved way," says Simon Andrews, Executive Director of Fraunhofer UK Research.
The organisation runs the Fraunhofer Centre for Applied Photonics opens in a new window , hosted at the University of Strathclyde opens in a new window in Glasgow, which is leading the £10 million QT (Quantum Technologies) Assemble project.
"Quantum technology is on a journey from incredibly precise, well-controlled scientific experiments through to smaller, cheaper, lighter, practical and robust engineered systems that will bring the reality of these exotic physics phenomena into real use," Simon explains.
"QT Assemble is a cornerstone project in that journey and is about assembling different optical components in a super compact, robust way.
"A typical lab experiment would involve huge tables laid out over a few square meters with hundreds of components. Reducing these down into a package that you could hold in your hand is a major challenge. So, QT Assemble is looking at a variety of different manufacturing technologies that will help do that, and make quantum tech a real market."
Scotland's thriving quantum technology ecosystem
Simon describes Scotland's quantum ecosystem as thriving and globally competitive and attributes its success to the nation's vibrant science base, world-class universities and well-established photonics cluster opens in a new window .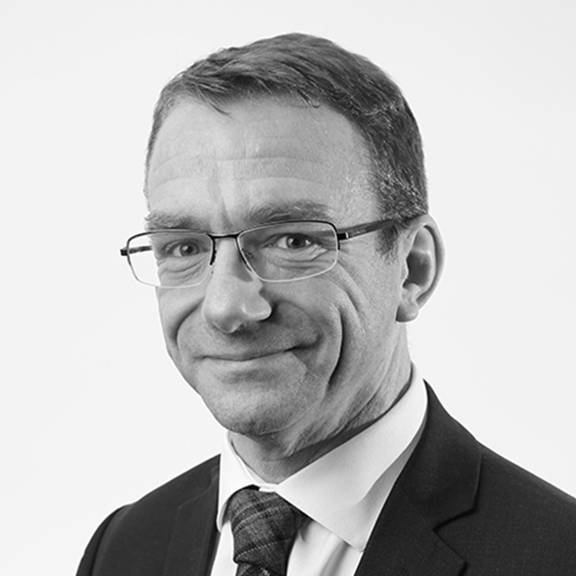 This legacy was key in attracting German research and technology organisation Fraunhofer-Gesellschaft to Scotland in 2012. Based in Munich, it operates 74 institutes and research institutions across Germany with 28,000 employees and an annual research budget of almost €3 billion. It also has a network of affiliated research centres in countries including the US, Portugal, Italy, Austria and Chile.
The organisation is named after Joseph von Fraunhofer opens in a new window , a Bavarian physicist and optical lens manufacturer who is credited with putting Germany at the centre of the world's optics industry in the 1800s.
"Fraunhofer-Gesellschaft has been around for 70 years and is well known as the global gold standard in technology transfer between universities and industry," Simon explains.
"Lots of people will tell you that's why Germany has an incredibly successful engineering and manufacturing sector, because they have a really good applied R&D development engine in their economy."
When the UK Government asked Fraunhofer-Gesellschaft in 2009 how it might develop a similar model, it led to the creation in 2012 of the organisation's first UK research centre, the Fraunhofer Centre for Applied Photonics (CAP), which is based in its own labs and offices at the University of Strathclyde in Glasgow. Since then it's become an established and respected asset that helps Scottish businesses harness innovation for their development and growth.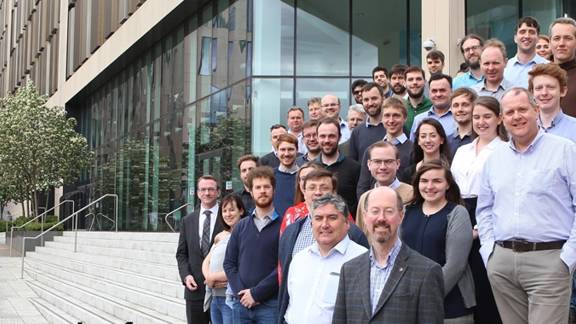 "The legacy of investment in photonics at Scottish universities and the organisations based here meant Scotland wasn't starting with a blank sheet of paper," Simon says.
World first laser system
Since it opened, the Fraunhofer Centre for Applied Photonics has grown from four to 61 staff and worked on more than 50 quantum technology projects with more than 40 partners. These include a laser system the size of a matchbox that is a global first in terms of its size, portability and low cost.
It can be used to fast-track the development of applications such as precision clocks and sensors and was created in collaboration with Alter Technology opens in a new window , a photonics specialist whose products include lasers for quantum technology applications.
"Rather than making lasers from scratch, you can buy these precise modules off the shelf that are already locked onto atoms," Simon says. "It's an early example of the supply chain coming through on that journey from scientific experiments to a real market sector."
Innovate UK research funding
Fraunhofer has also been instrumental in attracting funding to quantum research in Scotland through Innovate UK opens in a new window , the UK government's innovation agency.
The agency invests in innovative research and development projects through schemes including a £153 million Industrial Strategy Challenge Fund opens in a new window programme to commercialise quantum technologies. This is part of a wider ten-year UK National Quantum Technologies Programme opens in a new window that has secured more than £1 billion of government and industry investment into the quantum sector since the programme's launch in 2014.
"I think we've had a wonderful stimulating effect on the local photonics cluster and have also brought a great enthusiasm for quantum technologies into that cluster," Simon says. "We've collaborated with more companies in the Innovate UK program than anyone else and we've helped ensure that more than 30% of the Innovate UK funding for quantum comes to Central Scotland."
Building strong foundations for the future
Fraunhofer's ambition in Scotland is to continue growing and helping to support Scotland's economy. It has secured an additional £6.5 million funding opens in a new window from the Scottish Government and Scottish Enterprise (Scotland's national economic development agency) to support the centre's world-class research and innovation activities including doctorate level student training.
Companies and institutions from across the UK are also involved alongside Fraunhofer and other Scottish partners. As a result, Scotland is very well connected into the rest of the UK ecosystem as well as being a strong cluster in its own right.
"That's our job," Simon says. "We're doing extremely well in Scotland and we're ahead of the game in no small measure in both Scotland and the UK. The quantum sector plays on Scotland's established strengths and is also supported by the Scottish Government and Scottish Enterprise. So it's building strong foundations for the future."
You might also be interested in
Digital health and care

Discover Scotland's technology and engineering strengths across software development, data science, fintech, digital health, sensors and smart technologies.

Software and IT opportunities

Setting up your software and IT business in Scotland gives you access to a dynamic and supportive ecosystem including the best tech talent and creative minds.

Scotland's quantum revolution

Over the last five years, Scotland has seen significant R&D investment into our universities across quantum computing, photonics, lasers, cryptography, industrial informatics, imaging and sensors. 
Get regular updates from us about the companies who choose to do business here.
We're here to help
If you'd like to hear more about the experience of Fraunhofer and how Scotland could be an ideal location for your tech business.