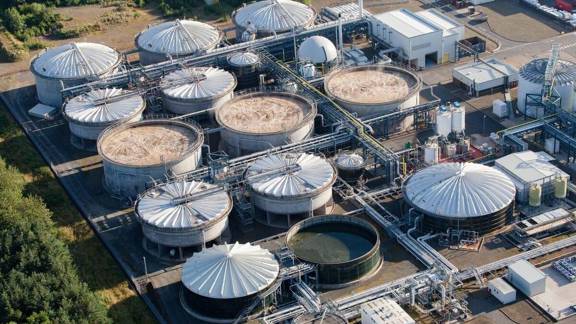 GSK affirms its commitment to pharmaceutical manufacturing in Scotland
Last updated: November 2021
Significant investment in recent years confirms GlaxoSmithKline's belief that Scotland is an excellent base for manufacture and export to global markets.
Why manufacture in Scotland
GlaxoSmithKline (GSK) highlights three fundamentals when choosing a location for successful manufacturing – skills and resources, infrastructure and a fiscal strategy. Scotland has all three in abundance, making it a competitive place to manufacture for life and chemical sciences organisations.
Scotland is now
Whatever the company's reasons for setting up shop in Scotland almost 65 years ago, today it's the availability of a skilled workforce, an established supply chain backed by good infrastructure, government support and a strong academic culture that generates the company's future talent pool that keeps them here.
GSK describes Scotland as a country with a vibrant life sciences industry with strong industry leadership and skills availability. It also points to Scotland's world-class universities and good transport links by road, rail and sea, and particularly strong air links to Europe and the United States.
Two factors make Scotland stand out
Innovation matters...
Scotland provides the perfect ecosystem for innovation – with the right skills and expertise, strong networks and commitments from universities.
…and size matters
The compact size of Scotland makes it special to GSK, meaning it can work closely with the government, its agencies, the academic institutes and industry on partnership projects. So, when you put those fundamentals with these two unique selling points, it makes Scotland a very competitive place to manufacture.
GSK's sites in Scotland
GSK's link with Scotland began in 1952 with the opening of a new manufacturing plant in Montrose, and followed some 20 years later with a site in Irvine.
The company employs more than 100,000 people across the world — over 800 work at its two Scottish manufacturing plants, and a further 600 contractors support both sites.
The Irvine plant produces active ingredients which are used in two of the company's leading antibiotics. It manufactures around 2,500 tonnes of active ingredients each year — enough to supply 700 million people with a week's course of antibiotics.
On the east coast, the Montrose plant makes a range of active ingredients that are used to treat conditions including HIV/AIDS, respiratory diseases, hypertension, flu and dermatological diseases. Medicines that contain Montrose material are taken by over 20 million people around the world every day.
Renewable energy in Irvine
GSK's Irvine plant offers room for manufacturing to grow. It has increased its antibiotic capacity and is the single largest user of electricity of all GSK locations, so energy availability and costs are an important factor.
So, it's making a multi-million investment in renewable energy and carbon reduction at this plant. The company will invest in 2 new wind turbines (8 MW) and a 56 acre, 20 MW solar farm, through a new 20 year Power Purchase Agreement (PPA) with partner, The Farm Energy Company. This investment will make an important contribution towards Scotland's ambitious target to be net zero by 2040.
The company has invested significantly in improving the facilities at Irvine and increasing renewable technologies will continue help the company secure its energy needs in an environmentally responsible way.
A boost for Montrose
The Montrose plant has been operating for almost 65 years. While pharmaceutical plants are designed to be long-lasting, there was a need to upgrade and refresh the plant. Like Irvine, significant investment has been made in the last five years.
Moreover, in July 2016, GSK announced its plans for an additional multimillion pound investment in Montrose to create a new cutting-edge manufacturing facility for penicillin production.
Les Thomson, site director at Montrose said, "The investment commitment shown by GSK reflects the quality and professionalism of the people we have here. The site has a strong compliance culture and a track record of delivery to our patients."
The new facility replaced an existing building that manufactures respiratory active ingredients, providing long-term security for the site, and ensuring a continued supply of respiratory medicine to millions of patients around the world.
Support where it's needed
GSK's position as a manufacturer with many decades' experience in Scotland is reflected in the maturity of their relationship with Scottish Enterprise, Scotland's national economic development agency. GSK has a very strong account management process and relationship with Scottish Enterprise.
GSK describes this approach as a 'win-win-win' situation. The company says, "GSK benefits through investment support, the Scottish economy benefits through the jobs and services created by a large business and the people of Scotland and beyond benefit from the availability of world-class medicines made right here in Scotland."
GSK also works with Skills Development Scotland (SDS) opens in a new window , contributing to the Skills Investment Plan for life sciences. SDS supports GSK to help ensure the company has the specialist skills it needs as their Scottish plants develop.
You might also be interested in
Health and life sciences

Scotland has one of the largest life sciences clusters in Europe with 700 life sciences organisations , employing more than 37,000 skilled workers.

Drug discovery and clinical trials

How the life sciences community in Scotland mobilised and responded to the global pandemic and lead the way on potential Covid-19 vaccines and treatments.
Want to hear more about the experience of GSK?
Find out how Scotland could be an ideal location for your customer health and life sciences business.