Scotland's lead on potential Covid-19 vaccines and treatments
03 Sep 2020 • 3 minute read
Learn how Scotland's life sciences community is mobilising and responding to the challenges arising from Covid-19.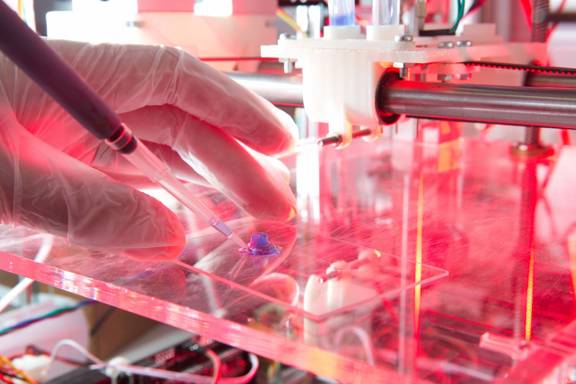 Learn how the life sciences community in Scotland is mobilising and responding to the challenges arising from the Covid-19 environment – from research, drug discovery and manufacturing to clinical trials.
Collective response
Covid-19 and its devastating global impact has shone a spotlight on the continued importance of the life sciences sector both at home and internationally.
We've witnessed unparalleled international collaboration between industry, government and academia in the search for a vaccine against the virus and the development of treatments to reduce the impact of infection. And innovative and specialist companies right here in Scotland have been central to that global effort, demonstrating their drug discovery and development expertise, not to mention their highly skilled workforce.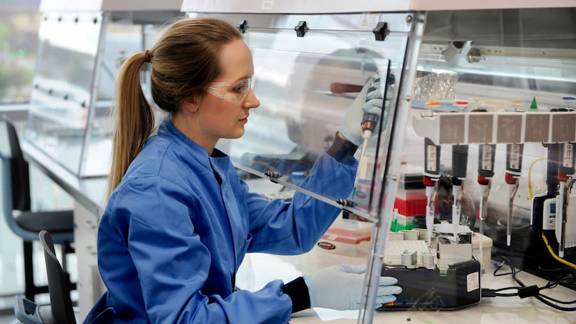 Covid-19 vaccines and treatments being developed in Scotland
Some impressive work is taking place in Scotland right now as part of the worldwide response to Covid-19 – from drug discovery and manufacturing to researching potential Covid-19 treatments. This critical work is highlighted by just a few examples here.
1. Merck
Scotland-based contract research and manufacturing companies are working with pharma partners to support the development and manufacture of potential Covid-19 vaccines.
Merck, a global life science company, which has multiple sites in Scotland, is supporting several companies to develop vaccines by supplying key chemicals and providing crucial biosafety testing.
2. SGS
Staying in Glasgow, safety, quality and analytical testing for Covid-19 vaccines is being conducted by SGS at its Biosafety Centre of Excellence in Glasgow. By October 2021, the expanded Biosafety Center of Excellence in Glasgow had participated in the batch-testing and release of over 1 billion doses of Covid-19 vaccines.
Read the full news release opens in a new window  
3. Symbiosis
As we take a trip into the heart of Scotland, Stirling-based Symbiosis Pharmaceutical Services, a specialist provider of pharmaceutical and vaccine manufacturing services, supported the clinical trials of the AstraZeneca Covid-19 vaccine (AZD1222) by providing fast-track access to sterile vaccine drug product manufacturing capacity.
Read the full news release opens in a new window  
4. Ingenza
On the east coast, Edinburgh-based Ingenza is collaborating with the University of Oxford and CPI (a leading independent technology innovation centre and a founding member of the UK Government's High Value Manufacturing Catapult) to apply its expertise in sustainable and cost-effective biomanufacturing to potentially accelerate development of a Covid-19 vaccine.
Read the full news release opens in a new window  
5. TC BioPharm
Companies in Scotland are not only supporting vaccine development but are being innovative in approaches to the potential treatment of Covid-19. Glasgow-based TC BioPharm recently announced recently announced the launch of a Phase 1 and 2 clinical trial of ImmuniStim®, its proprietary allogeneic gamma-delta T cell product, in Covid-19 infected patients.
6. Novabiotics
Other companies developing novel therapeutic approaches to manage Covid-19 include Aberdeen-based Novabiotics who recently announced that the first patient had been enrolled into the REMAP-CAP study in which NM002 (an immunomodulator-antimicrobial) is being trialled as a Phase 3 investigational medicine in patients with community acquired pneumonia, including Covid-19.
Read the full news release opens in a new window  
7. Pneumagen
Meanwhile, Pneumagen in St Andrews is developing its lead candidate Neumifil™, a first-in-class Carbohydrate Binding Modules (mCBMs), for a range of viral respiratory tract infections, including Covid-19. In November 2021, the company announced the start of a Phase 1 study evaluating the safety and tolerability of Neumifil in healthy volunteers.
Read the full news release opens in a new window  
Science is at the forefront of finding solutions to this global pandemic. The contribution of companies in Scotland to Covid-19 vaccine and therapeutic research is a great example of how the thriving sector here can support international drug discovery and development projects.
Find partners and suppliers
With more than 150 specialist supply chain companies, employing more than 6000 skilled people, Scotland is well-placed to provide innovative and expert solutions to pharma/biotech companies globally.
From diagnostics to therapeutics, the Scottish Life and Chemical Sciences Directory opens in a new window  is your gateway to over 1000 companies and organisations in Scotland.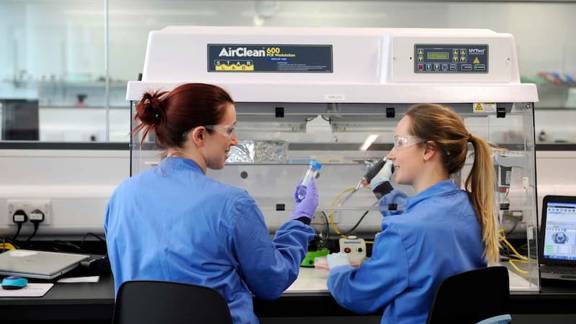 You might also be interested in
Innovators in diabetes management

Scotland is a world leader in helping diabetics manage their condition. We have companies involved in all areas of diabetes management, pushing the boundaries of what's possible.

Scotland's life sciences clusters

With more than 770 life sciences organisations employing more than 41,000 people, Scotland is one of the largest life sciences clusters in Europe.

'World's first' assisted living lab

A new lab facility launching at the UK's National Robotarium in Edinburgh is set to revolutionise the way we deliver assisted living care in the community.
Got a question?
Whether you're looking for suppliers or want to chat about a potential project, we're here to help.