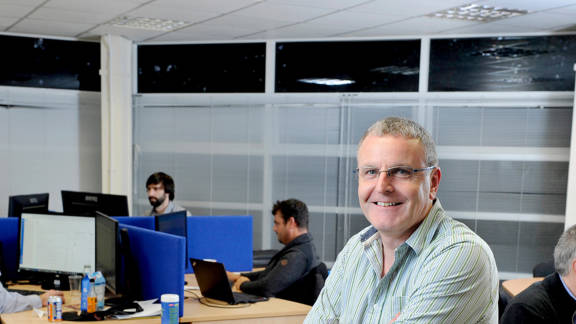 Renovite Technologies scales up its payments solutions in Scotland
Last updated: February 2021
People said it couldn't be done, but fintech startup Renovite Technologies did it anyway. The first ever cloud-native e-payments solution is now well on its way, thanks to the work of its team based in Dunfermline, Scotland.
Why Scotland?
Fintech startup, Renovite Technologies has a proven track record in delivering leading-edge payment technology solutions. With offices already in California and New Delhi and wanting to establish a truly global presence, Renovite decided to set up its European headquarters in Dunfermline, Scotland in 2016. 
It's a decision that has allowed the company to draw on Scotland's proven expertise in both financial services and the related technology, which is driving significant change in this sector.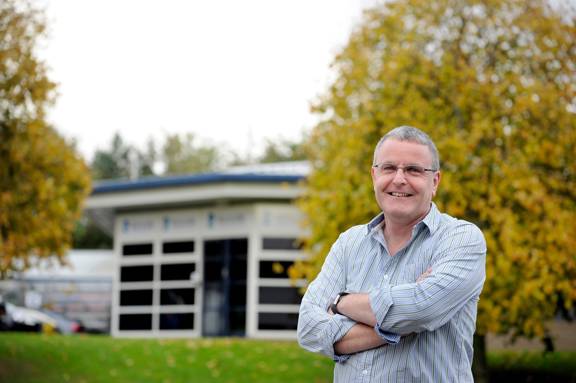 Using cloud technology, and bolstered by the depth of talent available to them, Renovite was undaunted by the architectural challenges involved in pulling cash machines or ATMs (automated teller machines) into the 21st century. As such, the company has outlined ambitious plans to grow its presence in Scotland over the coming years.
Scotland's long-standing connection with the ATM
Scottish-based companies have been building and shipping ATMs to financial institutions across the world for over 40 years. The country's long-term specialist knowledge and expertise has drawn Renovite to locate its development office here.
Jim Tomaney is the chief operating officer for the company and leads the Scottish team, based in Dunfermline. He says, "The team that we've recruited in Scotland already had significant specialist knowledge and expertise. Many of us had worked together on other projects in the same sector."
Cloud-based solutions for the fintech era
Renovite's cloud-based technology may be seen as the more complex end of fintech. But the problems the company set out to solve are mission critical for many of today's financial services companies. For years, financial organisations have been trying to improve their customer experience and the functionality offered by ATMs. But they've been hindered by outdated legacy systems, many of which were designed in the 1980s and 1990s.
At a time when demand for innovation in financial products has reached new heights, Renovite's cloud-native ATM technology means organisations can now respond to these demands more efficiently with less risk, better security, and a less complex management model.
Jim explains: "Financial services businesses with complex legacy systems often try to adapt the technology they already have, as they attempt to keep pace with today's demands.
"We've started from an entirely different position, building from the ground up. Our team has vast experience of ATMs. But instead of adapting systems that are no longer fit for purpose, we've used the knowledge gained over years to build a cloud-native solution. Our approach is to develop modern technology that gives financial organisations the agility and flexibility to respond to evolving demands and requirements."
Scotland is well-connected for fintech
There are other factors that have influenced the Renovite's decision to choose Scotland. Jim says:
Jim explains: "We lose less downtime to traffic congestion in Scotland, and because we're close to Edinburgh airport, we can connect with our international colleagues and clients more easily than from many other parts of the UK."
Work-life balance in Scotland
Jim also suggests that there is a direct link between the quality of life in Scotland and the quality of the work we are doing. Jim explains: "You don't generally see the office lights burning into the night here, and that's because we can work efficiently and effectively during the day. Our productivity benefits from a work-life balance.
"We expect to see this reflected in our retention rates too. We believe that we've recruited a team who will stay long term. Compared to London, there is far more stability in the workforce and that really benefits a company like ours. Expertise is built up over time, so retaining that knowledge is extremely important.
"At the moment, the team is a mix of local Scottish talent and developers who have chosen to locate here from elsewhere in Europe. Scotland is seen as an attractive place to live and work and our business is testament to that."
Working together on fintech skills
A culture of collaboration among Scottish fintech companies is another aspect that will influence company growth. Renovite is one of a consortium of international fintech companies who have joined forces to launch Scotland's first Fintech Skills Academy opens in a new window along with Fife Council, Fife College and FinTech Scotland opens in a new window .
The Academy aims to provide a steady flow of highly qualified applicants for the growing number of specialist roles in fintech in the region and plug any potential skills gaps.
Jim says: "The Fintech Skills Academy programme will help candidates successfully prepare for new roles. At the same time, it will help employers such as ourselves by improving each candidate's understanding of the standards fintech employers want. It would be hard for us to provide this breadth of training on our own. So it makes sense to work together with other businesses and education providers."
Renovite plan to add to its team in Scotland over the next few years. And from Scotland and its other offices, the company will develop the sales and marketing of its payments solutions across the world.
Discover what makes Scotland a good fit for your financial services business.
We're here to help
If you'd like to hear more about the experience of Renovite and how Scotland could be an ideal location for your business.