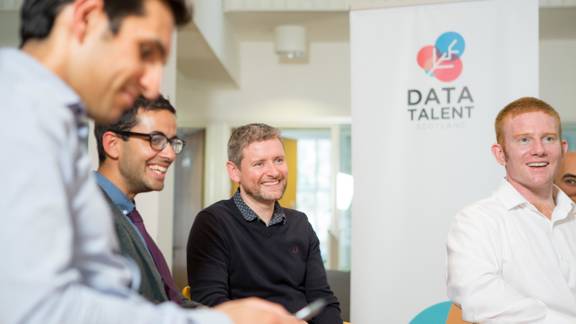 Accessing talent in Scotland
Thinking of locating your business in Scotland? Find out more about recruiting, where to find talent and what talent acquisition support is available. Benefit from easy access to an exceptionally skilled, well-educated, and reliable workforce. TalentScotland supports Scottish-based companies, investors and entrepreneurs considering Scotland as a location, to attract and retain skilled internationally mobile talent. This includes information and guidance on navigating the UK immigration and visa system.
Did you know?
Scotland has the highest educational attainment of any part of the UK, and the highest concentration of universities in Europe.
2.4 million workers

170 languages

Low staff turnover
Recruiting and staff costs in Scotland
Businesses in Scotland enjoy savings in staff costs compared to places like London thanks to our lower business costs.
Scotland has a median gross annual salary of £27,710 and median gross weekly pay of £528. These are the fourth-highest rates for the nations and regions of the UK and are higher than the overall UK rates.*
At £14.72, Scotland also has the third-highest median hourly pay (excluding overtime) of the nations and regions of the UK, which is higher than the UK figure.*
*Source: Scottish Parliament, Earnings in Scotland 2022 opens in a new window  
The current National Minimum Wage opens in a new window rate for employees aged 23 and over is £10.42 per hour as of 1 April 2023. 
However, in Scotland we're keen to promote a Real Living Wage opens in a new window of £10.90 an hour. It applies to all employees aged 18 and over and is now paid voluntarily by more than 3000 employers in Scotland. 
As well as salaries, you'll need to pay pension contributions and employers' national insurance per employee, as well as employers' liability insurance. You'll find more information in this government guide to hiring staff opens in a new window .
Recruiting highly skilled workers
There are several ways to recruit talented people for your business:
Advertise your jobs online – top job sites include indeed.com

opens in a new window

, Reed.co.uk

opens in a new window

and s1jobs.com 

opens in a new window

Advertise on your website or social media
Advertise in specialist trade press, and local and national newspapers. Some are free, but fees vary according to the publication.
Use a recruitment agency to handle the recruitment process for your business. They take care of everything – from advertising to co-ordinating interviews and negotiating offers. Their fees vary but are typically 15-25% of the successful candidate's salary.
Contact the career departments of colleges and universities in Scotland to find candidates for junior or trainee positions.
Use JobCentre Plus – a government-run employment agency that may also be able to find candidates for you.
Hiring interns, apprentices and graduates
In Scotland, internships, apprenticeships and graduates can help fill a skills gap, add a fresh perspective and even develop your existing workforce.
As well as working with universities and colleges directly, you can access several government agencies and support services to help you hire interns, apprentices, and graduates. They can help you find the right people, offer guidance on regulations, and provide ongoing support.
Interns
Interns are usually graduates or undergraduates who take part in a paid or unpaid placement programme as part of their education. An internship can last a few weeks to a year, depending on your business requirements.
Find out more about internships on GOV.UK opens in a new window  
Apprentices
Skills Development Scotland opens in a new window supports thousands of apprenticeships each year in over 80 different areas – from healthcare and financial services to construction and IT. Skills Development Scotland can contribute towards the cost of training, and work with you to make sure the apprenticeship meets your needs.
You can choose from three distinct types of apprenticeship programmes in Scotland:
Foundation apprenticeships with local schools
Modern apprenticeships
Graduate level apprenticeships
Find out more about taking on apprentices opens in a new window  
Graduates
The career departments of colleges and universities in Scotland can also help you find work-ready graduates, and alumni with the right qualifications for your business.
Find out more about graduates from Scottish universities opens in a new window  
Support from TalentScotland
Scotland's talent pool is rich and highly skilled – partly because of our excellent education system and thriving business ecosystem, but also because we welcome and actively seek to attract talented individuals from overseas.
If you're thinking of widening your talent search to international pools, TalentScotland may be able to help. Their team helps growing companies and investors find, recruit, and keep skilled international talent. They can provide fast, easy access to skilled job seekers who are already interested in coming to Scotland as a career destination.
Where to find talent
If you're interested in recruiting talent once you've settled here in Scotland, there are lots of ways to access our rich talent pool. TalentScotland have provided some information about alternative places to look for talent in Scotland (outside of your usual recruitment routes), as well as where to look for international talent.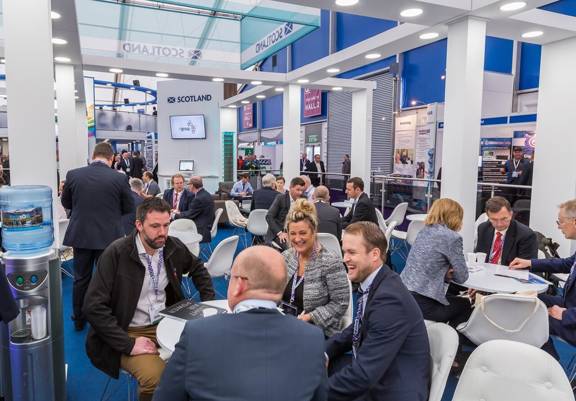 Bring your existing employees with you
If you're bringing over your own staff with you when you relocate, they'll likely need a visa to work here. A common visa option for companies who are transferring staff from an overseas location to a Scottish location is the Global Business Mobility route.
Find out more about this route, as well as other visa routes that are available, from TalentScotland. This information will also help you if you're thinking of hiring from outside of Scotland once you get here.
TalentScotland's guide to understanding the visa and immigration process 
Attracting talent to Scotland
If you decide to look for talent overseas, then you're in luck. Scotland offers many benefits that can help persuade people to make a career move, including:
Unrivalled opportunities to work in top industries
Good working practices and conditions, including generous annual leave, flexible working, workplace pensions and a state pension
A lifestyle to suit everyone, from cosmopolitan cities to tranquil towns
Excellent transport systems, short commutes and good travel connections to the rest of the world
An enviable standard of living – less expensive than many other areas in the UK
Free healthcare
Stunning scenery
Excellent schools and renowned universities
A safe place to live
Plenty of activities outside of work, from sports and music to arts, culture and more
As well as this, you can choose to offer your own perks and benefits to make your company more attractive. This might include additional annual leave, childcare vouchers, private healthcare, flexible working policies and enhanced parental leave.
But don't take our word for it – explore our real life stories from people who have already made the move to Scotland to live and work.
You might also be interested in
Our people and skills

In Scotland you'll have access to a highly skilled workforce with expertise in a number of key sectors.

Industry opportunities

Scotland excels in a number of industry sectors thanks to our natural resources, our expertise and our focus on innovation.

Our global offices

Got a question about recruiting in Scotland? Want to get specialised support from someone in your country? We can help.
Need some help?
If you have any questions about accessing Scotland's talent and want to talk with one of our advisers, we're ready to help.