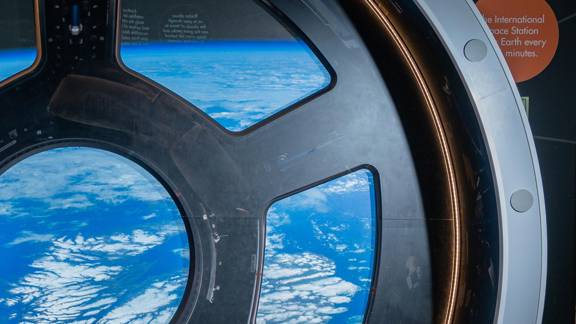 Space tech companies in Scotland
Looking to use space data to create innovative solutions? Scottish space tech companies have the capabilities, facilities and expertise to help you succeed.
Did you know?
Scotland's space tech companies and research centres are leading lights in their field, tackling global problems such as climate change. They can help you turn out-of-this-world data into insightful applications and ground-breaking innovation.
Educational excellence

Scotland's leading the development of gravitational wave research via the LISA Pathfinder and LISA missions.

Manufacturing expertise

Glasgow builds more satellites than anywhere else in Europe.

End-to-end capabilities

From designing, manufacturing and launching satellites to using their data to create innovative solutions.
Out of this world solutions

Benefit from Scotland's space capabilities

Whether you're looking to harness the possibilities of space tech to utilise Global Navigation Satellite Systems (GNSS), turn insights into innovations to help make the world greener, or capitalise on the demand for space data, Scotland has the facilities, technology and expertise you need for success.

Scotland's end-to-end capabilities range from manufacturing and operations to ancillary services and research. It has a cluster of over 130 companies, which employs over 8400 people in space upstream and downstream activities.
Benefits of buying space tech solutions from Scotland
Manufacturing expertise
Scotland is the number one European manufacturer of satellites, with Glasgow producing more than anywhere else in the world outside of California.
With more than 130 organisations engaged in space-related activity, Scotland's space sector grew by a staggering 27% from 2016 to 2018, employing more than 8400 people in upstream and downstream activities. Scotland also has the very first rocket manufacturing facility in the UK plus expertise in space manufacturing and applications capabilities.
End-to-end capabilities
Scotland has three potential low earth orbit, strategic vertical launch sites and is in the final stages of building the very first orbital spaceport in Europe. With its completion, Scotland will have end-to-end capability in small satellites, from design and manufacturing the satellites, launching them into orbit, bringing the data down, and using it to make useful applications.
Insight and innovation
Scottish space tech companies are helping to find solutions to global problems like climate change, while innovation and R&D centres are continually working to make manufacturing faster, cheaper and smarter.
One example of this is the use of lightweight materials at the National Manufacturing Institute Scotland (NMIS) opens in a new window , an industry-led innovation centre hosted by the University of Strathclyde.
Successful Scottish space tech companies
Space Intelligence
Space Intelligence opens in a new window gathers, processes and analyses satellite data, selling actionable business intelligence to businesses seeking to mitigate their carbon footprint and environmental impact. Its core services are the classification of landscapes using artificial intelligence (AI) and machine learning applied to big data from space. This includes the mapping of deforestation and forest degradation to help tackle the global climate emergency.
How Space Intelligence is helping restore the world's peatlands
DDK Positioning
DDK Positioning opens in a new window offers resilient delivery of Precise GNSS Positioning Services on a global scale to an accuracy of less than 5 centimetres (compared to the standard GPS accuracy of around 10 metres). This technology can be used in applications such as autonomous vehicles, Internet of Things (IoT), consumer applications and professional surveys.
Craft Prospect
Craft Prospect opens in a new window is a new space engineering company providing AI-enabled space technologies, mission systems consultancy and quantum encryption services. It aims to unlock the potential of Earth-observing nano-satellites for onboard data autonomy and deliver a higher mission return.
How we can help
Need help sourcing a space tech solution? From Earth observation to data analysis, satellite manufacture to launch, we can put you in touch with the right people.