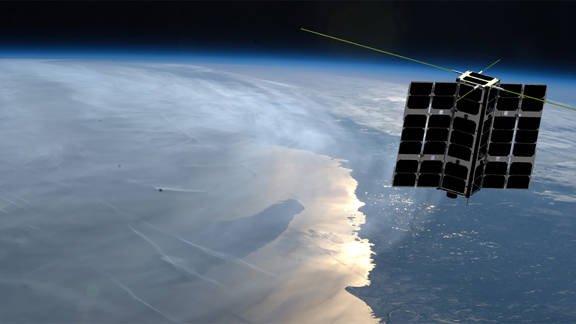 Why California satellite data company Spire chose to set up in Scotland
Last updated: December 2019
Talent, access to risk capital, ease of setting up business and the support on offer are among the top reasons space data specialists Spire Global chose to locate in Glasgow to develop the next generation of weather satellites.
Access to risk capital, flexibility and support
Spire is a nanosatellite and data analysis company based out of San Francisco. The company specialises in gathering unique data from small satellites in a low-earth orbit. Spire collect this data, pull it down and through a network of ground stations, and sell the data as a service.
Founded in 2012, the company has already taken the world by storm and, as part of its global expansion, opened its European headquarters right here in Scotland.
When scouting for its new European base, the company looked at numerous different locations, but were instantly enamoured with what Scotland had to offer. Talking about what brought him to Scotland, co-founder and CEO of Spire, Peter Platzer, said: 
It's fast and easy set up business in Scotland
Theresa Condor, EVP of Corporate Development at Spire, said:
"I initially visited Scottish Development International's Silicon Valley office, in early September. I told them we're interested in Scotland and we want to get an office set up right away – at the beginning of the year. So, they got me something, in writing, by November. We opened our office here at the end of January. That's very fast."
Scotland provides a first-class welcome
Scotland has a well-known reputation for providing a first-class welcome to all our visitors and from the moment Scotland was chosen as their new home, Peter and his Spire colleagues were blown away by the warm and open reception they received.
"We had a number of overseas staff come here for a temporary position to help set up who have since decided that they want to stay here permanently. Glasgow is a really great place to live and Scotland in general – our people really enjoy being here. The words 'friendly' and 'hospitable' are really not rich enough in meaning to describe the experience of being a part of everyday life here in Scotland."
As well as the amazing welcome and help that they have had to settle into life in Scotland, Peter was also very keen to point out the amazing access to an incredibly talented Scottish work force:
"When we looked at Scottish staff, we found that the passion for what they do, their character and work ethic, is absolutely world-class."
Spire's landmark deal with NASA
The company has also secured a $7 million USD deal with NASA to provide data to scientists for use in Earth-observing missions and early projects have shown the potential to improve weather forecast accuracy.
Peter said the deal with NASA was a landmark moment for the company and the space industry and feels that space and Earth observation have a strategic role in meeting European and global challenges, such as pandemics and climate change.
He added: "Weather risk for companies, governments, and people is constantly increasing due to climate change and is maybe the biggest generational challenges we face.
"Spire is incredibly humbled and inspired that our data and analytics can meaningfully contribute to the world facing this challenge collaboratively and globally."
Spire now has more than 100 satellites in orbit, continuously scanning the earth 24/7. These satellites power its weather models and offer unique global weather coverage.
Recently the company provided its weather data free of charge to weather forecasting centres around the world, including the UK MET Office while the coronavirus pandemic and subsequent loss of aircraft data impacted weather forecasting.
Spire also sent the first of four nanosatellites to space in 2021 opens in a new window with powerful super computers on board to track world trade and predict the arrival time of boats to help port authorities manage docks safely.
More about Spire Glasgow opens in a new window  
You might also be interested in
Data skills to match your needs

Scotland provides easy access to a growing talent pool of data science skills that makes it the location of choice for tech companies looking to set up and grow.

Bringing space down to earth

Daniel Smith, founder of AstroAgency and member of the Scottish Space Leadership Council, provides us with a guided tour of the Scottish space sector and its benefits to businesses.

How space data can protect the planet

Think of a world where sustainable farming becomes the norm. Discover how space tech developed by Ecometrica in Edinburgh is helping end deforestation in West Africa.
Get regular updates from us about the companies who choose to do business here.
We're here to help
If you'd like to hear more about the experience of Spire and how Scotland could be an ideal location for your space tech business.