Data talent and skills in Scotland
03 Jul 2020 • 8 minute read
Find out how Scotland is at the centre of the data science revolution.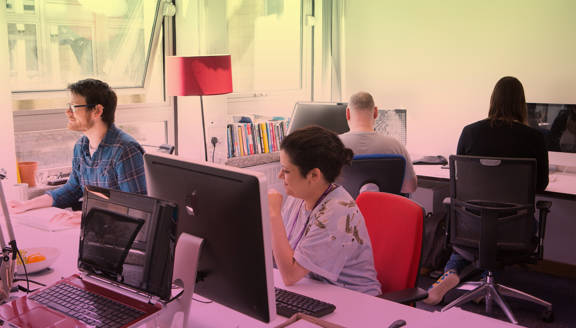 The worldwide data revolution is driven by those that are able to provide the digital skills companies need to compete, survive and expand. Scotland is working hard to make sure there's a constant flow of talent available. Talent that makes it the location of choice for tech companies looking to set up and grow.
Scotland nurtures the right skills
That's how we've managed to become a centre of excellence for data use. And it's how we help businesses do incredible things with data to find insights that help them do business better.
82,200 employed

in digital technology in Scotland in 2020*

100,00 data experts

are being trained over 10 years between 2018 to 2028

5,700 information technology
*Skills Development Scotland Sectoral Skills Assessment February 2021
Growing talent
It's an exciting time to be part of the data science revolution. There's a global need for more data scientists. More people who can understand and creatively solve business, environmental and social problems by looking at the numbers.
There are a range of joined-up initiatives taking place across Scotland to help grow the talent pool. You can join our growing network of skilled data scientists coming from places including The Data Lab and Scotland's universities.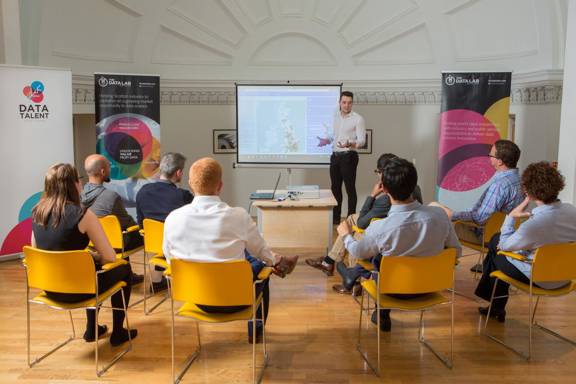 The Data Lab is helping shape the future
Scotland's Data Lab is working with 11 Scottish universities to deliver an MSc in data science. 
The Data Lab MSc is different from other academic courses. It focuses on applying academic knowledge to the world of industry and developing non-technical skills that are essential to becoming a data scientist. This approach allows students to take the skills learned in the classroom to solve real life organisational problems and challenges.
Bridging academia and industry
The MSc Placement Project is a collaboration between Scottish universities, Scottish organisations and The Data Lab. Its aim is to develop the next generation of data science talent and skills required by industry in Scotland. The Placement Project allows students the opportunity to complete a paid three-month industrial placement for their dissertation project.
Through these projects, students get the chance to apply the skills they have learned to real life problems and get familiar with business life. During 2019/20, The Data Lab student intake increased to 155. And they're raising the number of students for 2020/21 again to 160. This highlights the growing demand to deliver the best of the best data skills into private and public sector businesses throughout Scotland. (Updated 20/01/2023)
Flourish in the data capital of Europe
Edinburgh (Scotland's capital city) is poised to become the 'Data Capital of Europe' thanks to a £661 million Data-Driven Innovation opens in a new window initiative. It's home to the largest school of informatics in the UK, while the Bayes Centre at University of Edinburgh is Europe's largest training hub in data sciences.
Data is in the driving seat across all sectors. Access to vast amounts of information has opened possibilities for the automation of analysis and decision-making, and Scotland has the talent you need to take advantage. Often the supply of talent cannot keep up with technological change but, in Scotland, we've not only acknowledged this problem but we're committed to solving it. 
A 10-year programme is already underway at the University of Edinburgh to train 100,000 people in data applications across major sectors by 2028. It will partner with Heriot-Watt University on data-based projects across public, private and third sectors.
More about the Bayes Centre opens in a new window  
The University of Edinburgh is also leading the Creative Informatics project to grow the creative industries sector using data-driven tech to create new products, businesses and experiences. It's working closely with Codebase on a Resident Entrepreneur and Creative Bridge programme to grow the talent base.
More about Codebase opens in a new window  
More about Edinburgh's thriving tech scene 
Get more from your data
By choosing to set up in Scotland you'll have access to our highly-educated workforce and our renowned academic institutions. There's a supportive and collaborative tech community who share ideas and insights to help each other develop and expand their capabilities. As well as finding the right skills you need, there are many reasons why you should choose Scotland as a location for your data-focused business.
An environment bursting with innovation – Scotland is home to the UK's top research university in computer science, the University of Edinburgh 
Our community is connected – more than 150 companies in our data ecosystem creating data-based solutions and products, servicing opportunities from diverse Scottish sectors including technology, healthcare, and food and drink
Digital talent is readily available – more than 82,000 people already excelling in roles in digital technologies
Scotland's future-proofed workforce – we're going to train 100,000 people for roles in the data sector
A competitive location for business – it's up to 40% more cost effective to locate in Scotland than other parts of the UK 
Making an impact – from Skyscanner, Ecometrica and FLICQ Inc to Sharktower, our companies and people are changing the way data shapes the world
The place for tech startups - While Edinburgh's tech startup scene is thriving, Glasgow is up there too. Glasgow is one of the UK's biggest and fastest-growing tech investment hubs, according to Tech Nation.
Work-life balance
You already know what Scotland can offer your business from a staffing and support point of view. Outside the office, things are equally awesome. 
Scotland is a land of great natural beauty and our warmth and hospitality are world-renowned. Our friendly communities combine an exceptional quality of life with low cost of living, making the move to Scotland an attractive option for you and your employees.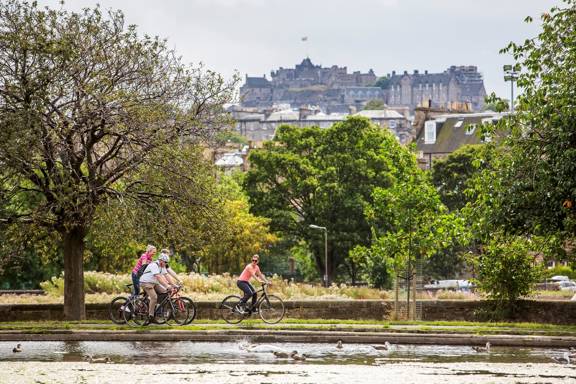 Collective spirit
Community is an important part of Scotland's data story. Nowhere else in the world will you find a more open and collaborative tech community, where great minds in industry and academia come together to share ideas and tackle industry challenges head on.
Underpinning this unique community is a supportive public sector and a government that is a strong advocate of using data for the economic and social benefit of citizens, businesses and research organisations.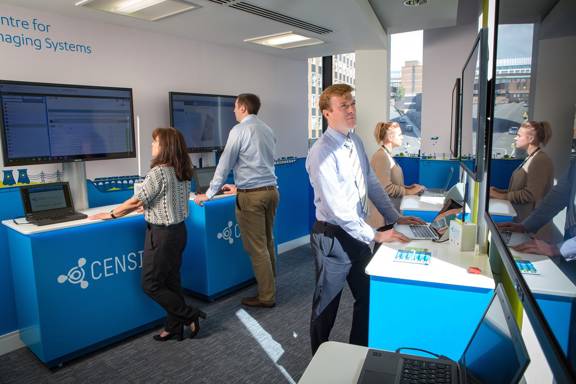 Employ a student and strengthen your business
In the wake of the Covid-19 pandemic, you may be finding it difficult to plan strategy and recruitment for your business amid new projects and workloads.
ePlacement Scotland opens in a new window can offer an interim solution of hiring a student placement to help meet your short-term, remote-working needs and add value to your company in the current situation.
Students are skilled in disciplines from data science to software development, mobile apps to telecoms, and everything in-between.
Data skills were reported as one of the most in-demand skillsets in 2020, with almost 50% of companies in Scotland identifying data analytics, artificial intelligence (AI) and machine learning (ML) technologies as areas where they need additional skills to grow their business - an example of where ePlacement Scotland student placements can help to fill this gap.
ePlacement Scotland is an initiative of ScotlandIS, Scottish Funding Council and Edinburgh Napier University and acts as a free recruitment and student matching portal for digital industries in Scotland.
Ongoing support
We'll ensure you're supported before, during and after you locate in Scotland. Working together, everyone from the national government and local authorities to universities and advisers will help make the connections to help your investment go smoothly. So you can focus on growing your business. 
You might also be interested in
Edinburgh's thriving tech scene

An interview with Nigel Eccles, co-founder and CEO of FanDuel on what makes Edinburgh the ideal place for ambitious startups.

Digital skills support

Discover how Scotland's digital talent is benefiting businesses around the world and how Skills Development Scotland can help you access that talent.

Scotland's IOT network

Insights from Boston Networks and its leading role in creating the UK's most advanced IoT network of its kind, right here in Scotland.
We're ready to help
Got a question about accessing the right data skills to grow your business in Scotland? Get in touch