Glasgow is one of UK's biggest tech investment hubs
24 Feb 2021 • 7 minute read
Discover what makes Glasgow stand out as a top UK investment location for multinationals and tech startups.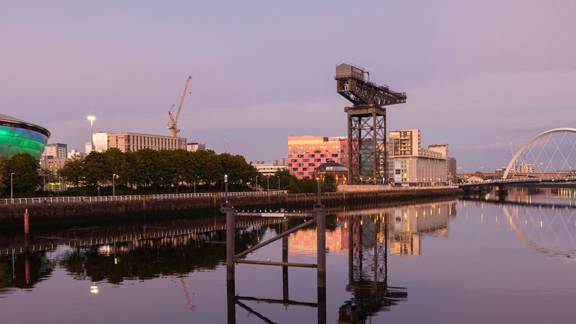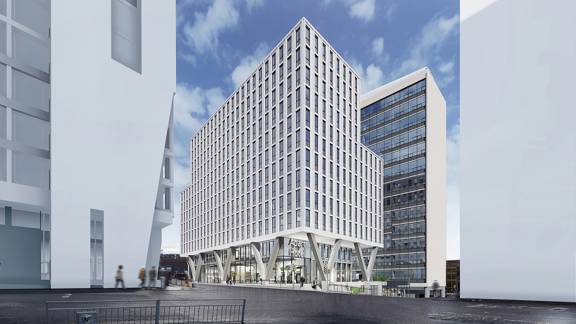 "We're committed to investing significantly in Glasgow as we recognise the strength and diversity of the Glasgow economy – and we're growing our own team in the city on this basis," says Will Hean, development director at Osborne+Co, the London-based developer behind the project, known as Met Tower opens in a new window opens in a new window (pictured).
"Glasgow's tech sector in particular will be significant as the economy works its way back to strength," he adds.
Glasgow's fintech community is home to JP Morgan and Barclays
In Glasgow's nearby International Financial Services District opens in a new window , Osborne+Co is also developing a new £140 million building that will become the new European Technology Hub for JP Morgan Chase.
The US investment bank employs around 2,000 people in Glasgow and says it is the largest technology employer opens in a new window and recruiter in Scotland. Its teams develop complex software and technology services for use by JP Morgan across the globe.
Tech roles are also key to the £400 million campus being developed on the south bank of the city's River Clyde by Barclays to host its new Northern European Hub. This will house the bank's technology, functions and operations teams and will double Barclays' workforce in Scotland to around 5,000 people.
Alongside the big corporates, Glasgow hosts a growing community of fintech firms with specialisms including payments, blockchain, open banking and 'regtech' – regulatory technology. These include Bellrock Technology, Encompass, Nude Finance, Soar and Swipii.
Glasgow's abundant digital skills and talent
Glasgow's digital tech economy is now the largest in Scotland and one of the fastest growing in the UK, according to Invest Glasgow opens in a new window , Glasgow City Council's inward investment team.
Glasgow's digital tech sector has almost 34,000 jobs and turnover of more than £1 billion.
Access to talent and skills is a key attraction for investors across a range of specialist sectors. These include fintech, data science, software engineering, the 'internet of things', digital media, cloud computing, space technology and engineering.
"For a medium-sized city, Glasgow already produces an impressively wide range of world-class science and technology expertise," says Councillor Angus Millar, who chairs Glasgow City Council's Digital Glasgow Board. This provides strategic leadership on Glasgow's digital strategy.
Angus explains: "The city was a runner-up for the European Capital of Innovation Award opens in a new window and has commercial edges in nanotechnology, life sciences, digital media, energy and advanced manufacturing. Glasgow is also the global capital of the space and satellite industry and has been a UK leader for fintech education, meetups and artificial intelligence expertise. These sectors are served by the City Region's technology base, breadth of technical skills and efficient regional scale."
Tech companies investing in Glasgow
International and national investors in Glasgow's software, information technology, engineering and space sectors include Arm, Siemens, Hewlett Packard, Dell, Cisco, Lockheed Martin, Rolls Royce and San Francisco-headquartered space tech company, Spire Global.
Data science specialists include North Carolina-headquartered SAS, which employs around 100 people at its Scottish Research & Development Centre opens in a new window  in Argyle Street, Glasgow. The company uses artificial intelligence (AI), advanced analytics and visual analytics to help clients tackle issues in areas such as fraud, risk, compliance, customer intelligence and data management.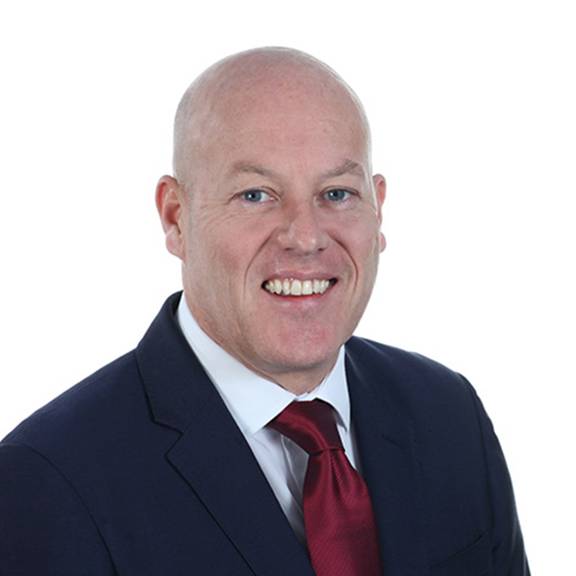 Roderick adds: "While there are challenging times ahead due to the impact of the global pandemic, there is also tremendous opportunity for organisations in Glasgow and elsewhere in Scotland that are undergoing or planning digital transformation projects. The time is ripe for innovation and to grasp the opportunities technology offers as we enter the fourth industrial revolution."
Glasgow is also one of four hubs for The Data Lab opens in a new window – Scotland's innovation centre for data and AI – and hosts CENSIS opens in a new window , the Centre of Excellence for sensing, imaging and Internet of Things (IoT) technologies – and the Digital Health & Care Innovation Centre opens in a new window . These are three of eight national innovation centres opens in a new window that help accelerate technological advances.
Glasgow's creative economy
Glasgow's creative and cultural sectors are also benefiting from the city's technology expertise. For example, it was recently announced that the BBC, the University of Glasgow and The Data Lab would be collaborating to develop new forms of conversational AI opens in a new window .
Scientists at Glasgow University are already working on technology that could significantly enhance the capabilities behind virtual assistants like Alexa and Google Assistant.
Glasgow was named the UK's cultural and creative capital opens in a new window opens in a new window by the European Commission in 2019 and is also UK's first UNESCO City of Music opens in a new window opens in a new window .
Glasgow is second among the UK's 11 core cities opens in a new window opens in a new window for producing creative graduates. The city also boasts one of the UK's largest concentrations of creative enterprises, spanning sectors including film and TV, advertising, publishing and design, web and digital media, animation, software and games development.
Broadcasters BBC Scotland and STV are both headquartered in Glasgow. Channel 4 also selected Glasgow as one of two creative hubs across the UK in 2019 and is based in Glasgow City Innovation District.
Glasgow's flourishing digital media community
The Pacific Quay development opens in a new window on the south bank of the River Clyde, where the BBC (pictured) and STV are based, is the heart of Glasgow's digital media quarter.
Leading digital agencies in Glasgow include Screenmedia, After Digital, MadeBrave and Dog Digital. Mobile app developers such as Waracle and Add Jam also have a presence in the city.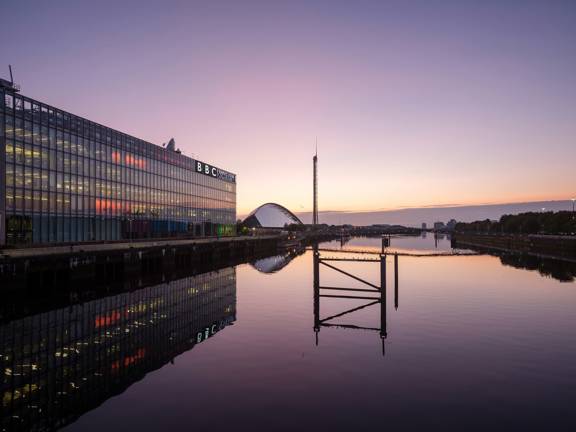 "Demand for digital content for smartphones and other devices has helped to fuel the growth of these agencies and developers," says Alisdair Gunn, Head of Engagement for Glasgow City Innovation District.
"What we are now starting to see evolving is a new generation of technologies called deep tech," Alisdair adds. "This involves finding solutions to underlying scientific or engineering challenges using technologies like artificial intelligence, quantum computing, data science and machine learning. Universities across Glasgow are leading these developments, including generating intellectual property that sits behind the new products and services."
University technology partnerships
Glasgow is home to five institutions of higher education and is the only UK city outside London to have two of its universities ranked in the top 40 nationally for their research.
The University of Strathclyde opens in a new window is a top-20 UK university for research, with key strengths including advanced manufacturing and materials, energy, health and wellbeing, and measurement science.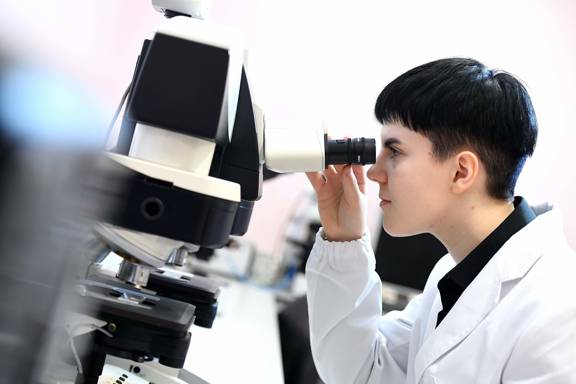 The University of Glasgow is home to the James Watt School of Engineering opens in a new window , the UK's oldest school of engineering, and is a centre of research excellence in fields including precision medicine, quantum technology and nanofabrication.
These technologies are the focus of a new innovation district being developed by the university and its partners along the banks of the Clyde, the Glasgow Riverside Innovation District opens in a new window (GRID).
GRID will work in partnership with the city's other two innovation districts – Glasgow City Innovation District, anchored by the University of Strathclyde – and the Advanced Manufacturing Innovation District Scotland (AMIDS).
AMIDS is a 52-hectare site in development next to Glasgow Airport and includes the £65 million National Manufacturing Institute opens in a new window and £56 million Medicines Manufacturing Innovation Centre opens in a new window .
AMIDS is already home to two existing major research centres, operated by the University of Strathclyde—the new Lightweight Manufacturing Centre opens in a new window and the Advanced Forming Research Centre opens in a new window , Scotland's only High Value Manufacturing Catapult centre opens in a new window .
Join Glasgow's tech scene
My own role as team leader at Scottish Development International involves working with software and IT businesses looking to invest and develop operations in Scotland. We can help you in a range of areas such as finding potential partners, accessing R&D expertise, understanding the talent pool, support recruitment and training, find premises, gain market intelligence and competitive insights. You can also find out more about investing in Glasgow from our partners, Invest Glasgow opens in a new window .
Find out more about software and IT in Scotland 
Meantime, if you'd like to chat about specific support, contact me direct through LinkedIn.
You might also be interested in
Fraunhofer's investment in Scotland

Fraunhofer's Centre for Applied Photonics at the University of Strathclyde is taking quantum to another level, leading an ambitious £10 million project to develop faster, thumbnail-sized technology.

Software and IT opportunities

Setting up your software and IT business in Scotland gives you access to a dynamic and supportive ecosystem including the best tech talent and creative minds.

Meet Scotland's creative community

Scotland's buzzing creative industries is rich in talent driving innovation in areas such as animation, gaming, film, mobile, screen and digital content.
Sign up to our newsletter
Get regular updates from us about the companies who choose to do business here.
Want to know more about Glasgow's tech scene and how your business could flourish there?