Scotland's IoT and smart sensor technology revolution
12 Mar 2020 • 10 minute read
IoT Scotland is putting in place the UK's most advanced smart sensor technology network of its kind.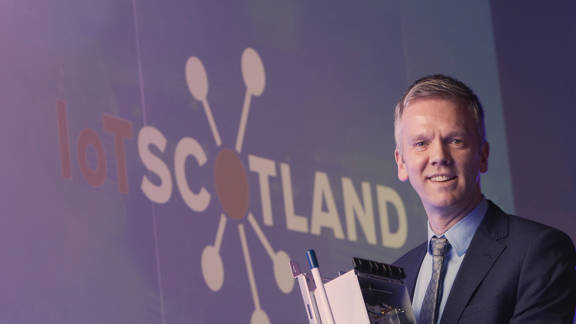 The Internet of Things (IoT) is changing the way we live our daily lives. It has the potential to revolutionise everything we do, from how we drink our morning coffee, to the way we monitor our health and manage the traffic flow in our cities. We spoke with Boston Networks' chief executive, Scott McEwan to find out more.
IoT Scotland's role
Scotland's tech sector is evolving at pace and taking a leading role in developing smart sensing technology in IoT thanks to a pioneering project to create a national IoT network.
The £6 million IoT Scotland opens in a new window project is putting in place the UK's most advanced network of its kind.
It will create the infrastructure for companies and organisations to tap into the use of smart sensor technology applications.
This Scottish Government project is being led by tech company Boston Networks opens in a new window based in Renfrew, Scotland.
What is IoT and smart sensor technology?
IoT is a term for machine-to-machine technology, which was originally used in industrial applications including manufacturing.
A few years back several global players adopted a technology called LoRaWAN – or Low Power Long Range Wide Area Access Network. By using new radio technology and ways of sensing, and particularly with developments in battery technology, LoRaWAN has made IoT much more user-friendly and cost-effective.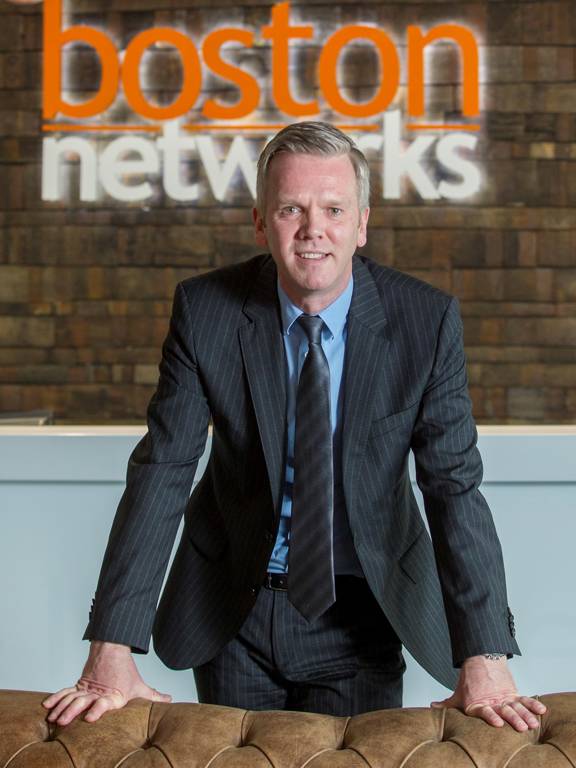 IoT is the connection of a myriad of things. There are IoT-connected devices for the consumer in the home – you see that with technology such as Amazon's Alexa opens in a new window and a whole host of other things that are sensor driven.
At a different level, the creation of smart cities is a significant area for IoT. It means we can connect anything from smart bins, up to intelligent street lighting and smart parking. We can also use smart IoT sensors to optimise transport and how we move things around the city.
Now we're seeing a huge amount of sensor applications – some are more mature than others. But I think that the big year for IoT will be 2022, as we see more and more adoption across the world.
Solving the connectivity challenge
How did Boston Networks get involved in the IoT Scotland project?
A few years ago, we were working with CENSIS opens in a new window and a couple of partner companies to look at what different things we could connect within a smart city. We started testing the technology, such as air quality monitors and how we could effectively track moving objects such as courier bikes. But the lack of connectivity was, as always, a challenge. We then asked ourselves - how do we connect all these things together?
We are wireless experts, so CENSIS and ourselves had discussions with the Scottish Government, Scottish Enterprise and Highlands and Islands Enterprise about designing and deploying a wireless-based sensor network that everybody would have access to.
We knew we could design something that would provide connectivity in cities, suburban areas and certain rural areas - for public, private and small startups to use.
The network's technology is LoRaWAN. It's a solution that is being adopted by lots of large global players. Our network roll out in Scotland is using this technology, which is a cost-effective competitor to what the mobile operators are looking to develop.
A step ahead of the rest of the UK
Scotland is a real first. There have been some tiny pockets of LoRaWAN coverage popping up, but nothing on this scale. We're rolling out 550 gateway devices, which are small boxes, which thousands of smart sensors can connect to.
The smart sensor gateway goes on top of a tall building, with a small antenna attached. This creates a LoRaWAN cell and it effectively gives you cellular coverage without using the mobile network.
You can then connect a myriad of smart sensors to the gateway. These could be related to anything from street lighting to smart parking to a whole host of things.
Tracking objects through smart sensor gateways
We roll out the gateways in a mesh. If you're a sensor, the ideal scenario is that you can see four gateways and the sensor will pick the strongest signal to connect to and authenticate with that gateway.
Now if a sensor can see three to four gateways, that allows us to triangulate. That means when you are tracking a moving object you can pinpoint that journey. This can then be used for managing things like traffic flow or other moving objects as you can live track from sensor to sensor. It could also help track vulnerable people.
IoT coverage in Scotland
Our initial roll out is to get as much IoT coverage throughout Scotland as possible.
We're connecting cities and suburban areas first, so we currently have 100% coverage in Glasgow and Edinburgh, with widely available coverage across the Scottish Borders, Western Isles, Argyll & Bute and areas of Stirlingshire, Perthshire, Inverclyde, East Ayrshire, Aberdeen and Dundee.
We go into rural areas in response to demand. For example, we're working with a company that's putting sensing systems into fish farms to monitor water conditions. This monitoring used to be a manual process.
Another project is with Highland Council. It's putting smart sensing technology out into the field to monitor water temperature to provide an effective way to monitor and control Legionnaires Disease. This would usually have been a 'man in a van' covering large distances across the Highlands and Islands.
IoT is good for business
I would argue that every business could use this technology in some shape or form. A lot of the big infrastructure companies such as utilities or transport operators are already looking at this.
We're aware of a large utilities provider in Scotland looking at predictive maintenance for wind turbines for example. And a large rail player is looking to use the technology for trackside monitoring.
It has such a wide range of applications, so what we would say to companies is forget about the technology. Instead think more about your current business challenges and where business automation and sensing could help address these.
Network access and Covid-19 response
The great advantage of this network is that it is much more cost-effective. Companies and organisations like councils can pay a per-sensor per-month cost. With the older machine-to-machine solutions, every sensor would have a sim card in it. Now, the gateway houses the sim card instead and each sensor talks to the gateway device.
We have 22 gateways in Glasgow – which means only 22 connections to the mobile network, which brings the price point down significantly. It opens the network and means it has the potential to really address the smart cities agenda.
Free IoT Scotland network access to fight Covid-19
Boston Networks is joining the fight against the Covid-19 virus by giving free access to the IoT Scotland network for anyone responding to the unique challenges raised by the ongoing Covid-19 pandemic.
Developers, adopters, and end-users have the opportunity to trial or deploy solutions to address a wide range of challenges that are facing our people, businesses and institutions during this difficult period, such as:
Supporting essential health and care services
Monitoring the movement of people
Improving outcomes by protecting the lives of the vulnerable and those most at risk
Apply now for free access to the IoT Scotland network opens in a new window  
How the IoT network can support smart cities
When you're looking at connecting multiple devices you can't just rely on one technology. What you will usually find, is that in a smart city, you need high capacity fibre. The more fibre you have, the better connected that city becomes.
You then need to overlay that with other technologies such as 5G and LPWAN (Low Power Wide Area Network).
Although there will also be a need to have WiFi in certain areas, some applications will need to have IoT-based networks.
You couldn't put a WiFi device in every intelligent street light for example. So, in a smart city you need a myriad of different connectivity means and what IoT Scotland is doing bridges the gap for certain applications.
How does 5G play into that?
LoRaWAN and 5G should be able to work hand in hand. 5G is good when it comes to high capacity demands, where you need more bandwidth. For example, we would use IoT technologies for what we would think of as low dependency things, like monitoring people and transport flow and making the city smarter.
5G meets the high capacity demands of applications such as AR and VR or autonomous vehicles.
Now people are using similar technologies to LoRaWAN but using the mobile network which can be patchy.
Although I think 5G will be a game changer, it's going to take time to get there. But with LoRaWAN there is technology here and now which companies can adopt a very low cost.
IoT and 5G can work together
A good example is remote healthcare. For example, look at wearable bands for the elderly in the home, which track things such as the wearer's heart rate and breathing. 5G is excellent for this because it uses a high bandwidth to track and send high volumes of detailed day-to-day data.
IoT can't quite address that, but this is where the hybrid comes into play. Using IoT you could have smart sensors in the home to monitor everything such as heat and dampness, light or noise through to monitoring resident's behaviour such as a slurring of speech.
IoT can make a difference
My favourite example of IoT making a difference, at this stage, is water monitoring in the Highlands. You can see and demonstrate the savings. But I'd caveat that with the fact that the best examples are those we don't even know of yet. And that's the exciting part.
Why Scotland has the edge for tech companies
Scotland has a lot of sensor-based talent and there's a lot of smart startup businesses. There is also great support.
CENSIS is a great organisation not just for startups, but also for long-established businesses looking into sensing. I think Glasgow and Edinburgh are particular advanced.
We've also got a real asset in the landscape of Scotland. We've got quite a rugged country, so you can try, test a lot of things here and then replicate that globally.
One of the reasons we chose Glasgow as the original test bed is because Glasgow is built on a grid the same way as every American city – and many in Europe. You can effectively try and test different applications and showcase in Glasgow because of that similarity.
Scotland is small enough that you get to the right people and there is a real willingness to make it an exemplar in everything we do.
The companies that don't tend to perform well in Scotland are those that open a satellite office and don't put down proper roots.
You might also be interested in
11 future technologies

Scotland's long tradition of tech innovation is stronger than ever, making it the place to be to do great things digitally.

Infrastructure and connectivity

Scotland has excellent transport links to the UK, Europe and the rest of the world, as well as offering a first-class digital infrastructure.

How pureLiFi is redefining technology

One of Scotland's most promising tech firms is blazing a trail globally with a new method of wireless communication that will change how we access the internet.
We're here to help
Whether you're looking to locate your digital, data or technology business in Scotland or need help finding suppliers to work with, we can help.