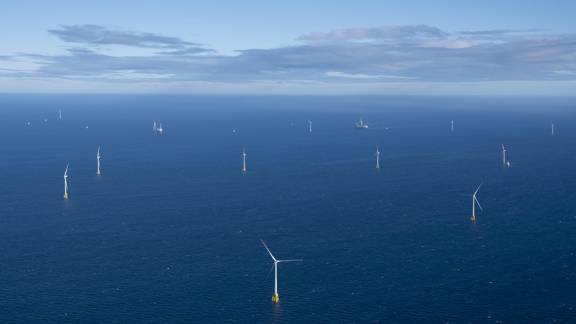 Offshore wind energy companies in Scotland
Scotland is your natural supply chain partner for renewable energy and low carbon projects worldwide, backed by decades of engineering experience, unique offshore energy capabilities and unrivalled support.
Did you know?
When it comes to offshore wind capabilities and expertise, Scotland has an incredible track record.
27,620 talented people

are employed in the renewables and low carbon industries in Scotland.

Unrivalled natural resources

Scotland is the windbreak of Europe with 3.5GW of offshore wind already operational or under construction as of November 2022.

97% of electricity consumption

In 2020, 97% of Scotland's gross electricity consumption was generated by renewables.
Scotland excels in offshore wind energy services
The world's interest in and need for renewable energy has never been higher. In Scotland, we're pushing the boundaries in technological and scientific development of renewable energy.
Scotland has over 9,250 wind energy supply chain businesses including some of the best, most inventive firms in the world. They offer specialist training programmes, wind energy consultancy services and are developing the next generation of wind energy technologies.
Scotland is meeting the global demand for cost-efficient offshore wind solutions. In addition, the European Offshore Wind Deployment Centre opens in a new window  is Scotland's largest offshore wind test and demonstration facility.
When it comes to offshore wind capabilities and expertise, Scotland's track record is undisputable. It has been over 10 years since the world's first 30MW deep-water floating wind farm, Hywind, was developed in Scotland.
Two of the largest offshore wind projects in the world, the 950MW Moray East projectopens in a new window and the 1,075MW Seagreen projectopens in a new window , are both under construction in Scotland. Moray East completed installation of its final turbine in September 2022, and commissioning is expected to be completed by the end of the year. The 50MW Kincardine Offshore Wind Farm is the largest floating wind array in the world.
Scotland's track record

Within Scotland's offshore wind energy supply chain are specialist businesses that are at the forefront of developing technology. They are grounded in decades of subsea expertise and are supported by academics and researchers from world-class institutions.

In 2020, Scotland's world-leading wind sector exported a record £745 million worth of electricity—making Scotland a global wind-energy powerhouse.

Scotland has deep water innovation in offshore wind floating concepts, cabling expertise and specialists in blade manufacturing. There are also engineers, scientists, data analysts and academics from a well-resourced wind energy sector. This means businesses are constantly innovating, breaking down technological and scientific barriers, to ensure the large-scale adoption of wind as an affordable, even cheaper energy alternative to fossil-fuels.

In the first two quarters of 2022, we've generated 18 GWh of renewable energy. This is on track to be our best year yet for renewable energy production.
Choose Scotland for offshore wind energy solutions
Innovation
There's more offshore wind energy innovation underway in Scotland today than ever before.
With the UK Government's £160 million commitment towards green energy research and development, Scotland's businesses remain at the cutting-edge of offshore wind energy innovation. They are developing next-generation floating wind turbines, designed using the most advanced mooring technology on the planet.
Expertise
As the race toward renewables intensifies, customers are taking advantage of Scotland's well-established expertise in offshore energy projects.
There are also world firsts such as the Beatrice deepwater offshore wind demonstrator and Equinor's Hywind Scotland floating offshore wind farm. As a result, businesses in Scotland offer products, services and manufacturing to customers worldwide, allowing them to increase their access to wind energy solutions.
Project management
Scotland has nearly 20 years of experience in planning, developing and operating some of the world's biggest, deep water and most advanced floating offshore wind farms.
Our subsea capabilities have benefited energy operations across the globe and with our northerly latitude, we are the windiest country in Europe. Few can demonstrate such an array of complementary conditions and business-ready infrastructure to advance the availability of offshore wind energy resources.
Value 
Many traditional energy companies are now beginning to look towards renewables.
Because of our offshore energy expertise, Scottish firms including tier 1 and tier 2 suppliers, are uniquely placed to help customers transform their core business models or pivot to new opportunities in a way that ensures the asset's long term economic viability.
At the European Offshore Wind Deployment Centre (Aberdeen Offshore Wind Farm), ongoing research in the areas of blade testing, retrofitting techniques and maintenance regimes is ensuring our supply chain offers the most cost effective offshore wind solutions.
Successful Scottish offshore wind energy companies
Global Energy Group
Headquartered in Inverness and with facilities beside the Cromarty Firth, Global Energy Groupopens in a new window  boasts an impressive track record of providing manufacture, assembly and factory acceptance testing services to the renewable energy sector.
As well as assembling turbines and manufacturing and assembling tidal turbine foundations, they supply an extensive range of offshore wind infrastructure products. In 2022, the company announced their intention to start offshore wind tower manufacturing.
ACT Blade
The ACT Bladeopens in a new window  is a light and controllable wind turbine blade. The innovative design allows for longer blades which increases energy production and reduces the cost of energy. ACT blade was founded in November 2015, following the completion of a feasibility study conducted in collaboration with DNV-GL and Offshore Renewable Catapult. Not only is it extremely effective, it has been designed to be partly recyclable and to use recycled material, reducing landfill waste.
Xodus Group
Xodus Groupopens in a new window  is one of the world's leading offshore energy consultancies providing technical, environmental and engineering support to a wide range of clients within oil and gas and offshore wind and marine renewables (wave and tidal) industries.
Find offshore wind energy suppliers
Take a look through these trade directories and industry bodies: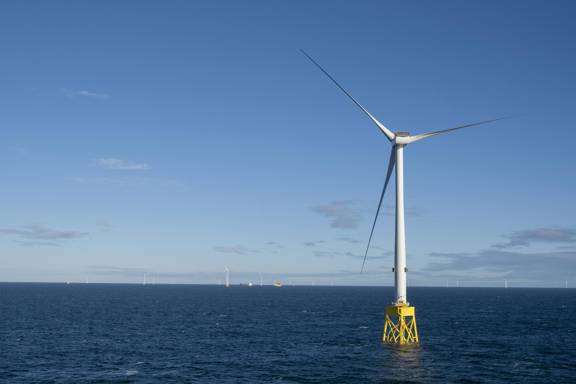 How can we help?
Whether you're looking for the right suppliers or have a potential offshore wind energy project in mind, we'll help you make the right connections to support your needs.