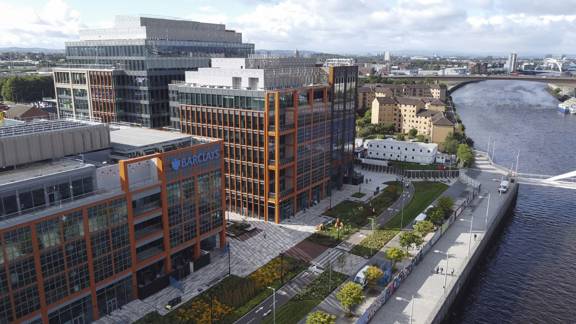 Barclays opens major financial tech hub in Glasgow
Last updated: October 2021
Barclays, the global financial giant, has opened its new world-class technology campus on the banks of the River Clyde in Glasgow. As part of the company's global locations strategy, and following a worldwide search of locations, Barclays chose Glasgow because of the highly skilled workforce and the depth of Scotland's financial services expertise.
A landmark moment for Scotland's thriving financial services
First Minister Nicola Sturgeon formally opened the 500,000 square foot site, which will be powered entirely by renewable energy and house Barclays' technology, operations and functions teams.
Barclays has grown its workforce in Glasgow by over 90% in the last four years and is on track to have around 5,000 employees on campus by 2023.
The official opening of the campus marks the culmination of many years of partnership working to deliver such a significant and transformative project for Glasgow and Scotland.
We've worked closely with Barclays and with partners, including Glasgow City Council, to highlight why Glasgow was the ideal location for this campus and provided a broad range of support services to help turn their vision into reality.
Watch our video with Scott Stewart, Head of Barclays Scotland, revealing why the city and Scotland are the perfect fit.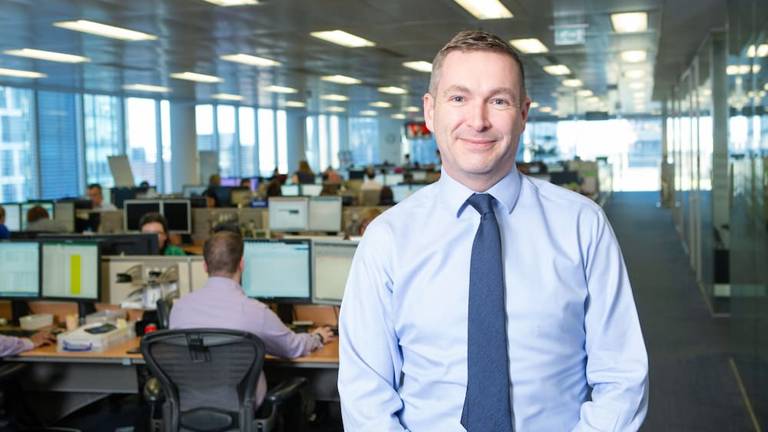 Strategic location for business growth and access to talent
Barclays traces its history in Scotland back over 250 years and has operations located around the world from the UK to the US, to India, Asia Pacific, and beyond. The new Scottish campus will play a pivotal role in the company's long-term strategic priorities.
Barclays' expansion in Glasgow is a massive vote of confidence to Scotland's highly-skilled workforce and infrastructure. And sends yet another strong signal to other global companies that Scotland is an incredibly attractive destination to grow businesses.
Working with universities in Glasgow and Edinburgh, the bank is developing a robust pipeline of graduate and apprenticeship opportunities, the majority of which are going into high-skill technology roles.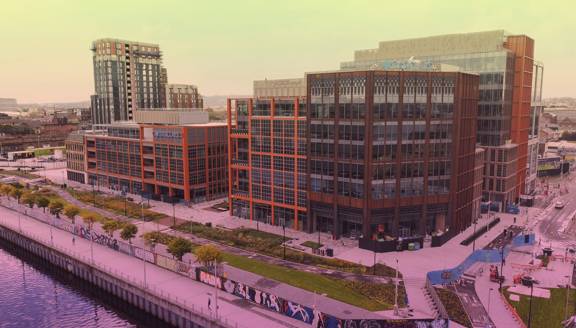 Barclays' expansion follows in the footsteps of many companies already growing in Scotland, which either have headquarters or satellite offices here, such as HSBC, Morgan Stanley, Lloyds and J.P. Morgan and organisations such as RBS, Standard Life Aberdeen and Prudential.
With over 600 financial and business service companies in Scotland, many global institutions consider it a vital and strategic location for innovation and growth because of its exceptional skills, business infrastructure, low-cost base and global business network.
Barclays' incredible new office space fully embraces cutting-edge technology and design. This world-class working environment will help the bank deliver outstanding services to customers and clients by fostering innovation and collaboration.
Working in partnership with the University of Glasgow, Barclays has reflected the rich heritage of the city in the street names and buildings of the campus. Tradescroft, Windmillcroft and Wellcroft are new buildings, and their names reflect the crofting and industrial heritage of the area. Two historic buildings, Clyde Place House and the BECO Building have been restored for public use.
Designed with collaboration and the future of work in mind, the workspace has complex lighting systems, smart acoustics, creative spaces and technology to support hybrid working. A fundamental aspect of the design process was ensuring that the campus was inclusive to all, with a specific focus on neurodiversity through Barclays' partnership with Scottish Autism.
The campus will be home to the latest Barclays Eagle Lab hosting members of Glasgow's technology startup community. The lab will focus on supporting and developing skills in new and emerging technologies, innovation and entrepreneurship.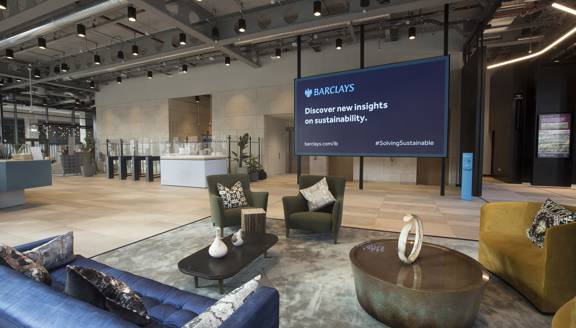 You might also be interested in
Glasgow's tech scene

Discover what makes Glasgow stand out as a top UK investment location for multinationals and tech startups wanting to grow.

Digital skills support

Discover how Scotland's digital talent is benefiting businesses around the world and how Skills Development Scotland can help you access that talent.

Scottish Fintech solutions

How Scotland's innovative fintech firms have mobilised and responded to the challenges arising from the Covid-19 environment.
We're here to help
If you'd like to hear more about the experience of Barclays and how Scotland could be an ideal location for your financial services or fintech business.