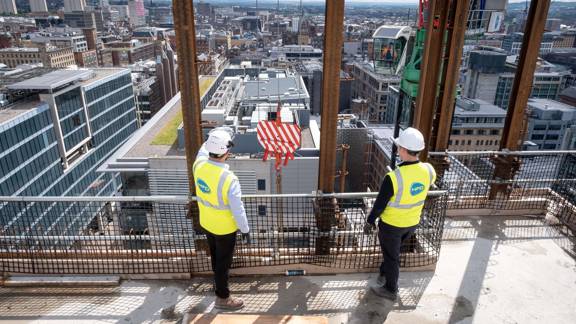 Looking for new opportunities for your business? Learn more about Scotland's diverse and growing economy and why it could be the perfect place for your business. As a progressive, inclusive, sustainable country that prioritises collective wellbeing, we want to work with global companies like yours that share our values.
Our values
Net zero by 2045

Sustainable and inclusive economic growth

Fair work commitment
Why locate your business in Scotland?

Join us in building a greener and fairer future for all

We consider health, happiness, equality and sustainability to be fundamental to a successful economy – one that delivers high productivity, pioneering innovations, advances in technology, and high employment for the long term.

When you invest in Scotland, you are choosing to locate in a country that has set global standards for climate change, sending a clear message to your customers about your own green credentials and actions.

You'll benefit from the long-term sustainable growth that comes from Scotland's priorities of people and the planet, focused on collective wellbeing and opportunities for all.

Our commitment to create good, green, well-paying jobs means you'll have access to a range of resources, funding and tools to support your fair and flexible working objectives.
Opportunities to grow your business
For a valuable, sustainable return on investment, Scotland has all the right credentials to set up and expand your business, to innovate and access new markets.
There are around 364,000 private sector enterprises currently operating in Scotland. An estimated 99% of these companies are small or medium-sized enterprises, providing 1.2 million jobs.
Source: Scottish Government, Businesses in Scotland 2020 opens in a new window
Our dynamic industry clusters and connected supply chains will allow your company to immediately benefit from established and influential industry networks. You'll enjoy the sharing of knowledge, networks, research and best practice from the moment you set up here.
Explore opportunities across our diverse and growing industries.
Commercialise your research
Need help to commercialise your research or scale your business in Scotland? We can connect you to our partner networks to help accelerate your journey.
Scotland has a long history of engineering and inventions. Today, collaboration between our universities, innovation centres and businesses will help commercialise your research.
Three Scottish universities (Edinburgh, Glasgow and St Andrews) are among the top 100 QS World University Rankings 2022.
Plus, our universities produce more spinouts than anywhere else in the UK, proving that Scotland's researchers are top of the class.
Did you know?
Scotland has a population of around 5.5 million, mainly spread across seven cities – Aberdeen, Dundee, Edinburgh, Glasgow, Inverness, Perth and Stirling. Scotland has one of the lowest unemployment rates in Europe at 4.4%.
75.8% employed

Scotland has one of the highest employment rates in Europe.*

£2.7 billion in R&D funding

Latest gross expenditure on research and development in Scotland.**

50.4% in further education

Over half the Scottish population undertakes further education - the highest in Europe.***
*Scotland's labour market statistics, October 2022; **2018 Gross Expenditure on R&D (GERD) statistics, Scottish Government, Oct 2020; ***Eurostat (2019 data), Oct 2021
Foreign direct investment in Scotland

Many global businesses which share our values have already chosen to locate, operate and grow in Scotland, and we would love you to join them. We are here for you throughout the journey – supporting you before, during and after you locate in Scotland.

Scotland is the most attractive location in the UK outside of London for foreign direct investment (FDI), according to the EY Attractiveness Survey 2022.

The survey revealed that Edinburgh was ranked the number one city in the UK for FDI projects outside of London. Glasgow and Aberdeen were also within the top ten list of UK cities.

The survey also found that Scotland's digital technology, manufacturing and business services industries generated the highest number of inward investment projects.

Edinburgh, Scotland's capital, is the UK's most entrepreneurial city, topping UK cities with the most promising growth prospects, according to the Lambert Smith Hampton's 2019 Vitality Index opens in a new window .

Edinburgh is also ranked fourth in the world for quality of life in a recent survey of 56 cities around the world by Deutsche Bank, 2019 (PDF, 1MB)opens in a new window .
Recent FDI projects in Scotland
Mitsubishi is investing £15.3 million in a new Livingston facility to meet global demand for low carbon heat pumps.

Barclays opens major financial tech hub in Glasgow benefiting from Scotland's highly skilled workforce.
Interested in knowing more about Scotland and the businesses who choose to locate here?
Sign up for email updates.
You might also be interested in
Our people and skills

Companies operating in Scotland benefit from an exceptionally talented workforce. Find the right talent, skills and training you need to grow your business.

Innovation in Scotland

From our creative thinkers to our innovation centres of excellence and funding for innovation, Scotland is a great place for companies working on research and development projects. 

Lower costs

By locating in Scotland, you will benefit from one of the lowest tax rates in Europe, together with low set-up and operating costs. Property and salary costs are up to 40% less than London.
If you have any questions or want to talk with one of our advisers, we're always ready to help.