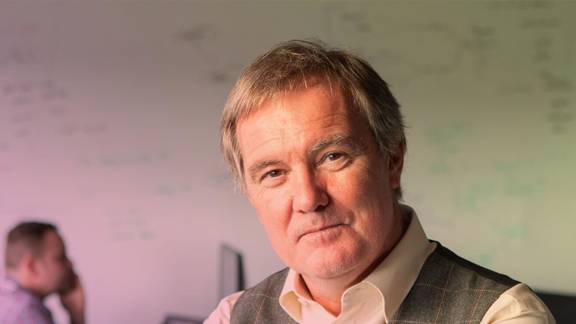 Why Previse chose Glasgow to establish its fintech R&D centre
Last updated: February 2021
When London-based fintech firm Previse decided to establish its research and development (R&D) base in Glasgow, it was an opportunity for co-founder David Brown to come home after 26 years. But the decision to locate in Scotland was driven more by talent than nostalgia.
New thinking for a global problem
In a little over two years, Previse has firmly established itself as one of the most innovative companies operating in Scotland's rapidly expanding fintech ecosystem. The company use artificial intelligence (AI) to speed up payments to small and medium suppliers.
Using hundreds of millions of data points, Previse technology creates an independent score of a multinational buyer's likelihood to pay an invoice. This is used to decide which invoices will be paid, so funding can be extended to small and medium-sized enterprise (SME) suppliers instantly. The machine-learning solution allows large businesses to pay suppliers the day they receive an invoice.
Finding an AI solution to late payments
The entirely new thinking at Previse is to use artificial intelligence to make predictions based on buyer behaviour. By doing so, they hope to find a solution to what is becoming an increasingly global problem. The latest figures show that late payments force 50,000 small businesses to close every year in the UK alone.
Look to the buyer, not the supplier
David Brown, co-founder and chief product officer at Previse explains:
"We believe the entire market for trade finance gets looked at the wrong way around. Everyone is looking at the credit worthiness of the supplier, when in fact, it's the buyer who controls the payment.
"The buyer places the purchase order on the supplier, so why don't we look at the buyer and ask, 'How likely is it that he's gonna pay his bill?'.
"This is a disruptive way to tackle trade finance. It's new, radically different and supported by sophisticated data science."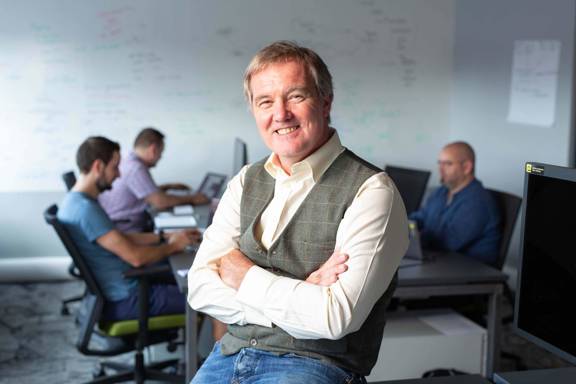 Choosing the right location for research and development
This radical approach to trade finance requires expertise in the use of artificial intelligence in the financial supply chain.
In 2017, Previse made the decision to establish its R&D centre in Glasgow. It was a decision based largely on Scotland's growing reputation as a world-leading fintech hub.
The company's growing team and success since pays testimony to this, as it looks to developing a presence in Edinburgh too.
David says, "As a Scotsman who has been away from Glasgow for 26 years, it's a proud moment when you get to come home. But the decision to locate in Scotland was driven more by talent than nostalgia. We were drawn here by the talent and resources available as well as much stronger retention potential."
Unlocking the right talent through Scotland's data science expertise
We asked David to expand on why Scotland was such a good fit for the company's R&D activities.
"Because Previse is doing something so innovative, finding people with the right skills and training is a dilemma. We can't advertise for someone with five years of experience."
Doing things no one has done before
"We realised that there is a great fit between the skills we are looking for and the data science expertise coming from Scotland's universities.
"Before we even decided to locate in Scotland we got to see first-hand the work of Gillian Docherty and Jude McCorry at The Data Lab opens in a new window in Edinburgh. We saw how they were working with universities and commercial organisations to build Scotland as a destination for data science.
"We're doing things that no-one has done before. Now we are developing close partnerships with some of the leading universities in Scotland and this will help us with the more innovative aspects of our research."
A truly connected fintech ecosystem
The introduction to The Data Lab came about through support from our extensive networks. It was this early example of real collaboration between academia, government and industry that convinced Previse that Scotland was the right place for them.
Poised to scale up
As David explains, "The support we've received from the Scottish Government, the links with The Data Lab, and our connections with Scottish universities are all essential elements for Previse's growth. We are poised to scale up.
"Quite simply, Scotland has the right ecosystem to nurture a company like Previse."
The company also took comfort from the fact that so many global financial institutions had already established their technology centres in Glasgow.
Globally recognised fintech centre
"Scotland is already well-known as a centre for fintech. As we began the process of evaluating possible locations, I quickly realised that J.P. Morgan, Barclays, and Morgan Stanley have their technology operations in Glasgow.
"You know these are major organisations that have reviewed the market as well, and they've obviously chosen Glasgow for a reason. Ultimately, it's not just about cost, it must be about talent as well, and that's what helped me decide – it's Glasgow."
Looking to the future
"Our immediate priority is product development work, but we are also looking to the future. Our links with Strathclyde University and elsewhere will enable us to scope out research projects that tackle payment.
"Globally, the supply chain finance sector is worth $180 trillion. As well as developing our business, we expect to see this sector expanding rapidly in Glasgow, and across Scotland.
"At Previse, our focus is developing expertise in the use of artificial intelligence in the financial supply chain. I believe Scotland can develop a real specialism in this particular area of data science."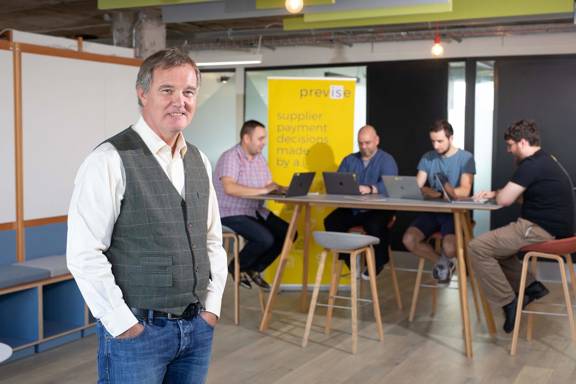 You might also be interested in
Financial services and fintech

Scotland is the UK's largest financial centre outside London with a thriving fintech community. Find out more about the finance industry in Scotland.

Data skills to match your needs

Scotland provides easy access to a growing talent pool of data science skills that makes it the location of choice for fintech companies looking to set up and grow.

The right choice for fintech

How Pinsent Masons has supported the rapid growth of fintech in Scotland, working with both established businesses and startups.
Want to hear more?
Find out more about the experience of Previse, and how Scotland could be the ideal location for your financial services or fintech business.