What makes Edinburgh the ideal place for tech companies
28 May 2020 • 6 minute read
The strengths behind Edinburgh's thriving tech scene and why it's predicted to be the UK's next tech hub.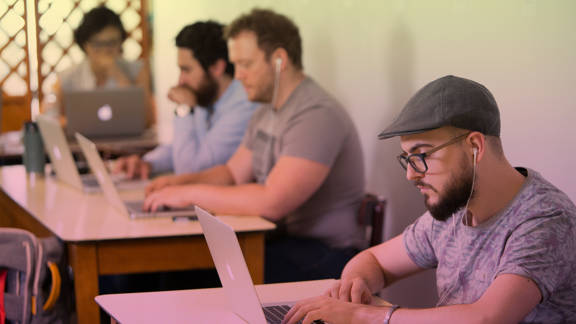 "Edinburgh will become the UK's next tech hub," predicts angel investor, Andrew Dixon, founder of ARC InterCapital. Our interview with FanDuel co-founder Nigel Eccles highlights some of the strengths behind Edinburgh's thriving tech scene.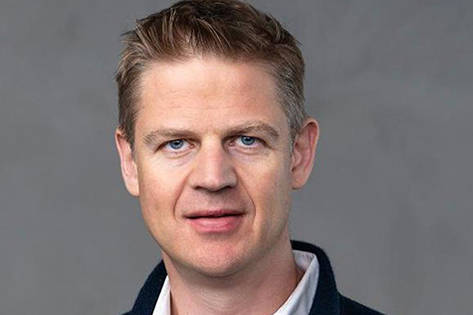 Nigel Eccles started FanDuel, the online sports betting company, in Edinburgh in 2009. His latest startup company, Flick, is currently located at CodeBase - the largest technology incubator in the UK and one of the fastest growing in Europe.
Here he shares his thoughts on the depth of tech talent in Edinburgh, the spirit of collaboration across the tech ecosystem, and why there's a good chance that "the next billion dollar startup to come out of Scotland is already a tenant at CodeBase."
How Edinburgh's tech startup scene has changed
When I think back to when we started FanDuel, over 10 years ago, the tech landscape in Edinburgh was very different. We were based in the King's Buildings at the University of Edinburgh with just a couple of other companies. It was quite a lonely existence.
Today, the city is home to hundreds of ambitious technology startups and entrepreneurs. These companies are operating within a vibrant, collaborative ecosystem where all the key factors are in place for any company looking to turn ideas into reality and achieve their growth ambitions.
Tech talent and university links
Although I'm now primarily based in New York, I love visiting Edinburgh, to remind myself of where it all began. Every time I return to the city, I'm struck by the growth, diversity and ambition of the tech scene in Edinburgh.
The success of any tech ecosystem comes down to the people on the ground. The talented people that live and work there.
Edinburgh is a city with world-leading university courses turning out large numbers of highly skilled computer science and computer engineering graduates. According to UK Research Excellence Framework *REF2014 data, the School of Informatics at the University of Edinburgh is the largest grouping of artificial intelligence researchers in the UK. And they have a cohort of over 1,600 students from over 75 countries around the world.
What's a strength for Edinburgh is the range of opportunities available to those graduates, including those with ambitions to start their own tech company in the future. Indeed, the University of Edinburgh ranks 4th in the UK for producing spinout companies.
The first steps
Most graduates, even those with ambitions to start their own business, will begin their career by working with an existing startup or an established tech company. They do this to gain experience which they can then use to establish their own startup.
Everyone points to Mark Zuckerberg or Bill Gates as your typical entrepreneur who starts a business straight out of university. But typically it's people like Jeff Bezos who started his career at hedge fund DE Shaw before founding Amazon in 1993.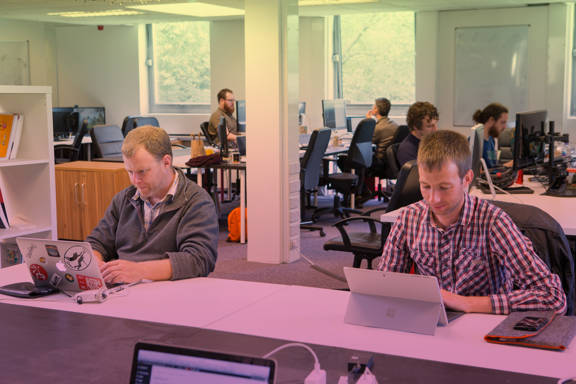 A great place to get experience in the tech industry
In this respect, Edinburgh is the ideal place because it's home to a thriving tech business base, including global companies like Skyscanner, Amiqus and MyWay Digital Health, as well as a growing number of tech startups.
When I think of the startups that I know of in Edinburgh, I don't see a specific specialism in AI, big data, or fintech, they're really quite diverse. That diversity creates so many different opportunities, which really does make it the perfect training ground for young tech talent.
Benefits from Edinburgh's dynamic tech startup scene
Another key factor in Edinburgh's success has been the growing number of second-generation entrepreneurs operating within the tech ecosystem. These are people who have been involved in previous startups, whether they've been successful or not, and are keen to use their knowledge to try it again. It's something that Edinburgh didn't have maybe 10 or 15 years ago. But now you have a group of experienced entrepreneurs who understand what's required to start a company and have the desire to do it again.
Take TravelNest as an example, a startup company currently located in Edinburgh. It's created a platform that brings together people with properties they want to let and travellers. It's worked out a way to make the whole process simpler for the end-user.
One of the things that TravelNest has on its side is that it has a number of people who have previous startup experience. Its head of marketing was previously head of marketing at FanDuel. And many of their team are ex-Skyscanner. Which means they have a lot of experience among their executives.
From a personal perspective, it's been really exciting to see great how these people who started their career with FanDuel are now helping to establish new companies and disrupting different sectors across the market.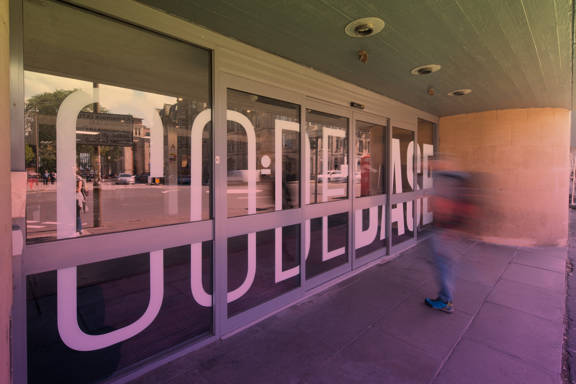 An environment where ideas can be exchanged and bounced around
In a sense it's almost like a snowball effect, where successful startups give birth to new startups, creating a culture of entrepreneurship across the tech ecosystem.
Of course, that snowball effect can only take place if people are willing to collaborate, to share their ideas and to support new businesses.
In most industries, take law for example, it's probably going to be 20 or 25 years before you're being invited to conferences and be considered a leader in your field.
In the world of startups however, you can become a leader in your field very quickly, perhaps after a couple of years.
So what you typically find is that experienced entrepreneurs remember very well what it was like to help people who are at that early stage and are willing to offer their support and guidance.
In that respect, I think that tech entrepreneurs are quite unique, and that's why business incubators like CodeBase opens in a new window are such an important part of the tech ecosystem in Edinburgh, because they create an opportunity for startups to co-locate with similar companies.
You have motivated people working in close proximity to each other which is hugely beneficial because it creates an environment where ideas can be exchanged and bounced around. I feel that's one of the main advantages that CodeBase brings. And I think that sense of openness and collaboration extends across the entire tech industry in Scotland.
You might also be interested in
11 Future technologies

Scotland's long tradition of tech innovation is stronger than ever, making it the perfect place to be to do great things digitally.

Setting up your business

Find guidance on setting up a business in Scotland, including information on taxes, insurance, immigration and more.

Our people and skills

Scotland has the people and skills you need to take your business to the next level. Over 50% of our working population have higher education.
Whether you're looking to locate your digital, data or technology business in Scotland or need help finding suppliers to work with, we're here to help.