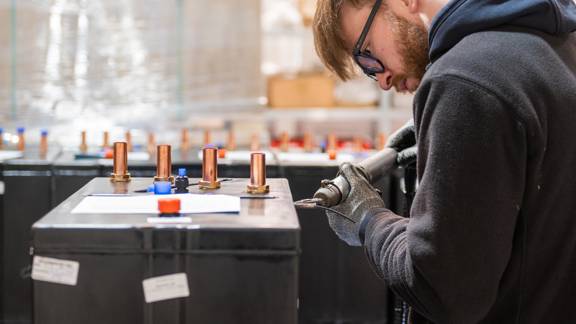 Scotland has been at the forefront of green heat innovation for decades, so it's the perfect place to build your skills and grow your knowledge. Learn about career opportunities in this sector.
The green heat sector at a glance
Green heat is a priority for Scotland. It's estimated that in 2020 there were between 16,800 and 24,100 full-time equivalent people employed in Scotland's energy efficiency and low carbon heat sector. Through this period, the sector generated an annual turnover of £5.5 billion. 
We estimate that the shift towards low carbon heating could create 16,400 additional jobs by 2030. With a history of pioneering projects and industry firsts, green heat is a sector that will help you to build lucrative skills and broaden your career horizons.
There's opportunity here to work on impressive projects. Examples include:
Queens Quay

opens in a new window

 – a £250 million regeneration project in Clydebank that will feature Scotland's largest single heat network, all powered by Scotland's first large-scale river-based heat pumps
HeatSource

opens in a new window

– an industry network cluster builder that connects and builds a robust green heat ecosystem
AMIDS

opens in a new window

– the Advanced Manufacturing Innovation District Scotland (AMIDS) is a 5th generation heat network at the forefront of green heat projects 
Benefits of working in green heat
Career sustainability

The shift to low carbon heating that could create up to 16,400 new jobs by 2030.

A growing sector

The low carbon/renewable heat sector generates an annual turnover of £5.5 billion.

Ambitious targets

Scotland plans to convert 1 million homes and 50,000 non-domestic properties to green heat solutions by 2030.
Your skills are in demand
In Scotland, decarbonising heat is a national priority – it's the place to grow your expertise and build future-focused skills.
Be a part of the dynamic developments helping our green heat sector to thrive. There are many areas of work to choose from, including:
Heat  pumps
The scale of the heat pump opportunity is enormous and the supply chain continues to develop. Be a part of an evolving market, with opportunities in heat pump component manufacturing, innovation around heat pump systems, installation, smart control, and operations and maintenance.
Heat networks
Work for the companies transforming heat networks into low carbon networks. Scotland has an ambitious target to install 6 terrawatt-hours (TWh) of heat networks by 2030.
Heat tech
Get involved in groundbreaking low carbon heat generation technologies, including harnessing heat from wastewater and largescale water sourced heat pumps.
Energy efficiency
If you can design the green products of the future, you'll find opportunities here. Scotland has committed to decarbonising heat and improving energy efficiency with a £1.8 billion fund for investment.
Sunamp, Star Renewables, and Mitsubishi all have hubs here, along with many more– from home-grown innovators to international companies.
How Scotland supports green heat
Scotland was the first country in the UK to legislate on developing heat networks with the draft Heat Networks Bill. Government targets for green heat include converting one million homes and 50,000 non-domestic properties to green heat solutions by 2030.
With ambitious targets comes funding, creating more opportunity to do groundbreaking work in this sector. Other funding plans include the UK government's Green Heat Network Fund (GHNF) – a three-year £300 million grant, and a commitment to secure £1.8 billion in heat and energy efficiency over five years.
Find out more about the Green Heat Network Fund  opens in a new window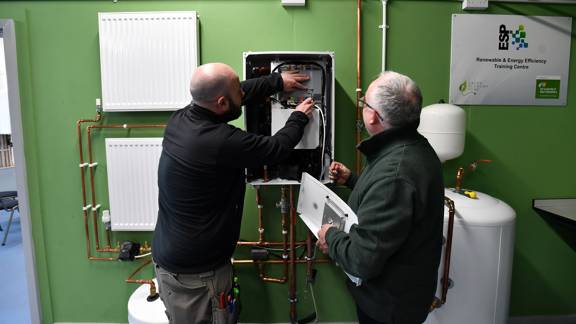 Quality of life
Scotland has lots to offer outside of work. 
 
Wherever you decide to work in Scotland, you'll discover welcoming communities, rich history and vibrant culture. 
Enjoy shorter commutes, world-class education, free healthcare, and plenty of green space on your doorstep. Building a career in Scotland comes at a lower cost of living than many other major locations. You'll benefit from flexibility for hybrid and remote working while being fully supported by reliable digital connectivity. 
As one of the best-connected places in Europe, Scotland has six airports with daily direct flights to 150 destinations worldwide. We also have fast and frequent rail links to all parts of the UK.