Pharma services and contract research careers in Scotland
Scotland is one of the world's most dynamic and exciting locations for pharma services and contract research. Whether you're a scientist, researcher or regulatory support expert, there are many opportunities to expand your career in Scotland.
Scotland's healthy track record in medical research
Scotland is one of the world's most dynamic and exciting locations for contract research. We conduct more medical research than anywhere else in Europe per head of population.
Our tradition of pioneering the development and assessment of new drugs and therapies makes us an ideal place to progress your career in areas including:
Drug discovery
Contract research
Pharmaceutical manufacturing and preparation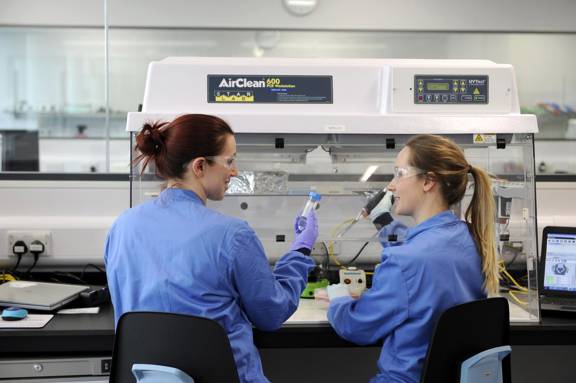 Work for the best contract research organisations
If you've got the skills, connecting with Scotland's life science companies, academia and research institutions could be the next step you've been looking for.
In Scotland, you can work for the best. We're home to some of the world's top contract research companies, including BioReliance and Charles River Laboratories.
We're also a recognised leader in clinical contract research. Two global leaders in contract research – Quintiles and PPD – are also based here and have awarded Scotland the location of choice 'preferred site' status for clinical trials.
If you want to work for a home-grown company, BioOutsource, Biopta and CXR Biosciences are some of the award-winning Scottish companies doing outstanding work in contract research.
Scotland has a dynamic pharmaceutical manufacturing and preparation company base, including innovative companies like Solid Form Solutions, Ingenza and Encap Capsugel, all providing challenging environments within the business for high calibre individuals.
A supportive, collaborative work environment
Our long-standing clinical and biomedical expertise is supported by university research.
Here, you'll find a supportive, first-class environment to work in. The University of Dundee was voted the best European scientific institution to work in and exceeds Cambridge and Oxford Universities in life science citations. (Source: The Scientist)
In Scotland, you can draw on the expertise of several world-renowned universities and academic research institutes to deliver quality research.
We also receive help from a well-established and streamlined approval and contractual processes – resulting in faster research and development approval and set up times.
Expand your career in Scotland
Use your skills to develop an exciting career in one of the world's top locations for pharma services and contract research. There are multiple areas where you can use your skills and expand your knowledge, such as:
Drug discovery – basic research, lead discovery, screening, lead optimisation
Preclinical contract research – pre-development safety, dystrophic myotonic protein kinase (DMPK), preclinical development safety, bioassays, immunoassays, molecular genetics, safety pharmacology, carcinogenicity, investigative toxicology
Clinical research – clinical trial management, clinical research nursing, clinical trial assistance, post market surveillance, biostatistics, regulatory, data management, study monitoring, pharmacovigilance
Pharmaceutical manufacturing and preparation – formulation development, process development, release testing
Explore current services and contract research roles in Scotland