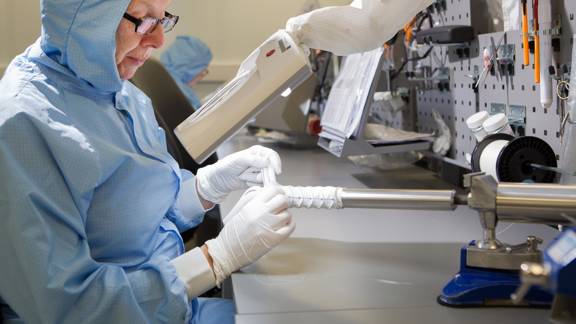 Scotland is the place to develop a rewarding career in medical technologies (medtech). 
Join the 9000 people doing life-enhancing work in Scotland's thriving medtech sector. As one of the largest life sciences clusters in Europe, you'll be part of a wider community of around 40,000 people who are working across 750 organisations. 
A skilled workforce

Join one of the largest life sciences clusters in Europe, with 9000 people already working across the medical technologies sector in Scotland.

A sector of continued growth

The UK medtech market is predicted to reach £33.7 billion thanks to our National Health Service.

Industry-leading research facilities

15 of Scotland's universities excel in medical technology research, with eight of our innovation centres directly linked to medtech.
Your skills are in demand
Scotland excels in diagnostics, imaging, therapeutic devices and more. So, there's a wide range of exciting opportunities for skilled people like you. 
We're home to globally renowned companies such as LifeScan Scotland opens in a new window as well as many innovative home-grown industry leaders such as Nikon opens in a new window and Össur opens in a new window .
Our breadth of dynamic organisations means that you can work in diverse areas, such as:
Device development and design
Bioengineering
Physics and photonics
Electronics and specialised software solutions
Molecular diagnostics
There are also many opportunities to build expertise in associated fields. This includes device regulation and health economics, which are both in high demand for bringing medical technologies to market.
Find the latest medtech roles in Scotland
We're constantly innovating in the medical technologies sector. So, whatever your passion, and however niche your expertise, you'll find a home for it in Scotland.
How Scotland supports medtech
Our culture of research, innovation and creativity fosters collaboration between academia and industry. Our National Health Service, NHS Scotland opens in a new window , is strongly aligned with academia and industry partners such as Roche and Pfizer, providing unique opportunities for co-development and clinical testing.
In fact, the lucrative UK medtech market was estimated to reach £33.7 billion by 2023, thanks to a unified health service. 
When you work in Scotland, your employer will have access to unparalleled government-funded opportunities, in addition to support for innovation, research and development (R&D) and new product development from publicly funded bodies like Scottish Enterprise opens in a new window , South of Scotland Enterprise opens in a new window and Highlands and Islands Enterprise opens in a new window .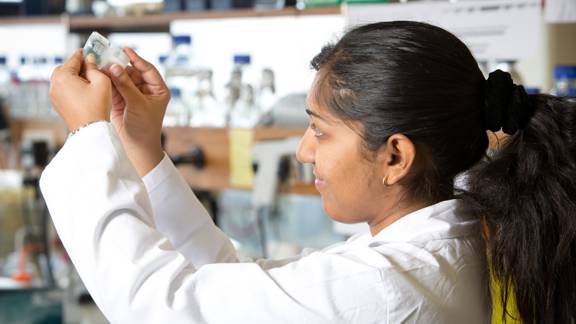 The medtech sector at a glance
Develop your skills in a truly collaborative environment. Groundbreaking medical technology research is happening at 15 of our universities across the country. As medtech continues to grow in Scotland, so do opportunities to be involved in cutting-edge work and unique proof-of-concept and trials – all backed by invaluable data on disease. 
Scotland is an unrivalled destination to develop new solutions for healthcare, with world-class health informatics systems featuring picture archiving and a Community Health Index (CHI) register of every patient, which includes comprehensive medical history. 
As a testbed for advancement, the work you do here is supported by Scotland's innovation centres – all aligned to accelerate the medtech industry. What's more, Scotland is an established location for medtech manufacturing and trailblazers in telehealth and telecare, with 80,000 patients participating in government-funded projects.  
Today, Scotland has an established cluster of around 135 companies working in digital health. And there's a range of pioneering home-grown companies, working alongside large multinationals. These include:
Advanced research and development
Scotland is the place to broaden your knowledge and build in-demand skills. Eight of the country's innovation centres directly support medtech, including:
These state-of-the-art innovation centres provide support, expertise and dedicated facilities across a range of research topics that span areas like stratified medicine, digital health, sensors, biotech and data. 
Scotland is also home to iCAIRD (Industrial Centre for Artificial Intelligence Research in Digital Diagnostics) opens in a new window – a world-class centre of excellence focusing on the application of artificial intelligence to digital diagnostics.
Scotland is home to the only Fraunhofer opens in a new window  site, located at Glasgow's Fraunhofer Centre for Applied Photonics, focused on application-orientated research.
So, if you're looking to innovate, create, and contribute to life-changing work, Scotland is for you. 
Quality of life
Scotland has lots to offer outside of work. 
 
Wherever you decide to work in Scotland, you'll discover welcoming communities, rich history and vibrant culture. Enjoy shorter commutes, world-class education, free healthcare, and plenty of green space on your doorstep. 
Building a career in Scotland comes at a lower cost of living than many other major locations.  You'll benefit from flexibility for hybrid and remote working while being fully supported by reliable digital connectivity. 
As one of the best-connected places in Europe, Scotland has six airports with daily direct flights to 150 destinations worldwide. We also have fast and frequent rail links to all parts of the UK.