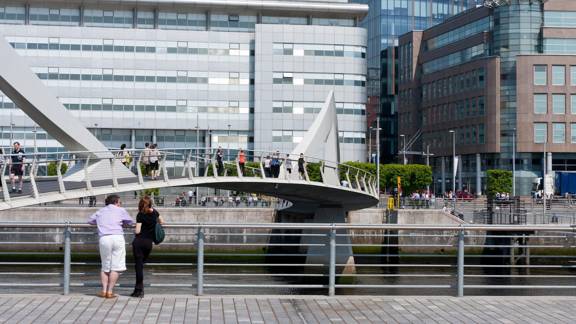 Global business services careers in Scotland
Scotland is the ideal place to build your global business services career. Our skilled workforce and rich history of innovation attracts global business services operations from around the world. This includes customer experience, finance, HR, procurement, legal services and technology development.
The perfect place to develop your career
Employers in Scotland can recruit talent fluent in most languages – and can easily service customers and markets across the globe. Scotland also has access to world-class tech talent and academic excellence.
Companies of all sizes and sectors have chosen Scotland to deliver their services.
With a wide range of jobs available, it's the perfect place to take your career to the next level in global business services.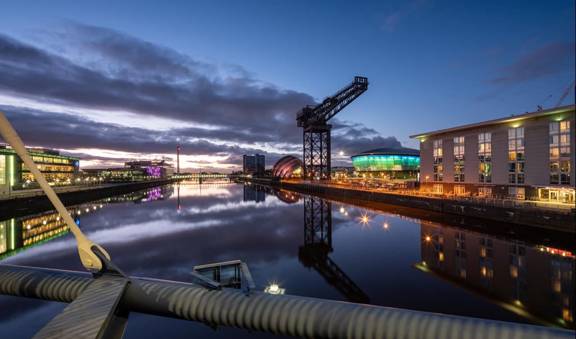 Employers that have chosen Scotland 
Companies of all sizes and from all sectors have chosen Scotland to deliver their services. They include: 
Atos

opens in a new window

is the French multinational IT group has a development and innovation centre in Moray in the Highlands and Islands of Scotland
Ashurst

opens in a new window

is the London-based global law firm has had a growing legal and business support services hub in Glasgow since 2013
Ascensos

opens in a new window

is based in North Lanarkshire and has six contact centres across the UK, Central and Eastern Europe servicing clients including KFC, Aldi, B&Q, Wickes and JD Sports
Unisono

opens in a new window

is a Spanish multinational specialising in customer services and contact centre technology, has its UK base at Larbert in central Scotland
Webhelp

opens in a new window

 is the French business process outsourcing multinational has eight operations in Scotland including Dunoon, Greenock, Rothesay, Kilmarnock, Glasgow and Falkirk
JP Morgan Chase

opens in a new window

is the American investment bank has operations in Edinburgh and in Glasgow (MISSING LINK), where it employs around 2,000 technology specialists
CGI

opens in a new window

 is the Canadian IT and business consultancy group employs 400 people in Aberdeen, Edinburgh and Glasgow
NCR Corporation

opens in a new window

is the US-based banking technology specialist employs around 600 of its 34,000 staff in Dundee at its Research and Development Centre of Excellence
FNZ

opens in a new window

is a financial technology firm founded in New Zealand, manages around £400 billion in assets and employs more than 500 people across operations in Edinburgh and Dundee
Sky has 34,000 employees and operates its biggest and longest-established contact centre in Livingston, West Lothian
Tesco Bank – is headquartered in Scotland and recently announced the creation of 100 new technology jobs in Edinburgh
Computershare

opens in a new window

employs more than 12,000 people globally at hubs including a technology centre of excellence

opens in a new window

in Edinburgh 
Scotland's Academic excellence 
Scotland has 19 universities and 27 colleges producing 110,000 graduates each year. With over 21,000 graduates from business-related courses and a further 16,000 in computer sciences and technology, a steady stream of talent for the global business services sector. 
Some of our Universities are home to key hubs for the sector including cyberQuarter opens in a new window , an £18m cybersecurity research and development centre at Abertay University in Dundee opens in a new window and the University of Edinburgh's Blockchain Technology Lab opens in a new window , which focuses on industry-inspired challenges in areas such as cryptography, regulation and compliance. 
A rich history of innovation 
Our rich history of innovation in industries including banking and technology has helped establish Scotland as a global business services hub. Early pioneers include Direct Line, the first company to sell insurance entirely over the phone, launched by Royal Bank of Scotland in 1985. 
Media company Sky opened its first contact centre in Livingston in 1989. Other firsts include Sainsbury's Bank – the UK's first supermarket bank – which is headquartered in Edinburgh and was launched in 1997 as a joint venture with Bank of Scotland opens in a new window . 
Networks and projects in Scotland
Global business services networks and projects in Scotland include: 
Quality of life 
Beyond the office, Scotland offers a quality of life that is rich in culture, history and natural beauty.
Our assets include acres of space, historic cities, world-renowned food and drink – and Scotland's famous hospitality. 
Join our world-class tech talent
150,000 people work in Scotland's global business services sector, with 110,000 employed in customer experience centres and over 40,000 in shared service centres. Providers work across financial services, retail, healthcare, utilities, communications, government and many other sectors.  
There are a vast range of jobs in global business services, including digital technologies, customer experience, sales, tech support, finance, HR, procurement, payroll and legal services. Specific job roles are also varied and include software and systems engineers, through to business analysts and systems architects. 
Some companies who recently made headlines for their recruitment opportunities include:
Explore roles in Scotland's global business sector
We're consistently breaking new ground, so whatever your passion, and however niche your expertise, you'll find a home for it in Scotland.