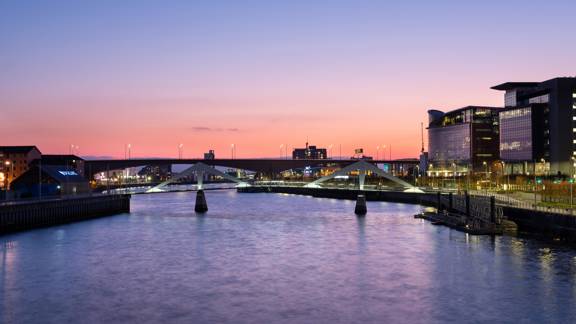 Financial services and fintech
Scotland's financial and professional services community is around 136,000 people strong, and our technology industry employs around 74,000 people. So, it's no surprise that Scotland is also a leading international fintech hub, as well as a source of respected academic expertise. 
Fintech and financial services in Scotland
A booming sector

Scotland's Financial Services Skills action plan aims to create 50,000 job opportunities in the sector by 2026.

A 10-year roadmap for fintech success

There are plans to create an additional 30,000 jobs and a 330% increase in the fintech sector's economic value. 

A place to grow your knowledge

There are around 200 financial services-related courses taught across Scotland's 19 universities, with MSc Fintech degrees available.
Scotland's financial services sector has a longstanding heritage, mature ecosystem and huge range of employment opportunities for skilled people like you.
Fintech in Scotland is booming, with a collaborative community that's grown considerably since 2018. Today, with over 200 fintech companies, Scotland's density of fintech firms is around 60% greater than the UK average outside London. 
Take a look at Scotland's community of fintech companies opens in a new window  
Your skills are in demand
Our Financial Services Skills action plan opens in a new window aims to fill 50,000 roles in the next three years. There's plenty of choice in Scotland, as opportunities spring up across the country. 
Scotland's nationally and internationally recognised financial services companies include trailblazers such as:
Barclays, for example, opened a state-of-the art technology and operations campus in Glasgow with up to 2500 staff. HSBC chose Scotland for its UK centre of excellence for global risk and compliance. While JP Morgan's technology centre is based in Glasgow's thriving International Financial Services District. 
Fintech
Scotland's ambitious Research and Innovation (R&I) 10-year roadmap for fintech success cements its ambitious future in fintech with some equally ambitious numbers. This includes creating an additional 30,000 jobs and a 330% increase in the sector's economic value. 
If you've chosen fintech as your sector, you could choose Scotland as your home, just as countless fintech companies continue to. These include:
TranSwap opens in a new window , the Singapore-based cross-border payment platform, has created a new research and development (R&D) centre in Edinburgh.
Scotland is the place for ambitious fintech start-ups too, the kind that are scaling at pace with their sights set on world domination. There has been huge investment in homegrown fintech companies, creating a vibrant, collaborative ecosystem in an internationally-recognised and accredited cluster. This includes companies such as:
If you want to be part of an ambitious company with an international outlook, you'll find plenty of choice in Scotland.
How Scotland supports financial services
There's industry support from Scottish Financial Enterprise opens in a new window , an organisation that shares knowledge, experience and insights. Their young professionals' network provides excellent networking opportunities.
Scotland is the place to bring your brilliant ideas to life. Try FinTech Scotland, the strategic cluster management body focused on the potential economic benefits of fintech innovation in Scotland. They bring together everyone from entrepreneurs and the financial services industry, through to the public sector, investors and universities. 
If it's happening in the sector, FinTech Scotland are very likely to have played a part. They have the silver level of 'Cluster Excellence' accreditation, and are considered as the very best , in the European fintech community.
Learn more about FinTech Scotland opens in a new window  
Want to launch a new venture or test an idea? Explore one of Scotland's accelerator programmes, centres of excellence or academic research institute. You can also connect with like-minded individuals from the fintech community in Scotland's collaborative hubs.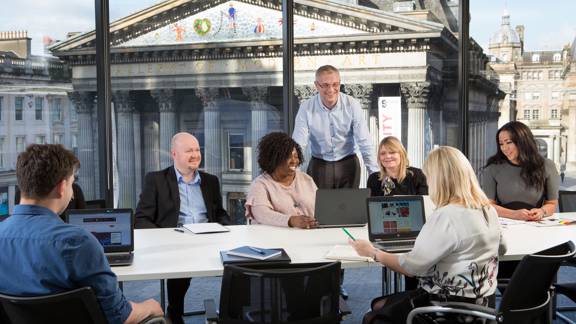 The financial services sector at a glance
The financial services sector in Scotland is the largest UK financial hub outside of London. 
Many prestigious institutions already exist in Scotland, such as the Chartered Institute of Bankers in Scotland – the world's oldest banking institute, and the Insurance Society of Edinburgh. The Financial Conduct Authority, the UK's financial services regulator, also has a presence in Edinburgh.
 
In addition to abundant opportunity, Scotland's vibrant finance sector offers stability and security. Scotland enjoys a strong heritage based on world-class capabilities in banking, asset management and servicing, insurance and pensions, and financial technology.
The breadth and depth of Scotland's fintech capability allows you to diversify your skills in Scotland. There are many categories to explore here. This includes:
Payments
Blockchain and cryptocurrency
Open finance
Regtech and security
Lending
Personal finance
Wealth management
Advanced research and development
Scotland excels in research and academia, with around 200 financial services-related courses taught across 19 universities – where some have developed their own MSc Fintech degrees.
You could investigate fintech's newest initiative and collaboration between FinTech Scotland, Glasgow and Strathclyde universities. The Financial Regulation Innovation Lab will leverage new tech to accelerate the UK's ability to compete in the future of financial regulation and fintech innovation. It's a huge deal for the sector and proves the commitment and recognition from the UK government in the high-growth potential of Scottish fintech innovation. 
Make the most of this world-class knowledge in Scotland and up your skills across data, cyber security, quantum, blockchain, robotic process automation (RPA) and artificial intelligence. Scotland's insurance industry, for example, is making great leaps in RPA. The University of Edinburgh is also a European leader in AI research.
If your next move is blockchain, Scotland exists on the cutting edge of tech with more and more large Scottish firms and start-ups looking at blockchain within financial services. Scottish start-ups in this area include Siccar opens in a new window and MaidSafe opens in a new window . The University of Edinburgh has a Blockchain Technology Lab opens in a new window within its School of Informatics.
Quality of life
Scotland has lots to offer outside of work. 
 
Wherever you decide to work in Scotland, you'll discover welcoming communities, rich history and vibrant culture. Enjoy shorter commutes, world-class education, free healthcare, and plenty of green space on your doorstep. 
Building a career in Scotland comes at a lower cost of living than many other major locations.  You'll benefit from flexibility for hybrid and remote working while being fully supported by reliable digital connectivity. 
As one of the best-connected places in Europe, Scotland has six airports with daily direct flights to 150 destinations worldwide. We also have fast and frequent rail links to all parts of the UK.