In Scotland, you can work in world-class research facilities and closely collaborate with the public sector and an established network of technology companies. Join us at the forefront of the data revolution and work with us to keep Scotland firmly on the map as a leader in data science.
The data sector in Scotland
A skilled workforce

Join the 74,000 people already working in the digital technology sector in Scotland.

A thriving sector

With £661 million committed to make Edinburgh the 'Data Capital of Europe' and a 10-year Data Driven Innovation programme in south-east Scotland.

Find your industry

From finance to engineering, space to energy, health to life sciences and gaming - your data skills are in demand.
Your skills are in demand
If you have considered working for a start-up, there's no better place to learn than in Scotland's agile, thriving start-up sector, buzzing with people from different cultures and backgrounds. Glasgow and Edinburgh are large start-up hubs and exciting places to work – and succeed – in tech.
Scotland's track record of creating unicorn tech companies (like FanDuel opens in a new window and Skyscanner opens in a new window ) makes it the ideal place for a new generation of tech companies. You can grow your career as part of a booming and dynamic ecosystem.
Video Games
World-famous studios such as Rockstar North opens in a new window (best known for Grand Theft Auto), and 4J Studios opens in a new window (who produced Minecraft) are based right here.
Space
Scotland has the UK's fastest growing space sector. Home to employers like Spire opens in a new window , who gather unique data from small satellites, and Ecometrica opens in a new window , a company capturing space data to supply insights for business, government and society.
Energy
Scotland's 50-years of oil and gas experience has created a huge legacy of data expertise. As the low-carbon economy grows, so do opportunities in data. 
How Scotland supports the data sector
The Scottish Government strongly supports using data for the economic and social benefit of citizens, businesses and research organisations. This means Scotland needs your skills to meet technological change. 
Support for the sector is also backed by funding – £661 million committed to make Edinburgh the 'Data Capital of Europe'. In addition to Edinburgh, our 10-year Data Driven Innovation programme strives to make South-East Scotland the location of choice for data science.
Want to find out more about digital technology in Scotland? ScotlandIS opens in a new window is the digital technology trade body and one of the UK's accredited cluster management organisations.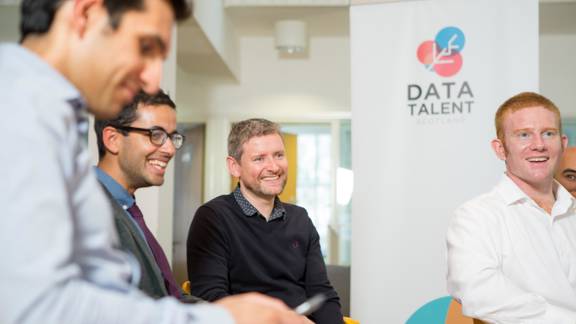 Advanced research and development
Great ideas are nurtured in Scotland, so you're never far from an innovation centre or a centre of excellence. 
If you're looking for opportunities to network and expand your skills, look no further than The Data Lab opens in a new window , which matches local academic expertise with businesses and funding innovation projects.
We're also home to The Urban Big Data Centre (UBDC) opens in a new window . This brings together experts from Scottish universities and other partners to find solutions to social, economic and environmental challenges that cities face.
These are only a handful of the different organisations that help the data sector in Scotland to grow and thrive.
The data sector at a glance
Scotland is one of Europe's most important business centres – and more business means more data.
Financial services firms JP Morgan opens in a new window and Morgan Stanley opens in a new window have their technology centres based in Glasgow – now joined by Barclays Wealth's new multi-million pound financial hub opens in a new window .
You'll also find other significant employers in data here, including:
With extensive digital records – and strong informatics expertise – our National Health Service (NHS) is an organisation rich in data career opportunities.
Scotland's dynamic data science sector is complimented by renowned academic research institutions. We're home to the University of Edinburgh – one of the UK's top research universities in computer science, and amongst the top 20 research institutions in this area. The university is also home to the UK's largest school of informatics, with over 280 academic and research staff and over 2000 students. 
The University of Edinburgh is home to world-leading research facilities, including:
In Scotland you can be part of a collaborative tech community where researchers, industry leaders, students and professionals work together and share expertise. Explore the community and its opportunities at conferences, events and festivals, including DataFest opens in a new window , Turing Fest opens in a new window and Scotland Data Science and Technology Meetup opens in a new window .
Quality of life
Scotland has lots to offer outside of work. 
 
Wherever you decide to work in Scotland, you'll discover welcoming communities, rich history and vibrant culture. Enjoy shorter commutes, world-class education, free healthcare, and plenty of green space on your doorstep. 
Building a career in Scotland comes at a lower cost of living than many other major locations.  You'll benefit from flexibility for hybrid and remote working while being fully supported by reliable digital connectivity. 
As one of the best-connected places in Europe, Scotland has six airports with daily direct flights to 150 destinations worldwide. We also have fast and frequent rail links to all parts of the UK.