To boldly go: harnessing satellite data for businesses and the environment
11 Oct 2023 • 5 minute read
Learn how Scotland is using data from space to help minimise emissions and manage the impact of climate change.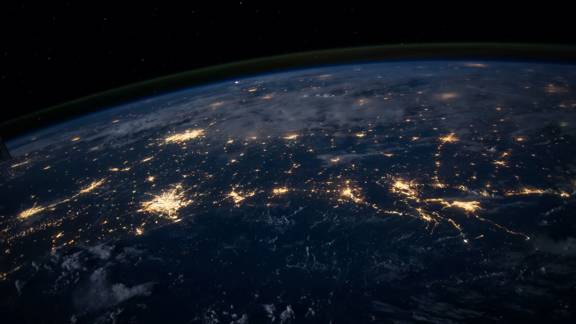 Satellite data is set to help Scotland's progress towards net zero by 2045 and support long-term business planning. 
The nation's development of space infrastructure, a highly skilled talent pool and geographical location offer significant advantages in this sector.
Climate data from satellites
Data collected from Earth observation (EO) satellites can monitor major climate and weather patterns. The data can also be used to accurately measure greenhouse gas emissions at specific locations. 
 
The benefits of space data are already being realised by a diverse range of industries throughout Scotland. 
Teams from the University of Edinburgh's Global Academy of Agriculture and Food Systems are using satellite data to research disaster response and international development. Technology is also being deployed to track global deforestation and reforestation efforts, and also calculate carbon levels for carbon-credit systems. 
Companies such as US-based Orbital Micro Systems are exploring the use of space data for weather forecasting. With a base in Edinburgh, the company is using methods such as nowcasting to predict conditions in more targeted and immediate ways. 
Satellite data has also proven useful in the agricultural sector. It enables scientists and farmers to monitor land and predict future climate events that might threaten crop yields.
Analysing space data
Software is essential to harness the full benefits of gathered satellite data. Edinburgh-based Ecometrica is one innovator in this field. The company provides software tools to quantify, monitor and report greenhouse gas emissions from satellite data. 
 
With the software, organisations can ensure compliance with the latest regulations. They can also gain insights to verify environmental, social, and governance (ESG) credentials. 
 
"The real beauty of satellite-based data is the consistency of information over time. The frequency means you really can look at changes as they happen. It's not just a snapshot – it's looking at how things are evolving," says Sarah Middlemiss, Chief Operating Officer for the UK and Europe at Ecometrica.
 
The combination of satellite data and Ecometrica's software can help companies – particularly food and agri-businesses – future-proof supply chains against climatic threats. Insights can be used to compile an action plan for events such as heatwaves and flash flooding or to devise crop-planting strategies. 
 
Sarah Middlemiss highlights how Scotland's space sector has created substantial opportunities for companies such as Ecometrica amid the energy transition. 
 
"I don't think anyone ever thought of us as a space company before, because we were very focused on greenhouse gas accounting. We had mapping capabilities, but our focus was on providing environmental services to clients," she adds. 


Space sector talent in Scotland
A key asset in Scotland's growing space data research and capabilities is its world-class universities and dedicated institutes. These offer businesses the opportunity to collaborate on projects with the brightest academic talent.
In this innovative ecosystem, university departments are also nurturing some of the new tech businesses in Scotland. 
"We get a huge number of our graduates coming from Scottish universities – and the University of Edinburgh in particular. We've also been able to do a lot of placements for PhD students, who come in and do specific projects with us, and sometimes stay a bit longer," says Middlemiss. "Having that wealth of talent is super-helpful."
The Scottish space economy
Space data and software capabilities are integral to Scotland's decarbonisation agenda and economic ambitions. The global space economy is projected to be worth $1 trillion by 2040. By 2030, the Scottish Government is targeting a £4 billion market share. 
Professor Woodhouse says that EO satellite data will account for a significant share of the space economy.
"Space data is much more scalable and it's easier to export – eventually, the data services will be a major component of that $4 billion," he says.
Along with established players like Ecometrica, other data science companies working with space data applications include Think Tank Maths, D-CAT, Eolas Insight, Earth Blox, GSI, Omanos Analytics, Trade in Space, and Space Intelligence. Scotland-based AAC Clyde Space and Spire are two other internationally recognised companies involved with space data. 
AAC Clyde Space has won multi-million-pound contracts from a global client base. Spire recently secured a $6.5 million contract renewal from NASA for the Commercial Smallsat Data Acquisition programme for climate change monitoring.
Already, Scotland accounts for more than a fifth of all UK space sector jobs. With the development of end-to-end capabilities and geographical advantages, companies could soon gain data from satellites launched by rockets from spaceports, all from within Scotland. 
"For the types of satellites that you put into low Earth orbit, you want to be as near to the North or South Pole as possible, as that gives you an advantage in terms of launch," adds Woodhouse. "Also, Scotland's location means we can launch over open water. In case anything does go wrong, the rocket is not going to land on people in the vicinity."
Register for the webinar 
Learn more about satellite data and sign up opens in a new window to the GlobalData webinar taking place on the 9th November via Arena-international.com.
You might also be interested in
Scottish businesses bring space data down to earth

Daniel Smith, founder of AstroAgency, shines the spotlight on Scotland's space sector and its benefits to businesses.

The rise of Scotland's space industry

From data solutions to climate change, find out why Scotland's space sector is rising faster than anywhere else in the UK.

Collaboration shows the Scottish space sector is out of this world

Scottish scientists plan to use algorithms developed to study human brains and starling flocks for satellite networks.
Get the latest updates from Scotland
If you have any questions about investing in Scotland, we're ready to help.
We're always ready to help. Send us an enquiry, or give us a call.