IGS - Scottish vertical farming innovator goes global
07 Dec 2023 • 4 minute read
Scottish agritech business Intelligent Growth Solutions (IGS) is taking vertical farming to new heights.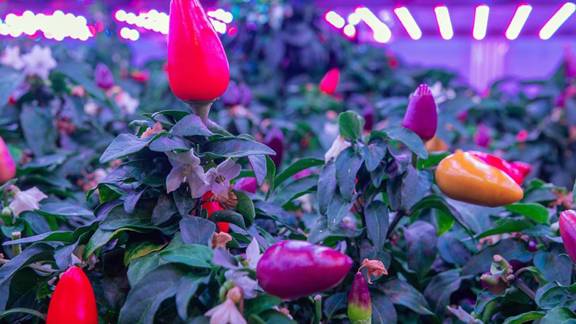 At COP 28 in Dubai, the Scottish agritech company signed a landmark deal. Its technology will be used in the world's largest vertical farm in Dubai's Food Tech Valley.
The development by ReFarm is set to be fully operational by 2026, and IGS's technology will co-locate with five others as part of a 'closed-loop circular waste-to-value system' that will maximise resource efficiency and prevent waste from going to landfill.
Find out more about the company's groundbreaking technology and how we helped it change the direction of farming forever.
Smarter, kinder agriculture 
Instead of planting seasonal crops in fields, IGS has invented a way to grow a year-round supply in vertical towers - producing a harvest that's organic, reliable and sustainable.
It works by growing plants in trays which are fed by efficient LED lighting grids and water management systems that can be operated remotely. Although it involves complex systems, it's been designed to be easy to use and maintain.
Smart technology manages specific air temperature and humidity controls for steady and predictable crop growth, resulting in 30% to 50% faster crop cycles than traditional methods. It also allows for a variety of crops to be grown in close-proximity, and the sealed units mean that no pesticides or chlorine washing is required. 
Even the air is cleaned and recycled to minimise water consumption. Incredibly, this water management cycle is so efficient that the only water to leave the towers flows via the plants themselves. Resulting crops are bountiful - including leafy greens, herbs such as basil, coriander, oregano, and mint, as well as salad leaves and microgreens. Rapid cropping, simple life cycles and high percentage of edible biomass, make these plants perfect for vertical farming.
The system is modular and scalable, too. The 'smart agriculture' approach offers reliable, regular produce in areas where the weather can be extreme, such as desert environments, or countries that have long, cold winters.  
Increasing productivity while reducing energy consumption, labour costs and water use means the cost of indoor growing has decreased significantly, opening up the market worldwide.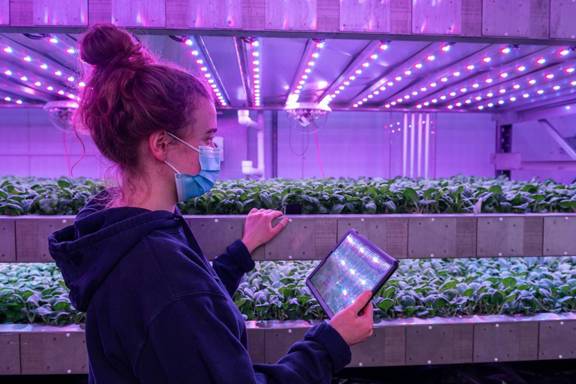 How our investment helped
Early on, the company's founders succeeded in gaining angel equity before securing significant investment from Scottish Enterprise alongside private sector and international agri-tech investors. Scottish Enterprise also helped them with innovation and R&D support.
More recently, we have supported their expansion into North America, Singapore and the Middle East. To help with this expansion, we provided research services overseas, and in the UK, to identify market opportunities, ecosystem partners and certification requirements.
And, given the innovative design features of the company's technology and infrastructure, our Intellectual Assets specialists provided guidance on trademark protection.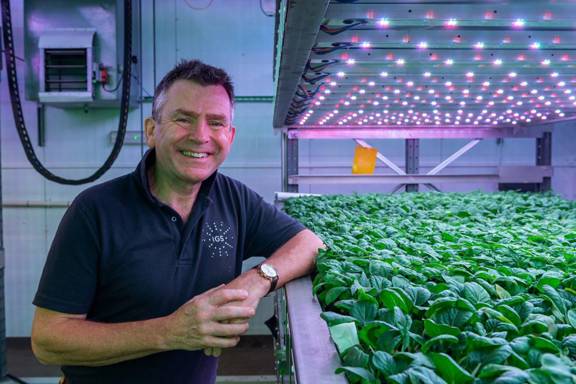 Cross-sector innovation
IGS has two divisions: Growth Solutions focuses on the vertical farming market, while the Grid Solutions section applies low-cost LED lighting grid solutions to buildings, car parks, shops and other areas out-with agriculture.
These divisions are complemented by a fully Scottish supply chain which mass produces both the towers and the lighting grids. The company continuously tests and improves its work at the James Hutton Institute, Scotland's largest scientific research centre and one of the biggest in the United Kingdom.
The institute houses four towers specifically set up for crop trials and experiments on product hardware and software testing, allowing for continuous improvement.
Growing company profits
IGS is set for impressive sales growth.
Business intelligence firm IDTechEX forecasts a global market value of $1.5 billion for vertically farmed produce by 2030. IGS is already seeing the fruits of such growth, enjoying continued interest from customers across the globe.
French company Jungle, for example, is just one of many IGS customers. In a multi-million-pound deal, the company bought vertical growth towers to supply crops to its retailers on an industrial scale with the objective of creating a minimum of 17 towers by the end of 2021.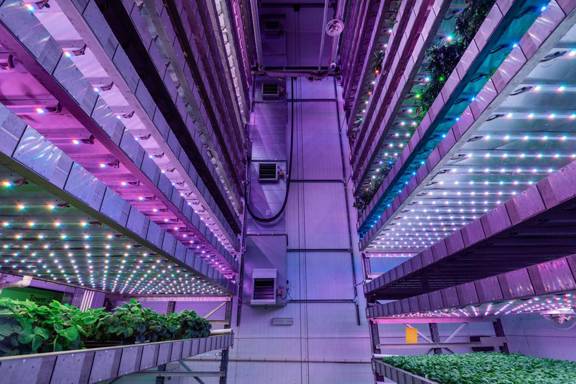 A multitude of towers will ensure a steady supply of herbs and salads, while creating new varieties of veg through a programme of crop trials. There's also further opportunity for growth – literally – in developing a variety of botanicals for flavour and fragrance businesses.
Another international company, Therme Group, has also chosen IGS as its resident agritech expert. In a partnership forged at COP26, the health spa group will use IGS technology to grow fresh produce on urban farms within its well-being centres across Europe. The move will ensure greener, home-grown ingredients in the group's restaurants, bars and skincare products.
Thanks to ventures such as these, IGS has a pipeline of over £20 million for 2021 and an ever-expanding headcount that has more than doubled in the past year.
On top of this, on 3 November 2021, IGS announced the conclusion of its Series B funding round which raised £42.2 million. The investment round was supported by a conglomerate of new investors including COFRA AG (Zug, Switzerland), Cleveland Avenue LLC (Chicago) and DC Thomson (Dundee, Scotland). These well-established, globally recognised investors prove that there are high levels of investor confidence in the future of indoor and vertical farming.
Changing farming forever 
Scottish inventions are world changing and impactful. It's therefore no surprise that when a creative solution is required to tackle climate change and create efficient food systems, an innovative Scottish company is leading the way.
You might also be interested in
SoilEssentials - data and farming

Scottish firm SoilEssentials is transforming the agriculture industry using data from satellites, drones and weather models.

Scotland's innovation ecosystem

Our innovation centres and centres of excellence exist to help businesses develop and grow surrounded by supportive communities.

Scotland is building a greener future 

Get the latest on Scotland's smart cities, green buildings and climate changes solutions.
Sign up to our newsletter
Get regular updates from us about the companies who choose to do business here.
Need help?
If you want to find out more about how we can support growing businesses in Scotland, just get in touch.