Smart cities, green buildings and climate change solutions
17 Feb 2020 • 7 minute read
Get the latest on Scotland's smart cities, green buildings and climate change solutions.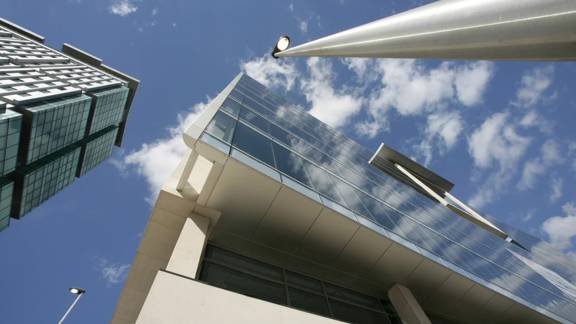 Scotland is a place for smart-thinking people when it comes to finding climate change solutions. With strengths in big data and innovative tech, implementation of low emission zones, green architecture and low carbon heat research, Scotland is building for a more sustainable future.
Net zero cities
Through the Scottish Cities Alliance opens in a new window , millions of pounds are being invested to make the design and architecture of Scotland's cities smarter. Technology, using data, apps and the Internet of Things (IoT), will help accelerate and transform the delivery of city services and urban spaces.
Environmentally focused cities, Glasgow and Edinburgh, are competing to become the UK's first net zero emission cities. As such, they have set out ambitious programmes for decarbonisation.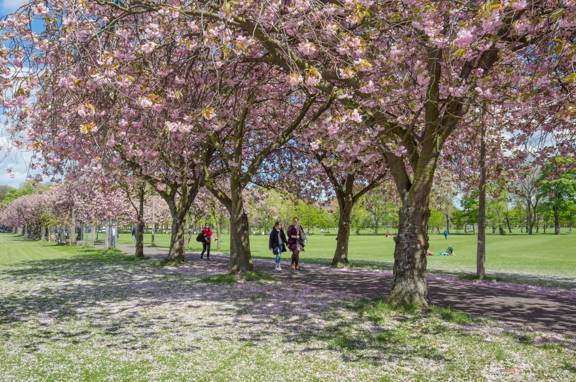 Greener, more sustainable buildings
Scotland is introducing new building performance standards. It's also supporting substantial investments in low carbon heat and energy efficiency to decarbonise the nation's building stock.
The Scottish Government's Route Map for an Energy Efficient Scotland opens in a new window outlines a 20-year programme of actions to make all of Scotland's existing buildings near zero carbon wherever feasible by 2050.
Meeting BREEAM sustainability standards
The P&J Live facility opens in a new window in Aberdeen is on track to achieve BREEAM Excellent status, the highest environmental standard possible, making it the most sustainable venue of its type in the UK.
Also aiming for the BREEAM Excellent mark is the Barclays Glasgow Campus opens in a new window at Tradeston – a new £500 million global tech hub developed by Scottish developer Drum Property, signalling its commitment to carbon net-zero standards.
As part of a commitment to a low carbon future, global finance giant JPMorgan Chase is constructing a new 'sustainable' building targeting BREEAM Excellent certification. The new building for up to 2,700 employees will feature 350 bike spaces – with just 12 places for cars.
Innovative tech solutions
Scottish companies are pioneering innovative solutions to make buildings greener.
Glasgow-based company IES opens in a new window is pioneering AI-based technology that's helping to reduce the carbon emissions of buildings and cities worldwide. Its Intelligent Communities Lifecycle (ICL) opens in a new window platform connects distributed-energy networks, renewables, master plans, building design, operation and retrofit.
The technology will help inform intelligent solutions needed for decision-makers. It will help them identify the most effective and resource efficient ways to dramatically reduce the use of energy and fossil fuels within a community.
Another Scottish firm, Kenoteq opens in a new window is designing low carbon bricks. This Heriot-Watt University spin-out business manufactures ground-breaking building products for the construction industry. The company's first innovative product is an unfired brick called the K-Briq, made from over 90% recycled demolition and construction waste material.
Watch this video from Construction Scotland Innovation Centre to find out more.
Opportunities in Scotland

Heat currently accounts for 52% of Scotland's energy demand and creates 41% of our carbon emissions. So, meeting the target to reach zero emissions by 2045 will be largely dependent on decarbonising heat.

The Scottish Government has set an interim target of reductions for 2032. It aims to use low carbon heat technologies to produce 35% of heat for domestic buildings and 70% of heat and cooling for non-domestic buildings.

This combination of high heat consumption (as a share of total national energy consumption) and highly ambitious greenhouse gas targets, means Scotland has a greater need for low carbon heating solutions.
Minewater geothermal and district heating
Scotland is active in minewater geothermal research and development. Global warming means countries around the world are urgently trying to reduce greenhouse gas emissions.
Scotland is already an international leader in combating climate change. But we can't sit still. Using geothermal heat from minewater could help reduce our greenhouse emissions.
Minewater geothermal is potentially a crucial technology for the decarbonisation of Scotland's heat supply. There are 600 cubic kilometres (km3) of flooded mine workings under Scotland's populated central belt region. This could provide between 8-40% of Scotland's heat demand.
Award-winning manufacturer Star Renewable Energy is a great example of a Scottish company providing practical solutions to the environmental issues our world faces. Based in Glasgow, the company manufactures Scotland's largest water-source heat pump for district heating.
The Glasgow Geoenergy Observatory opens in a new window (Glasgow Geothermal Energy Field Research Site) is the only facility of its kind in the world. The project, and related projects around it, will help us not only understand the potential for geothermal heat, but provide a platform to develop demonstrations.
Glasgow hosts UK's first 'underground observatory'
The Glasgow facility is the first of two new underground laboratories in the UK and a world first, that will give scientists an unprecedented look at the subsurface of the Earth.
It comprises 12 boreholes, which are 16-199m deep and fitted with 319 state-of-the-art sensors.
Data from the observatory will help scientists understand how heat using warm water from abandoned mines could be used as a renewable energy source for homes and industry.
Research will contribute to the UK's ambition to decarbonise its energy supply and achieve net zero by 2050.
District heating networks
Scotland's Low Carbon Infrastructure Transition Programme opens in a new window has already funded several demonstrator district heating projects in Fife, Dundee and Stirling.
District heating investment opportunities
Thainstone Energy Park - Agile Energy Recovery
World firsts in low carbon transport in Scotland
Scotland is also powering ahead with low carbon fuel and clean tech transportation projects.
Hydrogen buses
As a first mover, Scotland has many years' experience of operating hydrogen-powered buses with the city of Aberdeen at the forefront. The UK's first hydrogen production and bus refuelling station was opened in Aberdeen in 2015 as part of a £19 million green transport demonstration project. And in 2021, the city introduced the world's first hydrogen-powered double-decker bus fleet.
Aberdeen's Hydrogen Hub opens in a new window has led the march with hydrogen buses and is working on scaling up demand across the region and delivering green hydrogen to the market on a commercial basis.
Heavy-duty vehicles
As first movers and early adopters, Scotland has established experience and expertise in operating large fleets of hydrogen-powered heavy vehicles.
Aberdeen City Council added the UK's first hydrogen fuel cell waste truck to its hydrogen fleet in February 2022.
Fife region operates the world's first hydrogen dual-fuel refuse collection vehicles. While the city of Dundee in Tayside region is home to the UK's largest electric taxi fleet. Dundee is also named the 'Most electric vehicle-friendly city in the UK' for its initiatives encouraging the use of electric vehicles (EVs) by The World Electric Vehicle Association.
Emergency One is a fantastic example of a Scottish manufacturer innovating for a low carbon future by launching the world's first fully electric fire engine - the E1 EV0.
Hydrogen-powered ferries
Calmac is the operator of the world's first diesel-electric hybrid ferries, serving routes around the Clyde and Hebrides.
The HyDIME project opens in a new window at the European Marine Energy Centre in Orkney is set to trial the world's first hydrogen-powered ferry.
Hydrogen-powered trains
Scotland plans to decarbonise its railways by 2035, including electrification of the network, procurement of battery-powered trains and exploration of the potential of hydrogen-powered trains.
Scotland's first hydrogen-powered train made its debut at COP26 in Glasgow.
Carbon capture and low carbon fuels
The world's first system that will turn landfill gas into green vehicle fuel and remove carbon dioxide from the atmosphere is being set up in Dunbar, East Lothian.
Sustainable mobility
The creation of the Michelin Scotland Innovation Parc backed by £60 million investment over the next decade will focus on mobility, clean transport and low carbon energy solutions.
You might also be interested in
Capital investment

Learn more about Scotland's commercial property opportunities, our low carbon ambitions and how we support investors.

Infrastructure and connectivity

Scotland has excellent transport links to the the UK, Europe and the rest of the world, as well offering a first-class digital infrastructure.

Financial and tax incentives

Funding and tax relief schemes are great ways to get new projects off the ground and attract new investors to help you grow.
Want to find out more about low carbon investment opportunities in Scotland?