The best place to live and set up your business
07 Nov 2019 • 7 minute read
With a global reputation in tech, digital and data, it's no surprise that more and more businesses are choosing Scotland.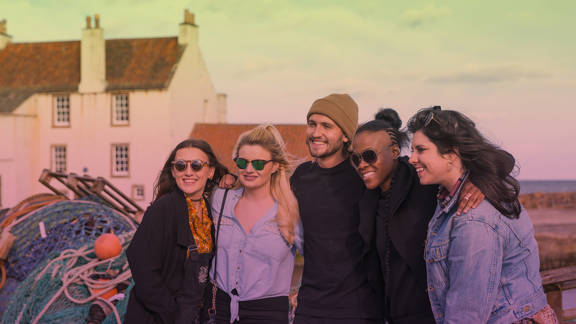 Work-life balance in Scotland
Among the top reasons companies increasingly choose Scotland as a base include:
Attractive property prices
A competitive business environment
Excellent transport links to other national and international business hubs
Access to talent, skills and training
But, just as important is the overall sense of wellbeing and the experiences Scotland offers outside of work hours.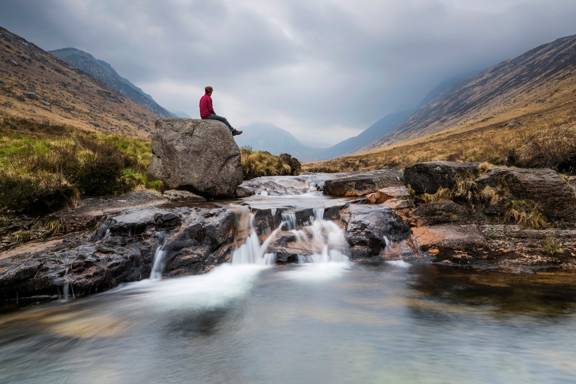 How relocating to Scotland can complement business and lifestyle pursuits:
Quality of life
Above Scotland's thriving urban social scene, we're famous for our stunning scenery. Rolling hills, glens and lochs are reachable within an hour's drive of any city centre. And, outdoor sports such as hillwalking and hiking are popular weekend pursuits in Scotland.
World's leading festival and event destination 
Glasgow has been crowned the world's leading festival and event destination by the World Travel Awards opens in a new window , beating off competition from London, Singapore, Rio de Janeiro, Sydney, Cape Town and previous double-winner Dubai to take the title. Indeed this vibrant UNESCO City of Music knows how to throw a party. With its legendary music scene covering a kaleidoscope of genres from punk, rock, contemporary and classical to Celtic and traditional, there's something for everyone.
The UK's culture capital
The European Commission has crowned Glasgow the UK's top cultural and creative city. It's a city bursting with energy, passion and creativity - brimming with artists, designers, creators and innovators. Dennistoun in Glasgow's East End is considered as "one of the coolest neighbourhoods in the world", according to TimeOut opens in a new window .
A happy, friendly nation
Whether you choose to visit, invest, live, work or study in Scotland, you'll receive the warmest of welcomes. In fact, Glasgow was recently voted 'friendliest city in the world' by Rough Guide opens in a new window readers. And Edinburgh was voted second in the world for quality of life, in a recent Deutsche Bank study opens in a new window . Low commuting times, property prices against income, and safety levels are among the factors which helped secure Edinburgh's high position in the global survey of 47 cities. 
A day in the life of an investor
From risk management to mountain biking, Vida Rudkin, managing director at Morgan Stanley, Glasgow, offers us an insight into what it's like to live and work in Scotland in more normal times.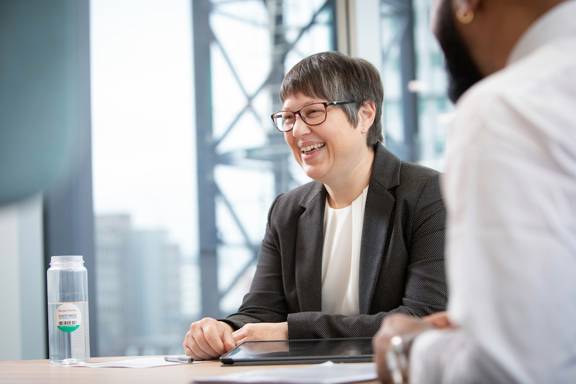 Cost of living in Scotland
A magnet for people locating to Scotland is affordability compared with the rest of the UK. This is reflected in the lower house prices in Scotland - on average a quarter less expensive than in other parts of the UK.
For example, housing costs are 35% lower in Edinburgh than in London while in Glasgow they are 48% lower than in London. Transportation costs are 49% lower in Edinburgh and 46% lower in Glasgow when compared to London.
Source: Expatistan Cost of Living Comparison - January 2022 opens in a new window
According to recent research by Lloyds Banking Group and the Office for National Statistics opens in a new window , Scottish cities of Inverness, Aberdeen, Perth, Stirling, Glasgow and Dundee are all ranked within top 20 most affordable cities in the UK. Stirling, in Scotland's central belt, was placed as the second most affordable city in the UK.
Why ION Geophysical chose Scotland
Take one world-class location, tech tenacity and then sprinkle some Scottish sense of humour. The result? A US technology company with a big and bold vision based Scotland. Chris Usher, President and CEO of ION Geophysical shares his affinity with Edinburgh.
Watch our video clip.
Business environment
When it comes to setting up business in Scotland, the competition is less fierce compared to London. Commercial property rates are lower, the smaller city sizes allow easier networking opportunities, and, with three Scottish universities making the world's top 200 every year, we boast a huge number of talented graduates.
According to a YouGov survey opens in a new window commissioned by Amazon, nearly three quarters of Scotland's small and medium enterprises (SMEs) think it is a good place to set up and run a small business.
The other most appealing aspects of doing business in Scotland are good access to skilled labour, lower operational costs compared to the rest of the UK and access to business advice and support.
English is the business language and the organisational culture is very similar to the rest of the UK.
Scotland is globally connected, with strong links to the UK, Europe and the rest of the world, making it a strong choice of location for both business and individuals or families looking to relocate. 
There's a diverse mix of strong sectors that make up the country's business environment, ranging from food and drink to financial services and renewables to technology. The technology sector here, for example, consists of over 1,500 companies, with strong growth forecast - especially in digital technology.
And, European ex-pats just love living in Scotland, according to the latest release of the Employment Conditions Abroad (ECA) Liveability rankings.
Edinburgh is among UK's top five cities for tech investment according to Tech Nation's annual industry report, attracting £91 million in venture capital investment in 2020.
Meanwhile, Glasgow is among the UK's top three fastest-growing technology investment hubs, according to Tech Nation.
A culture of innovation
New research from Knight Frank has named Edinburgh as Britain's most innovative city outside of London, with Glasgow hot on its heels in second place.
The UK Cities 2022 opens in a new window report also highlighted Aberdeen as a leading business hub due to its strong innovation infrastructure and emerging startup ecosystem.
Scotland is home for US healthcare firm Spiritus
"Edinburgh is just a train ride from London, or a short flight. To give an American comparison, it's like flying from Philadelphia to Pittsburgh, or Chicago to Cleveland though you don't have to pass time zones.
"But being able to touch top academic institutions and university researchers - connect into the business community - to large and small companies, government agencies and entities. That's possible to do here in a way that wouldn't be possible in London, much less so than some of the major American cities".
Watch our video clip. Read the full story on Scotland.org opens in a new window
Green and progressive values
If you live in Scotland you can expect an equal, tolerant and inclusive society. Scotland is considered one of the most progressive countries in Europe in terms of lesbian, gay, bisexual, transgender and intersex (LGBTI) equality. We also have the smallest gender pay gap in the UK, and are actively working to tackle gender inequality.
Scotland is recognised as a world leader in tackling climate change and is committed to creating an environment which will positively impact both the Scottish and the global population. The country's two most populous cities, Edinburgh and Glasgow, have both committed to net-zero carbon emissions by 2030.
Not only has Scotland halved its greenhouse gas emissions since 1990, we've continued to grow the economy, boost productivity and increase employment rates opens in a new window .
Scotland was one of the first countries in the world to acknowledge the global climate emergency. Scotland has set a target date for reaching net-zero carbon emissions by 2045 - the most stringent statutory targets in the world.
Glasgow has been named one of Europe's top sustainable cities for property opens in a new window according to a Knight Frank report, living up to its name as the 'dear green place'. Glasgow has a great track record for hosting high-profile international events, including the United Nations global COP26 climate summit in 2021.
Explore Scotland's opportunities in renewables and low carbon. 
You might also be interested in
Local contacts

With over 30 offices across the world, our staff are on hand to offer support where you are.

Low carbon transport

Scotland is creating a sustainable decarbonised transport infrastructure and supply chain that's on track to meet its net-zero emissions target by 2045.

Our people and skills

Companies that invest in Scotland have access to an exceptionally educated, skilled and talented workforce.
Ask our experts
Got a question about work-life balance in Scotland? We're always ready to help.