A day in the life of Vida Rudkin Morgan Stanley
01 Jul 2020 • 4 minute read
Vida Rudkin, managing director at Morgan Stanley, Glasgow, gives an insight into what it's like to live and work in Scotland.
From risk management to mountain biking, Vida Rudkin, managing director at Morgan Stanley, Glasgow, offers us an insight into what it's like to live and work in Scotland.
Interview with Vida Rudkin
My responsibilities
I am a managing director at Morgan Stanley based in Glasgow where I am the co-head of the office. As part of the Operations division, I am responsible for EMEA Operational Risk and Regulatory Control and am also the EMEA Chief Operating Officer for the division. These responsibilities mean my primary focus is on both process risk and people engagement.
Moving to our new office and the impact of Covid-19 
Our Glasgow office plays an integral part in the global Morgan Stanley operation, having started with six people in 2000, we have grown to 1,600 people and will be celebrating our 20-year anniversary this year. 
We moved to our new office in 2018, and in more normal times, we have been delighted to have all our employees together in one building - it has been hugely beneficial. Prior to our move into the new office, we worked across two separate buildings, so the new setup has enabled us to work and collaborate even more effectively. 
Throughout the Covid-19 situation, our primary consideration has been the safety and wellbeing of our employees, and we have put significant time and effort into making sure everyone is able to continue working remotely.
We have also been very aware of the added strain this has put on our employees, such as those with caring responsibilities, and therefore have been mindful to provide the additional support and flexibility needed. 
I am continuing to engage with local authorities so that a return to the office is done in a way that ensures we are able to protect ourselves, each other and our communities against Covid-19. 
What makes Glasgow a fantastic place live and work
Although throughout my career I have travelled to many countries for work, I have primarily been based in London and Glasgow, and enjoyed both cities very much. I have fond memories of my time in London – which has an abundance of places to see and visit. For me, Glasgow offers the same opportunities. 
In addition to my passion for the outdoors, the amazing heritage in Glasgow and Scotland more broadly, and the warmness of the people – something I see every day in our employees, who are all committed to giving back to the communities in which we work – makes Glasgow a fantastic place to live and work.
My approach to work-life balance
At Morgan Stanley, we are huge supporters of our employees enjoying a work-life balance. It's very important they feel empowered to control and influence the quality of their personal lives, whether that's with their family and friends or enjoying hobbies.
Away from the Covid-19 situation, which has had a tremendous impact on everyone, and in more normal times for me, no day is ever the same - my departure time depends largely on what has happened during the day. There are some great restaurants in both Edinburgh and Glasgow and a range of fun festivals throughout the year which I enjoy. I make good use of my proximity to the beautiful Scottish countryside in the summer evenings.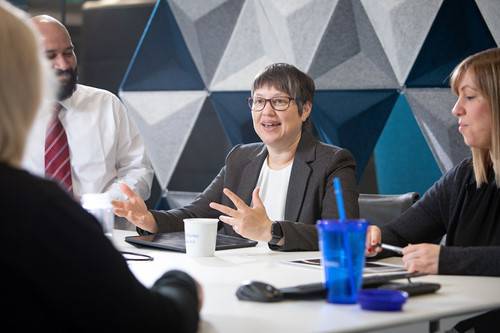 My perfect weekend in Scotland
Again, putting the current situation to one side, I love mountain biking and hiking and I spend most of my weekends outdoors. This was one of the factors which motivated me to move to live in Scotland.  
My perfect weekend changes depending on the season. One of my most enjoyable is bike packing in the summer. I was inspired 18 months ago by a video of Lee Craigie opens in a new window doing a bike packing adventure on an off-roader which really appealed to me.
Over the last two summers I have been on several mini adventures. I would be lying if I said at some points it has taken me out my comfort zone, but the sense of freedom and ability to clear your thoughts for the week ahead more than makes up for it.
The best and worst things about living in Scotland
Nothing can beat the scenery in Scotland. And the people are very welcoming and engaging. I can't see myself living anywhere else.
However, the short winter days can be challenging when you love being outdoors.
The best thing about my job
The best part of the job is engaging with people. The sense of reward when you have been able to help or influence someone to achieve their goals is a wonderful feeling.
People appreciate senior managers spending time with them and being transparent and honest about what is going on.
The worst part of my job
I wouldn't use the term 'worst', as a risk officer I see issues as challenges. And while challenges will vary in their complexity, working through a problem and undertaking actions to solve them is a great way to get to your team motivated and develop robust processes. 
Advice I'd give my younger self
Be confident and feel empowered rather than expect permission. 
You might also be interested in
Wellbeing and work-life balance

Scotland is the best place to live and set up your business. The place to enjoy an excellent quality of life, low cost of living plus a creative and collaborative business culture. 

Financial services and fintech

With more than 2,000 financial businesses operating here and a growing fintech industry, Scotland is one of Europe's leading financial centres and internationally recognised as the UK's largest outside London.

Cost of living in Scotland

How does the cost of living in Scotland compare with the rest of Europe, and cities like London, New York and San Francisco?
Sign up for email updates
Get the latest investment news and updates from Scotland straight to your inbox.
Questions about living and working in Scotland?