Mitsubishi develops low carbon heat pumps in Scotland
03 Nov 2021 • 3 minute read
To meet demand for low carbon heat pumps, Mitsubishi will invest £15.3 million in its Livingston manufacturing facility.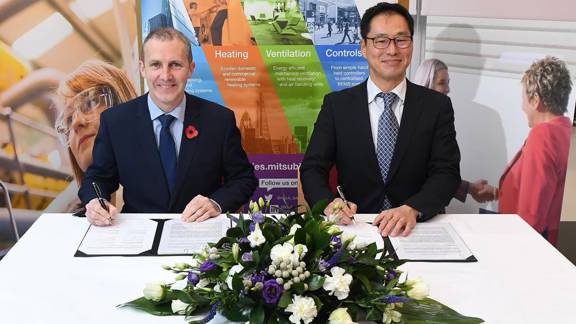 Innovating heat pump research
Heat pumps are a reliable, renewable heating technology that delivers highly efficient heating and hot water all year round.
Since decarbonising heat is crucial to meeting net zero targets, heat pumps are a logical first step. And Mitsubishi's R&D activity will support the development of next generation heat pump technology in Scotland.
It will look at new 'low global warming potential' refrigerants and materials and incorporate them into future products. By doing this, they'll be able to create world-leading products that reduce the global warming impact from refrigerants.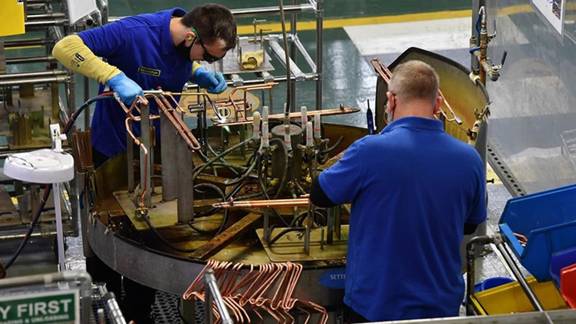 Smart factory for next generation heat pumps 
As part of the project, Mitsubishi will develop a 'smart factory' to manufacture its low carbon heat pumps.
This means it will:
Update their equipment and systems to allow automation and use of robotics
Install industrial 'internet of things' sensors and systems to provide real time data and information
Develop digital skills for all employees
The 'smart factory' will also lower Mitsubishi's own manufacturing emissions.
Making plans for a sustainable future
Mitsubishi Electric Air Conditioning Systems Europe Ltd has signed a Memorandum of Understanding (MOU) with Scottish Enterprise (SE) to allow for exploration of a low carbon heat pump centre of excellence in Scotland.
It will also help Mitsubishi extend its Scottish supply chain and innovation partners, leading to more high quality, green jobs in this critical sector.
Grant funding to create skilled jobs
Scottish Enterprise is supporting Mitsubishi's investment project with a grant of £1.8 million. This will create 55 new jobs and protect 324 existing jobs. These jobs are well-paid technical and engineering roles and will be required to manage and operate the new processes developed during the project.
Adrian Gillespie, CEO of Scottish Enterprise, said "The MOU builds on the strong partnership we've developed with the company in the 28 years it has operated in Scotland. It marks our commitment to a deeper strategic relationship that will support future growth and jobs for the company, its supply chain and the heat pump sector."
Decarbonising the heat supply to homes
In Scotland, heating buildings accounts for around 20% of the country's emissions. The Scottish Government has set an ambitious target to fully decarbonise the heat supply to Scotland's buildings by 2045.
Zero emission technologies such as heat pumps, in both domestic and non-domestic buildings will be critical in the journey to meeting these targets. In fact, the installation of heat pumps is expected to double the size of the heat pump industry in Scotland. The manufacture of heat pumps is expected to rise from 2,000 a year in 2019 to 45,000 each year from now until 2030.
The future is low carbon
Figures from the Office for National Statistics show that the production of clean energy is a growing industry in Scotland. In 2019 alone, there were 13,500 Scottish businesses in the low carbon and renewable sector. Given the drive towards a net zero future, it's no surprise that the low carbon economy in the UK has the potential to grow by 11% each year.
Scotland and Mitsubishi will be ready.
You might also be interested in
Solutions to decarbonising heat

Doreen Reid, our Low Carbon Energy Transition Specialist outlines Scotland's approach and the challenges plus opportunities in decarbonising heat.

Low carbon heat opportunities

Scotland is rapidly pursuing the decarbonisation of heat, creating a huge range of opportunities for low carbon heat projects and investment.

Smart cities and green buildings

Scotland is building a more sustainable future using big data, innovative tech, low emission zones and more. 
Talk to us
Want to know more about Scotland's low carbon ambitions and how your business could flourish here? We can help.