How data and AI are fuelling Scotland's fintech boom
02 Aug 2023 • 5 minute read
Find out how Scotland's strengths in data and computer sciences are boosting innovation in financial service technologies.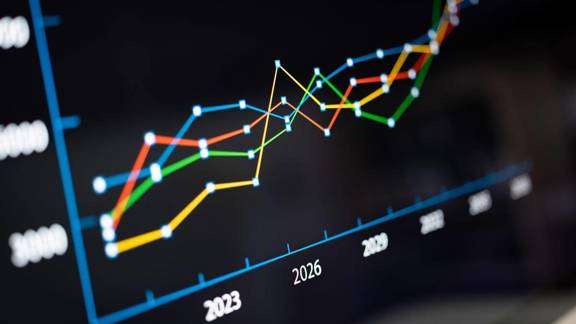 Scotland has a reputation for being one of the world's leading fintech hubs, with a rapidly growing fintech cluster of more than 200 thriving start-ups and many established financial services providers.
There are a number of factors that make Scotland an ideal location for fintech businesses to succeed — from world-class talent, research and innovation, to a collaborative, supportive business ecosystem.
Collaboration between research and industry
The range of innovative technology being developed at Scottish universities such as Glasgow, Edinburgh and St Andrews is a key factor driving the growth of the sector. Scotland's strength in data, AI and machine learning is turbocharging the scale-up of commercial fintech ventures, which often collaborate with academic research institutions. 
The Bayes Centre, for example, is the University of Edinburgh's innovation hub for data science and AI. It's home to several major financial institutions. Another example is abrdn — a global asset management company based at the Edinburgh Futures Institute.
The Edinburgh Futures Institute also collaborates with the University of Edinburgh on the Centre for Investing Innovation — a £7.5 million, five-year research project to address the challenges facing the investment and asset management sector.
"As one of the world's leading research organisations, the University of Edinburgh is working in partnership with a range of major companies across the UK finance sector," says Ksenia Grant, Director of Financial Services and Fintech Sector Engagement at the University of Edinburgh.
Initiatives driving fintech innovation in Scotland
The Bayes Centre is also home to the University of Edinburgh's renowned AI Accelerator. The programme is run by the Bayes Centre Data-Driven Entrepreneurship (DDE) Innovation programme and Edinburgh Innovations — the university's commercialisation service.
Through the AI Accelerator, start-ups and established businesses can refine their commercial propositions, develop their skills and connect their ideas to applications and operations in the real world.
"We have developed the programme to provide a unique combination of training, mentorship and access to expertise," says Katy Guthrie, AI Accelerator Programme Manager.  
"Businesses can access our network – including corporate supporters, the Bayes Centre AI community, and data science companies of all sizes – as well as the broader tech ecosystem both in Scotland and, importantly, London as well."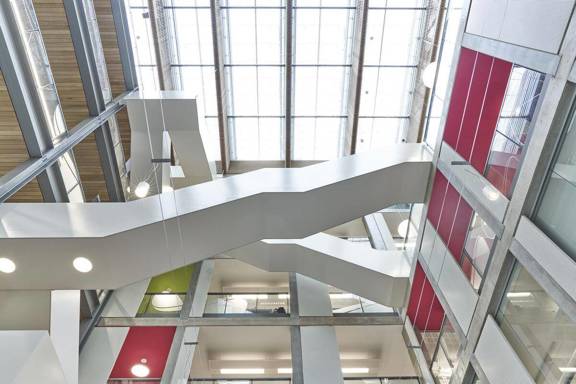 Similarly, Edinburgh's Smart Data Foundry works closely with FinTech Scotland and the Financial Data and Technology Association to encourage innovation and collaboration.
Awarded £22.5 million from the UK government in 2020, the organisation provides a secure environment in which real consumer data from British financial institutions can be safely shared with organisations that are tackling the biggest societal, economic and environmental problems.
The Data Lab is another major resource and a cornerstone of the Scottish fintech cluster. With hubs around Scotland and an extended network of more than 1500 companies, it's where financial giants such as Barclays and Royal London can connect with fintech start-ups.
The Data Lab's annual Data Fest showcases Scotland's leading role in data science and AI while providing a networking platform for talent, industry, academics, and data enthusiasts.
In addition, Scotland has been the setting for many successful initiatives run by major financial institutions. In 2020, Lloyds Banking Group began its Launch Innovation Programme alongside FinTech Scotland. Other big financial players such as TSB and Phoenix Group also operate innovation labs here.
Scotland's fintech start-up scene
Scotland has always had a vibrant start-up scene, with many businesses taking advantage of collaboration and partnership opportunities in its tech cluster. FinTech Scotland's 10-year Research and Innovation Roadmap has been designed to ensure this growth continues over the next decade.
Universities, financial services brands and public agencies all have a part to play in making the cluster a success, working together to create a fertile environment for young, innovative businesses.
In fact, 59% of fintechs in Scotland are currently at the start-up stage, and 28% are scale-ups. Some 8% have grown into large companies, while 1% are listed, 1% have been acquired and 2% are unicorns valued at more than £1 billion, such as the global investment platform company FNZ.
Many companies in Scotland's cluster originally launched overseas but were drawn to Scotland's thriving data and AI ecosystem and its pool of available talent. Of course, Scotland's enduring appeal as a great place to live and work is often cited as a significant draw.
Of the companies that have relocated to Scotland, 41% originated in the US, 31% in Europe, 17% in Australia, 7% in Asia and 3% in the Middle East.
One such company is Eedenbull, a fintech innovation company that specialises in the design and implementation of B2B and commercial payment solutions. Originally launched in Norway in 2018, the company has since scaled quickly and now has 65 banks and 2000 business customers.
Other overseas companies are also choosing to tap into Scotland's advanced data and AI innovation. Recently, companies such as YayPay and Pace AP from the US, WeFund from Australia and Pulse Market from Ireland have chosen Scotland as a base.
"Fintech is one of the most exciting areas in today's global business," adds Grant. "As the world changes, the innovation that fintech brings will play a major role in the future success and sustainability of the financial services sector in Scotland.
"The development of joint initiatives between the industry and academia – aimed at innovation, collaboration and training the next generation of industry leaders – needs to be the priority for the future growth and continued leadership of our financial services and fintech sectors."
Get the latest updates from Scotland
Want to talk?
If you have any questions or want to talk with one of our advisers, we're always ready to help.
You might also be interested in
Fintech companies in Scotland

Looking to expand your data capabilities, elevate your offering or improve your services with the newest tech? Scottish fintech companies can help.

Data skills to match your needs

Scotland provides easy access to a growing talent pool of data science skills that makes it the location of choice for tech companies looking to set up and grow.

Mirador joins Scotland's thriving business network

Learn why fintech company Mirador has chosen Edinburgh for a new office that will serve non-US-based clients.