Energy transition investment and Scotland's supply chain
28 Jul 2021 • 6 minute read
Looking for the right location to grow a sustainable business? Need suppliers for an energy transition project? We can help.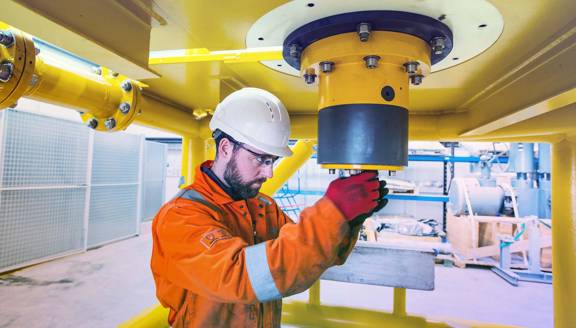 Looking for the right location to set up and grow a sustainable business? Need suppliers or partners for your energy transition project? We'll connect you to Scotland's many opportunities and all the support you need.
Find a supportive business environment
Investment opportunities in Scotland's energy industries are many and diverse. We work closely and effectively with government, universities, industry, global investors and the business community. And it's these strong partnerships and networks that underpin Scotland's energy transition to renewables.
The Acorn CCS (carbon capture and storage) project opens in a new window in north-east Scotland, for example, is an important catalyst for attracting international investment in clean technologies, helping transform carbon intensive industries into low carbon industries.
Both the public and private sectors in Scotland are working towards energy transition, and we can help connect you to the right opportunities and people for your next project.
Support for companies to transition
Net Zero Technology Centre
The repositioned Net Zero Technology Centre opens in a new window (formerly the Oil & Gas Technology Centre – OGTC) aims to reduce emissions through technology. With a focus on a digital, automated future, it works in partnership with public and private sectors helping tech startups with clean energy solutions, influencing policy and supporting the oil and gas industry to diversify.
Energy Transition Zone
Scotland remains the best-placed country in Europe to realise carbon capture utilisation and storage (CCUS) on a commercial scale. A major Energy Transition Zone opens in a new window in north-east Scotland will create a world-leading centre for research development, testing, demonstration and manufacturing activities using cleaner energies such as offshore wind and hydrogen.
The project, backed by more than £26 million Scottish Government investment and supported by Scottish Enterprise, will accelerate the delivery of net zero solutions and secure a strong economic future built on offshore wind, hydrogen, and CCUS.
When combined with Aberdeen Harbour Board's £350 million investment to create a combined marine and offshore support hub, this will be a significant part in the development of non-oil and gas activities in the area.
North Sea Transition Deal
The UK Government has announced the North Sea Transition Deal opens in a new window which will help unlock a further £16 billion in investment over the next decade in crucial low carbon solutions. This will accelerate energy transition, includes CCUS and hydrogen and will support the creation of up to 40,000 new energy jobs across the UK.
Hydrogen funding
£100 million will be pumped into Scotland's hydrogen industry over the next five years to achieve the hydrogen economy vision set out by the Scottish Government opens in a new window .
Michelin Scotland Innovation Parc (MSIP)
MSIP is a joint venture between Michelin, Dundee City Council and Scottish Enterprise. An area dedicated to generating economic growth in Scotland and supports a fair and just transition to a net zero economy. Arcola Energy and SWARCO are among the Parc's first international tenants supporting development of sustainable mobility, clean transport and low carbon energy solutions. The Parc will stimulate growth and diversity in the Scottish economy while addressing the global climate emergency. 
Find opportunities for your business at MSIP 
Private sector's drive towards net zero
Big name companies are increasingly rebranding and refocusing their activities around net zero emissions. They realise that they're going to have to significantly reduce the amount of carbon they release into the atmosphere. 
Importantly, oil and gas companies and their staff are keen to be part of the change. And their technology and innovative thinking can lead the way in finding solutions for the renewables sector. Here are a few examples:
Forth Ports – Renewables Hub in Leith 
A bespoke, riverside marine berth capable of accommodating the world's largest offshore wind installation vessels will be built at the Port of Leith. It will feature a heavy lift capability of up to 100 tonnes per square metre (t/m2), backed up by 35 acres of adjacent land for logistics and marshalling.
The Port of Leith Renewable Energy Hub opens in a new window has the potential to:
Make a major contribution to Scotland achieving its 2045 net zero greenhouse gases target
Secure the Firth of Forth as the driver for Scotland's green energy transition
Help spearhead Edinburgh's and Scotland's Covid-19 recovery plan
Support up to 1000 high quality, long term direct jobs and about 2000 indirect jobs
Roemex
Supporting the global energy transition towards sustainable renewable energy, Aberdeen-based Roemex opens in a new window has used its expertise in upstream oil and gas to develop bespoke solutions for the renewable energy sector worldwide.
The company has developed a range of chemicals, monitoring, management and reporting services for the global geothermal market.  This includes inhibitors for corrosion and scaling, but also remedial treatments designed to reduce injection pressures.
TotalEnergies
Significantly, oil and gas giant Total has rebranded as TotalEnergies as it shifts focus towards renewable energy sources. It's the world's fourth-largest privately-owned oil and gas producer and aims to reach carbon neutrality by 2050. It will do this in part by investing in more solar, geothermal and wind power projects. It has also aligned itself to the United Nations' Global Sustainability Goals opens in a new window .
TotalEnergies, the Green Investment Group and Renewable Infrastructure Development Group have formed the Offshore Wind Power Ltd (OWPL) opens in a new window consortium. The consortium is now looking to the supply chain to work with them to develop world-class offshore wind developments that will help deliver clean, reliable and affordable energy, while also supporting Scotland's net zero ambitions.
Scottish energy companies are ready to work with you
With abundant natural resources, Scottish companies are world-leading in developing renewable technologies – your natural supply chain partners. We can help you find suppliers and partners in areas including: 
Scotland also has world class expertise in managing offshore supply chains and operating in hostile environments. This means we have the people, the skills, the engineering ability and proven track record in innovative design thinking to help you succeed.
You might also be interested in
A net zero oil and gas industry?

How does committing to net zero emissions work in a country that has an internationally renowned oil and gas industry? And is it possible by 2050?

Energy and low carbon industries

With the growing shift away from fossil fuels, Scotland can help companies to transition from non-renewable energy sources to more sustainable solutions.

Renewable energy skills

Jim Brown, Director of ESP, shares his thoughts on how Scotland is reshaping its energy skills landscape to meet the challenge and opportunity, across the UK and globally.
Sign up to our newsletter
Get the latest updates from Scotland's renewables and energy industries.
Need help?
Want to develop a more sustainable business? Let's work together. Talk with our experts to get started.