Celestia UK: manufacturing next-gen satellite systems in Edinburgh
23 Jun 2023 • 6 minute read
Learn about new technology that is reshaping satellite communications, and why Scotland is an ideal location to develop it.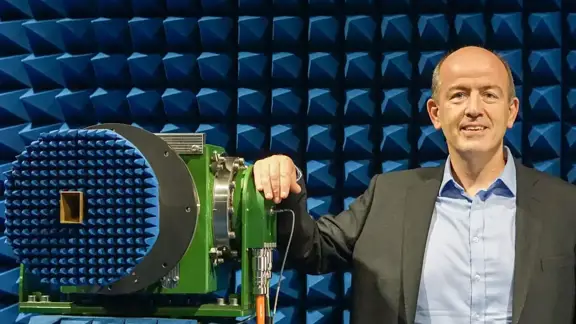 Celestia UK, a satellite ground segment systems business, has chosen Edinburgh as a location for designing and manufacturing a new generation of satellite communications systems.
The company is part of the Celestia Technologies Group – a pan-European network of small and medium-sized enterprises (SMEs) that develop high technology products for satellite systems. Celestia UK specialises in antenna, radio frequency, and digital signal processing technologies for satellite communications.
The business currently has two sites in Edinburgh at the Heriot-Watt University Research Park, plus an additional site in Oxfordshire at Harwell Science and Information Campus.
By basing its research operations in Scotland, the company has benefitted from access to world-class facilities and a ready supply of highly skilled talent – as well as practical and financial support from Scottish Enterprise and Scottish Development International. The result? Technological development that has secured the business a place at the forefront of the next generation of satellite communication.
A new communications challenge
There's currently a trend in the satellite industry toward the use of satellite constellations, where hundreds and sometimes thousands of small, low-cost satellites are launched into low-Earth orbit to deliver broadband services across the planet.
These vast satellite formations present the challenge of communicating a growing volume of data to and from the Earth. For the constellations to work, there needs to be effective infrastructure and data processing on the ground. This is where Celestia UK's award-winning expertise comes in.
"We produce what is called electronic steerable antennas," says Malachy Devlin, CEO at Celestia UK. "Instead of a traditional mechanical dish that people recognise to communicate with satellites, we have a relatively small unit that adjusts the direction of the communication beam electronically, with no moving parts.
"While a single receiving dish can only track one satellite at a time and is slow to reposition to new satellites, our technology eScan can track dozens of satellites at once. What we do is very agile. Our technology can be pointed at one part of the sky, follow a satellite – then instantaneously, we can be back at the start, or can pick up any satellite within view."
Technologies to reduce the cost of satellites
The increased number of satellite constellations has been driven by the use of low-Earth and medium-Earth orbits to bring new benefits and lower barriers for commercial viability. Since these satellites are closer to the Earth, signals have less distance to travel.
"The lower latency is really important," notes Devlin. "For Starlink or OneWeb, for example, one of their key messages is about reducing time. Our systems reduce the delay in signal transmission, for a speed that's closer to the broadband you have at home.
"Another key driver is the reduction in costs to put a satellite in low-Earth orbit. Being closer to Earth reduces the launch costs, and radiation is benign compared to satellites in geo-stationary orbit. This allows the use of commercial parts rather than more expensive space-grade parts. All this has ignited the 'new space' industry, in which companies are creating low-cost satellites such as CubeSats, for example."
Although electronic scanning antennas have existed for years, Celestia UK uses much higher frequencies than is standard. "It's what is called the Ka-band," explains Devlin. "It gives you much higher bandwidth to transfer data to and from satellites, and we improve this further through our multi-beam capability, where we can track tens of satellites simultaneously in a unit the size of a four-person tent."
Devlin points out the advantages in keeping units small. Traditionally, you would need fields full of satellite dishes, located somewhere remote. You would also have to run power and fibre connections from there back to your data centre, which slows down the signal even more.
"What we can do is take all that and put it into a 'box' that can go on the roof of your data centre and pipe the data straight into the centre," Devlin explains. "Straightaway, that reduces costs, latency and security risks."
Scotland as a supportive base for the space sector
When it came to choosing Scotland as its research and development (R&D) base, Devlin says the decision was based not only on economic grounds, but also on the potential to grow and access talent with the right skills.
"Being able to tie in with Heriot-Watt University was important," says Devlin. "The university hosts the largest antenna engineering group of its kind in Scotland and one of the largest in the UK. We now have two premises in its research park — one where we have our design and operational capability, and the other where we do our assembly and systems testing.
"The way Scottish Enterprise and Scottish Development International have engaged with us has made a very good experience. They try to understand what we're working on, and provide access to talent and financial support for R&D as well."
Celestia UK received a £2.5 million R&D award from Scottish Enterprise in 2020, which enabled them to create more than 18 new jobs. Devlin says that the support the business received is ongoing. "What is really good is that we have regular interaction," adds Devlin. "They want to understand where you're going and how they can help you grow."
Growing a space business in Scotland
For Celestia UK, Scotland is an important location for future growth. Scotland's space sector is growing faster than anywhere in Europe and now hosts more than 130 space companies, many of these international businesses.
The Scottish space sector is predicted to reach a value of £4 billion by 2030, aided by the UK Space Agency working with the Scottish Government to support vertical and horizontal launch spaceports across Scotland. It's an exciting time to be involved in the sector, and Celestia UK is primed to seize every opportunity.
"We have been doing a lot of development and validation of the technology," says Devlin. "Now, we are transitioning to production and looking at expanding our manufacturing capability."
The business doesn't stand still and is always looking at the next generation of satellite communication. "How do we maximise the bandwidth? There are increasing frequencies to get more bandwidth," Devlin explains. "We're looking at communications, as we get more users on these networks, and asking how do we push it harder?
"Also, we're working on projects to use our satellite communications technology for aircraft. Not just on top of a data centre, but in a situation where you've got moving vehicles such as aircraft. Currently, it is typically a small mechanical dish that sits in the plane, but we can do that electronically and in a unit that has a lower profile, which reduces air resistance and therefore cuts costs for the airline."
According to Devlin, Scotland holds one more key advantage for Celestia UK, which is being part of a "space community". "People can learn from each other – whether that is regulation, legal, supply chain or talent acquisition," explains Devlin.
Get the latest updates from Scotland
Want to talk?
If you have any questions or want to talk with one of our advisers, we're always ready to help.
You might also be interested in
Scotland's space sector

Historically, the world looked to Scotland for our trains and ships - now, with our dynamic and growing space sector, it's our satellites and data.

Space data capital of Europe

From earth observation to monitoring comets, Edinburgh is on its way to becoming the space data capital of Europe. Dr Murray Collins, Space Lead at the Bayes Centre, tells us why.

Space tech companies in Scotland

Looking to use space data to create innovative solutions? Scottish space tech companies have the capabilities, facilities and expertise to help you succeed.