From monitoring Earth to intercepting comets
07 Oct 2020 • 5 minute read
Discover some of the end-to-end capabilities of Scotland's space data capital.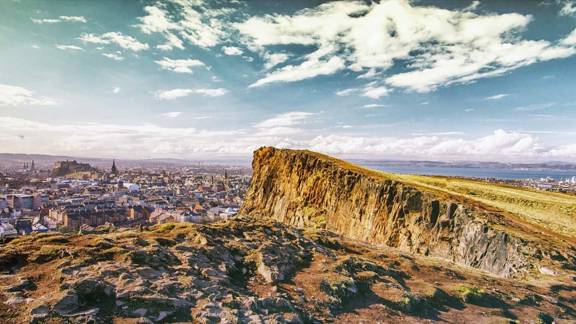 Why Edinburgh is the space data capital of Europe
From developing tiny satellites to dealing with space litter and monitoring climate change impacts on our oceans and rainforests, Dr Murray Collins, space lead at the Bayes Centre, Edinburgh highlights some of the end-to-end capabilities of Scotland's space data capital.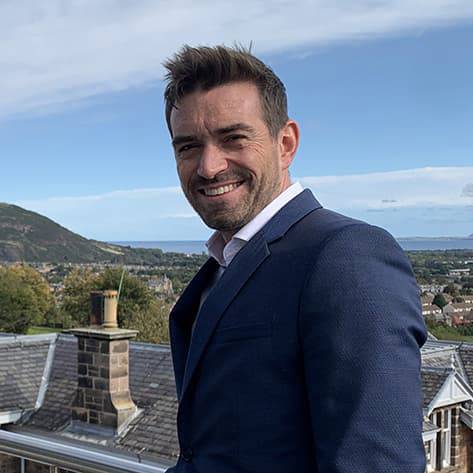 Space university and super robots
"On the ground floor of the University of Edinburgh's new Bayes Centre lives 'Valkyrie', one of the world's most advanced humanoid robots, built by NASA for the University of Edinburgh. While this is a clear indication of the goals and ambitions of the university in robotics, this space super robot represents only one dimension of Edinburgh's rapid emergence as a space university.
"Academics and students are now working across the space value chain. For launch, our engineers are working on PEEK polymers (polyether ether ketone polymers) - high impact plastics used for building rocket fuel pods, while our chemists are developing clean-burn rocket fuels that will improve the sustainability of firing payloads into space.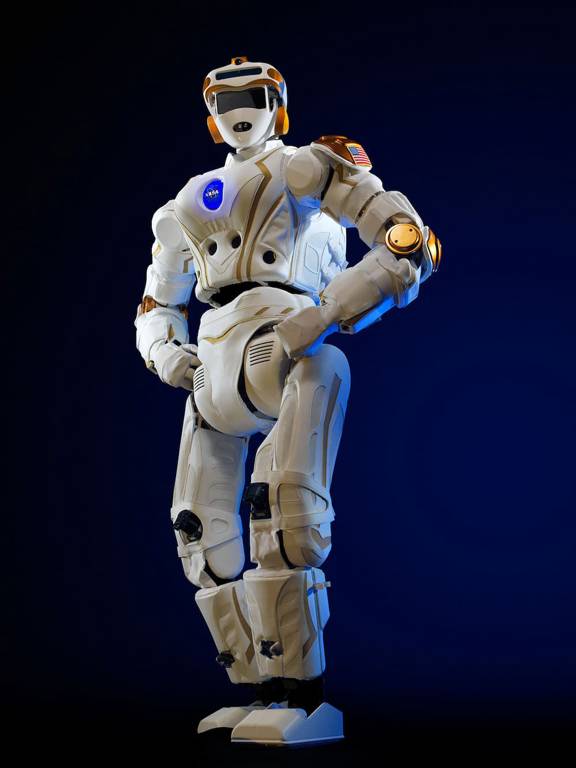 Cleaning up space
"Sustainability is key for the long-term use of space: "space-junk" is an increasingly well-known term, referring to the defunct satellites (and parts thereof) now increasingly littering orbits. Our physicists and astronomers are addressing this problem via the GNOSIS network opens in a new window , developed to address the problem of space debris.
Earth observation
"Our geoscientists in Edinburgh are looking back down onto Earth, via data-gathering satellites, mapping forests around the world, and even mapping poverty from space opens in a new window . But Earth observation satellites are useful for looking at the sea opens in a new window  too.
"Why does this matter? Covering around 71% of the Earth's surface, oceans play a major role in the global climate system. Monitoring sea surface temperature and salinity helps us better understand how oceans communicate with land and atmosphere, as well as marine ecosystems and weather prediction.
Intercepting comets
"And while our geoscientists look down onto Earth, our astronomers are looking out into space. Designing probes with the European Space Agency (ESA), that will land on comets.
"Comet Interceptor opens in a new window  is a new mission that has been recently taken forward by the ESA with the aim of visiting an interstellar object, such as a comet, that has recently entered the inner Solar System, to better understand how objects like these form and change in other star systems.
Scotland's global outlook
"This gives a truly global perspective, with a strong strategic focus on sustainability from the principal down to the practical applications.
Added to that is the major new impetus of Scotland's Data-Driven Innovation programme opens in a new window  – leveraging our expertise in AI and big data analytics. All of which means that the University is exceptionally well placed to address the data needs for monitoring and delivering the UN Sustainable Development Goals. This provides a major opportunity for Scotland to deliver international impact.
"While academics have historically been stereotyped as living in an ivory tower, Edinburgh has a strongly outward-looking stance, developing partnerships with government and industry to increase efficiency of public services, and provide new products and services in the private sector. Indeed companies such as Ecometrica, GSI and Astrosat already partner on projects such as Forests 2020 opens in a new window ."
The University of Edinburgh already has strong links in the space community around the world and continues to forge new links. Pictured is Dr Murray Collins meeting with award-winning space scientist Professor Gay Perez at the Philippines Space Agency control centre.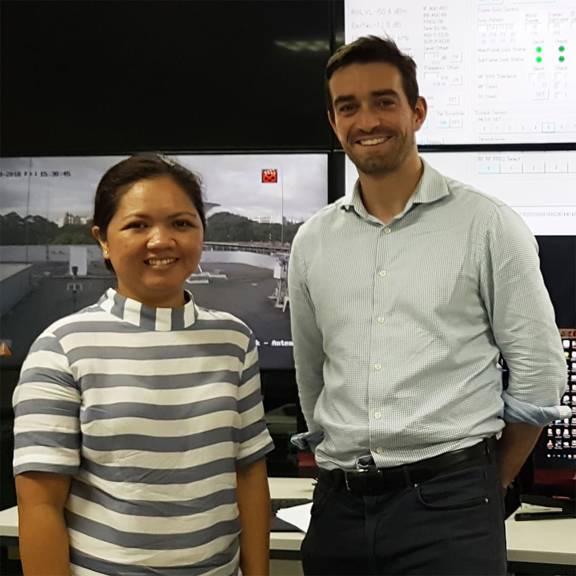 End-to-end space capabilities
"As Scotland positions itself in 'agile space' – the rapid development of small satellites to address niche requirements – there's increasing interaction with the satellite builders, sensor developers, and indeed the rocket creators, like Skyrora opens in a new window  and launch site operators, who are nearing the stage of completing the UK's end-to-end capacity in space.
Skills training and talented startups
"All of these sectors are talent-hungry. The heritage of expertise in Earth observation is causing strong multiplier effects...
"The University was recently chosen to launch the UK's new Earth observation training centre opens in a new window  at the Centre for Satellite Data in Environmental Science. While a host of startups are emerging in the sector, such as Trade In Space, Earth Blox, Space Intelligence, Envisage Space, many of whom meet at regular space meetups.
"The excitement in this area has been captured in two new podcasts - Edinburgh: Space Data Capital, and Scotland's Secret Space Race, the latter of which reaches out across the country to speak to the most exciting entrepreneurs and scientists turning Scotland into a great place to do space."
Want to find out more?
Explore Scotland's space and satellite system
Edinburgh: space data capital

Podcast series 1: From satellite data to space robots, experts from across Scotland reveal why Edinburgh is on course to become the space data capital of Europe.

Scotland's secret space race

Podcast series 2: Interviews with politicians, astronauts, space scientists and satellite experts to unveil the incredible innovation going on in Scotland.
You might also be interested in
Data skills to match your needs

Scotland provides easy access to a growing talent pool of data science skills that makes it the location of choice for tech companies looking to set up and grow.

Bringing space down to earth

Daniel Smith, founder of AstroAgency and member of the Scottish Space Leadership Council, provides us with a guided tour of the Scottish space sector and its benefits to businesses.

How space data can protect the planet

Think of a world where sustainable farming becomes the norm. Discover how space tech developed by Ecometrica in Edinburgh is helping end deforestation in West Africa.
Find space tech solutions
From Earth observation to data analysis, satellite manufacture to launch, we can put you in touch with the right people.