Singapore fintech TranSwap locates global R&D centre in Edinburgh
03 Feb 2021 • 4 minute read
See how we helped the cross-border payment platform headquartered in Singapore continue its international growth.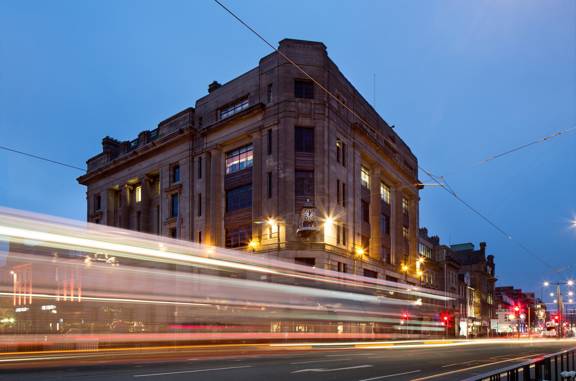 TranSwap, the cross-border payment platform with headquarters in Singapore is setting up a fintech research and development centre in Scotland to continue its international growth.
The Singapore-headquartered fintech company's decision to open a UK office and global R&D centre in Edinburgh proves that Scotland's thriving fintech sector offers the perfect blend of innovation, skills, culture and expertise that global fintech enterprises and investors seek.
TranSwap will initially operate from the world-leading data science and artificial intelligence hub the Bayes Centre at the University of Edinburgh opens in a new window . The company has already established an R&D partnership with the academic institution.
Formed in 2017, TranSwap is a cross-border business-to-business fintech platform, which allows companies to move money better, faster and cheaper. The company's licensed technology empowers businesses to manage and make global financial transactions from local connections anywhere.
TranSwap's products also include e-banking, foreign exchange services, e-invoicing and global digital wallets. The TranSwap platform also supports global payments in 180 currencies and 120 countries.
"UK has been on the cards for years as it is one of the world's leading financial centres and remains a source of global economic development," said Benjamin Wong, Co-founder and Chief Executive Officer of TranSwap.
"Besides serving as a strategic gateway into Europe, the UK is also a highly sought-after investment destination for businesses. It has a vibrant, entrepreneurial fintech sector and businesses play a vital role in the country's economic growth and sustainability," he added.
Scotland's digital skills fit for future fintech market
The firm's Edinburgh facility will tap into the current skills base within technology and financial services and create a talent pipeline for graduates and post-graduates with the right skill sets to enter the rapidly expanding fintech market.
TranSwap expects to create 54 jobs in Edinburgh over the next three years. These jobs will include high-value digital roles such as machine learning engineers and full-stack developers.
Help from our local offices
TranSwap already has overseas offices in Hong Kong, Indonesia and Malaysia. Our own local staff, who are based in Singapore and Hong Kong, worked directly with the company to help make the right introductions to stakeholders in Scotland and ultimately helped in its decision to locate in Edinburgh.
Dynamic fintech ecosystem
TranSwap UK is already a member of the FinTech Scotland opens in a new window community. FinTech Scotland is the bridge to connect you to Scottish fintech companies where members benefit from working alongside likeminded creative fintechs to develop world-changing solutions together.
"Scotland's experience in payment technology is going from strength to strength. We continue to see innovations that are world leading and driving change in the payments sector," said Nicola Anderson, CEO of FinTech Scotland.
Read how Scottish fintechs have mobilised and responded to Covid-19 
You might also be interested in
Fintech excellence in Scotland

With around 150 fintech companies Scotland is home to a dynamic ecosystem. Scottish fintechs are leading the way in cyber security, artificial intelligence, blockchain, personal finance and regtech.

Digital skills support

Discover how Scotland's digital talent is benefiting businesses around the world and how Skills Development Scotland can help you access that talent.

Why Modulr chose Edinburgh

The decision behind Modulr's move to Edinburgh's fintech cluster and how it's overcome challenges of scaling the business. An interview with Chris Brooks, Chief Financial Officer.
Think Scotland could be a home for your business?
Get in touch and our experts can help you explore how Scotland could be an ideal location for your fintech business.