Back
Scottish Enterprise provides funding helping hand to Össur to develop new prosthetic products
07 Sep 2023 • 3 minute read
Prosthetic technology specialist Össur will use Scottish Enterprise funding to add to its range of upper limb solutions.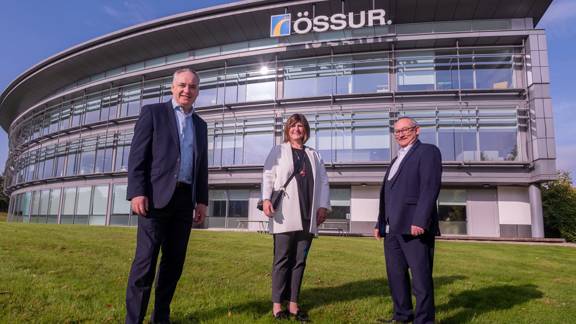 Discover how funding from Scottish Enterprise is supporting Livingston-based Össur's development of prosthetic products. 
Innovative mobility solutions
Mobility solutions provider Össur has received a research and development grand of £400,000 towards its new £2 million project that will support partial hand technologies and enable the development of a new upper limb device.
Innovation Minister Richard Lochhead visited the company's new 30,000 square foot site in Livingston to learn how Össur's prosthetics products enable people to carry out tasks like reaching for a book or a loved one's hand to hold.
Mr Lochhead met with a user of the prosthetic products and the team of Össur engineers involved in building innovative prosthetic hand solutions and said: "I welcome the latest investment by Össur, on behalf of Touch Bionics at its Livingston facility - and its ongoing partnership with Scottish Enterprise, who have provided Research & Development funding for the project.
How Össur has already made a difference
Andrew Gannon is an artist and ambassador of Össur's products who is based in Edinburgh and has been using prosthetics after being born with a limb difference. He spoke of the difference the i-limb® has made to him: "I have used prosthetics practically my whole life and when my prosthetist asked me to try out the i-limb at first I had no expectations, however, it became very apparent in the first few hours of using it that I was never going back as it has reduced pain and damage to my arm and is a great improvement on my previous prosthetics."
Jane Martin managing director of innovation and investment at Scottish Enterprise said: "Scottish Enterprise has supported the company over many years from its early days as a spinout. Össur's plans to further develop a range of prosthetic hand solutions to improve the mobility of people across the world is truly inspirational and is also a great example of how an acquisition can boost business growth in Scotland.
"Össur's investment and next-level product development highlights how purpose-driven companies can transform lives, grow our economy, and Scotland's international reputation as a place to innovate and scale your business."
About Össur
Össur is a leading global provider of innovative mobility solution. For over 50 years, Össur has had a strong purpose rooted in positively impacting people's health and well-being. A recognized 'Technology Pioneer', Össur focuses on improving people's mobility through the delivery of solutions that advance patient care.
Significant investment in research and development has led to over 2,000 patents, award-winning designs, successful clinical outcomes, and steady growth. Össur is committed to sustainable business practices and is signatory to the UN Global Compact, UN Women's Empowerment Principles, and contributes to the UN Sustainable Development Goals. Össur operates globally and has around 4,000 employees. 
Got a question?
If you'd like to learn more about investing in Scotland — or if you need some help getting started — speak to one of our experts.