Renowned French chefs visit Scotland
05 Jun 2023 • 3 minute read
Find out how the trip aimed to open lucrative French market to Scottish exporters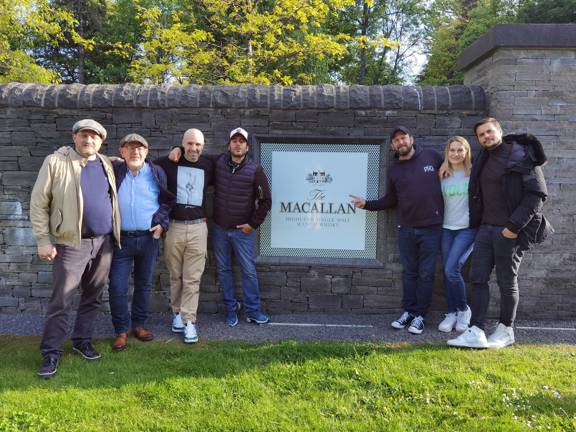 Scotland's food and drink industry was showcased to high-profile French chefs to raise awareness of the country's world-class produce in a four day visit.
Six French chefs, some of whom have gained a prestigious Michelin star, participated in a jam-packed schedule that saw them visit producers across Scotland's geographically diverse communities over the four days.
Scotland's quality food and drink sector
The trip was organised by Scottish Development International (SDI), Scotland's global trade and investment agency and the international arm of Scottish Enterprise and was supported by the Scottish Government's office in Paris and organisations across the Scotland Food & Drink Partnership.
Distinctively Scottish produce in fields such as meat, seafood, spirits, dairy, red fruits, and other ingredients including seaweed were cherry-picked to highlight the provenance and quality of the country's food and drink sector.
Engagements included a tour of the distillery at Macallan Estate in Aberlour, a factfinding mission at Ballandalloch Aberdeen Angus Farm in Banffshire, a site tour of salmon producer Bakkafrost's base in Ardoyne in Argyll and Bute and a trip to Fife where the chefs foraged for seaweed with the company, East Neuk Seaweed. 
Scotland's strong reputation in French foodservice
Harriet Bernot, Scottish Development International Food & Drink Specialist based in France, said: "This inward trade visit is a wonderful opportunity to further enhance the already strong reputation Scotland's food and drink produce has here in France.
"Each of the attendees on this trip are influential in the French culinary sector and have enjoyed stellar careers.  This visit will not only raise the visibility of Scottish produce in the French foodservice sector, but also potentially deliver new export and sales opportunities in France for producers in Scotland.
"At a time when French consumers are increasingly interested in how their food is produced, this trip will allow the chefs to see first-hand the commitment our producers have to sustainability and why Scotland's produce is rightly renowned for its quality and provenance."
Laetitia Conseil, Head of Gastronomy at METRO, a leading supplier of independent catering in France also participated on the event.
METRO has almost 100 wholesale stores across France, serving more than 400,000 customers such as restauranteurs and independent traders, and it is hoped the inward mission will significantly increase the number of Scottish suppliers listed with the culinary organisation.
The visit, which also saw the group meet a host of high-profile chefs and Food & Drink ambassadors based in Scotland such as chef Gary McLean (winner of Masterchef: The Professionals), has been cross-sector in its approach, involving Scotland Food and Drink, Quality Meat Scotland, and Seafood from Scotland, as well as the many companies who hosted engagements over the four days.
Label Rouge quality
Scottish products are already revered in France. Scottish salmon was the first fish and first non-French product to be awarded the prestigious Label Rouge quality mark, while langoustines caught off the coast of Scotland are exported daily to France.
France is also Scotland's top international export destination country outside of the United States, with an estimated £2.9bn of exports in 2019.
Food and drink remains one of the largest and most important industry sectors in Scotland, with global exports of Scottish food and drink valued at £8bn billion in 2022.  
You might also be interested in
Scotland's seafood sector draws global attention at Seafood Expo Global

Find out more about how Scotland's seafood industry was represented at the event.

Scottish food and drink industry

Find out more about Scotland's unique opportunities in food services.

Singapore celebrates the delights of Scottish food and drink

Find out how the online Scotland Food and Drink Festival is creating demand for Scottish produce in South-East Asian markets.
Get the latest updates from Scotland
Got a question?
We're always ready to help. Send us an enquiry, or give us a call.