New depths: robots in Scotland's subsea industries
20 Nov 2020 • 9 minute read
Learn about subsea engineering, artificial intelligence and robotics in Scotland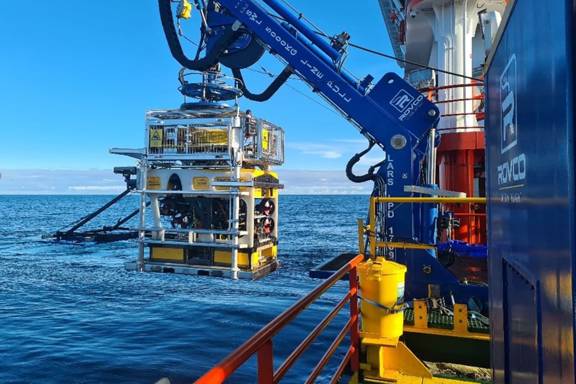 How Scottish tech firms and research centres are using artificial intelligence (AI), machine learning, sensors and autonomous robots to solve underwater challenges in offshore industries.
Scotland's subsea expertise
Scotland has a worldwide reputation for its excellence in tech innovation, including in the rapidly expanding fields of robotics and AI. One exciting application for this expertise is in the subsea sector, where robots developed by Scottish engineering firms and research centres are now employed on a variety of tasks in challenging underwater environments.
Thanks to advances in machine learning, automation, sensory perception and communication, robots can monitor subsea conditions and infrastructure and provide high-quality data for human engineers and scientists. This has benefits for many of Scotland's industries, including offshore oil and gas, renewable energy, security, defence, aquaculture and climate science.
Remote monitoring of underwater networks
Remotely operated vehicles (ROVs) play an important role in the installation and maintenance of underwater cables, pipelines and other infrastructure needed for industries such as renewable energy, oil and gas and communications. These robots can function in harsh subsea conditions, accessing depths and tight spaces that would normally be difficult for engineers to reach.
Controlled by a human team on a surface vessel or nearby land base, ROVs carry a range of onboard tools and software that allow their handlers to survey the seabed for obstructions before pipes are laid or cables buried. Once the equipment is in place, engineers can use ROVs to carry out routine inspections and respond quickly in case of problems.
Several Scottish companies have expertise in developing and manufacturing ROVs. Centurion Subsea opens in a new window designs and manufactures flexible, innovative ROVs that can be adapted to suit a range of jobs and working conditions. The robots are equipped with components that enable live video and sonar for inspection and seabed mapping, as well as mechanical functions such as cutting, dredging and excavating. Their Gladiator control system also allows vehicles with older electronic systems to be updated with current technology, extending the life of the equipment.
Aberdeen-based AC-CESS opens in a new window specialises in underwater inspection systems and products, with a focus on small, easily deployed ROVs with enhanced mobility and sensor equipment for remote visual inspection (RVI) in confined spaces. Its robots are able to get inside pipes, vents and other narrow spaces, and can be used in busy or crowded places where a high level of manoeuvrability is required. This makes them useful for checking boat hulls, rudders or propellers, for example, or for inspecting underwater damage to bridge piers in shipping lanes.
To support Scotland's important energy industries, Innospection opens in a new window has developed a range of crawlers and scanners which can inspect subsea pipelines externally, saving the cost and hassle of internal inspection. These ROV devices can operate at a range of depths, scanning pipelines and other subsea structures for corrosion and damage.
Autonomous underwater robots: the next generation

ROVs still need to be tethered to a support vehicle and commanded remotely, but the next generation of subsea robots can be programmed to carry out their tasks independently once launched.

The world's first fully Autonomous Inspection Vehicle (AIV) has been developed by Scottish company SeeByte Ltd, an offshoot of the Ocean Systems Lab at Heriot-Watt University, in collaboration with Subsea7 as a more efficient means of monitoring underwater equipment.

Once deployed, the AIV can inspect pipelines, cables and other infield infrastructure for the oil and gas industry independently of its support vessel, which can be engaged in other tasks. Its onboard systems use advanced AI and machine learning not only to carry out a pre-programmed mission, but also to recognise and identify potential issues on the ground and transmit this data to its human team.

An autonomous vehicle is more flexible and efficient in its approach and can deliver high-quality data even in difficult conditions. A major advantage is its ability to access even remote and harsh environments, including under ice and in rough weather, at depths of up to 3000 metres.
Improving robot-human communication
To get the most out of autonomous robots, their human co-workers need to have confidence in the decisions and actions they take. This is particularly important in challenging and potentially dangerous environments such as offshore oil rigs and other subsea locations.
Better communication between humans and robots helps build this trust, which is why a group of researchers working at the Offshore Robotics for the Certification of Assets (ORCA) Hub opens in a new window run by Heriot-Watt and the University of Edinburgh have developed a system that allows humans and machines to interact in natural language.
MIRIAM - Multimodal Intelligent inteRactIon for Autonomous systeMs – permits users to text or speak to a robot and get an answer in plain English, rather than code. This means users can easily grasp what the robot is doing, for example when it detours to avoid an obstacle or stops to examine a potential problem.
By making communication simpler and clearer, MIRIAM saves time and gives human handlers the confidence to let the robot get on with its mission, making the most of its efficiency and safety benefits.
Delivering quality data
Improved data quality and collection can also help maximise the benefits of both ROVs and AUVs. For example, Rovco's SubSLAM X2 intelligent data collection system opens in a new window captures ultra-precise 3D data and livestreams it to any device around the world, creating 3D point cloud models that represent underwater structures and other assets with millimetric precision.
This kind of technology has many advantages for subsea sectors, in particular the offshore wind and broader energy industry. As Rovco explains:
"These models are generated while performing general visual inspections of subsea structures and can be viewed in real time. They reduce the number of workers needed offshore as the data can be collected by staff based in an office, at home or even on the move via a simple web browser.
"The technology allows live surveys to be conducted remotely, with the flexibility to focus on or move to and capture particular areas of interest during the inspection. Once a survey is complete, the accurate 3D models are uploaded to an intelligent data platform for safe storage. They can then be used to build a condition history of each asset over the lifetime of the project.
"We can then use machine learning difference modelling to analyse future models of the asset taken over subsequent years and spot areas of degradation quickly.
This lets us identify potential trends such as anode and scour depletion, marine growth rates and cable protection system movement or failure and make informed decisions for intervention. This is particularly useful during the defect correction period of a new project, so clients can substantiate warranty claims easily and keep an accurate record and easily accessible service history for the asset."
Naval and research applications
Autonomous vehicles are also widely used by the military for defence and surveillance purposes. HM Naval Base Clyde is home to Project Wilson, which includes the Royal Navy's Maritime Autonomous Systems (MAS) team. This team operates several Autonomous Mine Counter Measures vessels, which use towed sonar systems or AUVs to survey the seabed and detect mines.
Unmanned and autonomous vehicles are also used by the military to reduce the need for direct human involvement in a variety of other high-risk or tedious activities. The Royal Navy's Unmanned Warrior operations held in 2016 demonstrated the full range of robot capabilities in this area, from anti-submarine work to gathering intelligence and oceanographic data.
More than 50 different unmanned vehicles, sensors and software systems were showcased during the exercise, highlighting how investment in autonomous robots can improve safety and efficiency in the navy.
Underwater robots can also play a part in climate science and other areas of ocean research. For example, robots can take samples to test water composition at various depths. This allows scientists studying climate change to track shifts in oxygen content and salinity brought about by melting icecaps and other environmental factors.
Robots can also measure movements on the sea floor to provide information on earthquake and tsunami risk, which helps with both warning systems for local populations and planning appropriate sites for underwater infrastructure.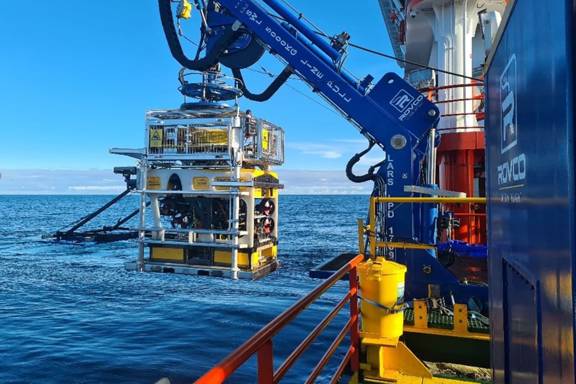 A prime location for research and development
With the huge demand stemming from its energy sector and the well-established local talent pool of tech expertise, many companies specialising in subsea robotics are tapping into Scotland's potential as a site for research, development and manufacturing.
For example, Japanese company Kawasaki Heavy Industries Ltd has created an Aberdeen-based subsidiary specialising in the production, sale, and servicing of autonomous underwater vehicles (AUVs) for monitoring pipelines. The launch follows on from Kawasaki's five-year research partnership with Heriot-Watt's Ocean Systems Laboratory, during which the multi-sensor algorithms for the AUVs were developed.
Government support for green energy initiatives also plays an important role in attracting world-leading companies to set up base in Scotland. As Simon Miller, managing director of Rovco explains:
"Our expansion to Scotland was influenced by the government's aim to generate 50% of Scotland's overall energy consumption from renewable sources by 2030, with net zero emissions by 2045."
As offshore wind, wave and tidal generation have a crucial role in delivering against these targets, it creates the perfect environment for companies engaged in developing autonomous robots and systems to support these industries.
Investment is also available through initiatives such as the Aberdeen-based Net Zero Technology Centre, which aims to be "the 'go-to' net zero technology centre for the oil and gas industry in the UK and internationally".
Tech-driven energy transition 
With backing from both the UK and Scottish governments, the Net Zero Technology Centre provides funding and support for a range of domestic and international partners working on technology, with the potential to accelerate the North Sea oil and gas industry's transition to a net-zero future.
Supporting underwater projects around the world
Scotland is home to more than 700 subsea engineering companies with expertise in subsea construction, inspection, repair and maintenance, research and testing, and decommissioning around the world.
ROVOP, for example, works in over two thirds of Europe's offshore wind industry and is growing it's presence in the North American offshore wind market. Watch our video to hear from Euan Tait, ROVOP President and Director, talk about some of company's projects.
There's bound to be a Scottish company that could help with your underwater project. Use our searchable company directory to find partners to find solutions to your needs
You might also be interested in
Renewables and low carbon

Scotland is home to the world's first tidal array, world's first floating offshore wind farm and Europe's largest hydrogen bus fleet.

Green energy supply chain

Exceptional experience, unique offshore energy capabilities and unrivalled support, make us natural supply chain partners for renewable energy projects worldwide.

Digital and technology industries

Scotland's digital and technology industries have particular strength in cyber security, data, fintech, games, global business services, software and IT, space, and waste and wastewater technology.
Subsea robotics and AI solutions
Whether you're looking for investment opportunities, the right suppliers or want to chat about a potential subsea project, we can help.