Glasgow coffee roaster Matthew Algie invests in growth and sustainability
25 May 2023 • 5 minute read
Find out how Matthew Algie's latest investment is supporting its growth and net zero ambitions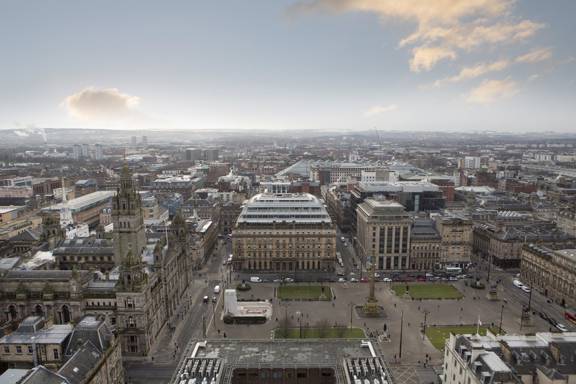 Matthew Algie is building for the future with a multi-million pound investment at its production headquarters.
The firm, which was established more than 150 years ago, has seen considerable growth in recent years and is about to embark on an innovative project with the support of Scotland's economic development agency, Scottish Enterprise. 
The project will see the firm increasing its operational abilities, allowing it to roast over 2500 tonnes of coffee each year for its customers. It will also include the introduction of a new green bean handling and blending system, upgraded automation, new conveying systems, and state of the art packaging lines.
In addition to the operational improvements, the investment will support Matthew Algie's new sustainability strategy. This strategy will see the entire business become net zero by 2035 with its entire business operations, including supply chain, hitting the target by 2040.
How this investment will support Matthew Algie's sustainability goals
The Glasgow coffee roaster is already carbon neutral, but the firm recently launched its Net Zero Roadmap which details the investment and improvement programmes across the entire business to become net zero.
A new green storage area will enable hessian sacks to be replaced with larger one-tonne transportation bags that will deliver a 90% manual handling reduction, as well as increased coffee container capacity. Shipping coffee in bulk containers from coffee producing countries to UK ports will increase capacity by 11%, and onward delivery to the Glasgow site will see a 25% capacity increase. This will help will reduce costs and carbon emissions.
A global Scottish success story from Glasgow
While it has a proud Glaswegian heritage, Matthew Algie is part of the German-owned Tchibo brand, one of the largest coffee roasters in the world.
Scottish Development International (SDI) is the international arm of Scottish Enterprise. Mark Hallan, Director of Global Investment at SDI said: "The quality and provenance of Scotland's food and drink is internationally renowned. Companies in Scotland, such as Matthew Algie, are constantly evolving by introducing sustainable processes that not only increase productivity levels, but also help our efforts to reach net zero.
"That's why Food & Drink Innovation was identified in the Scottish Government's Inward Investment Plan, which focuses on specific sectors where Scotland is a genuine world leader and continue to enjoy global growth.  Our SDI specialists based in more than 30 locations across the world would be delighted to share our strengths with any ambitious Food & Drink company considering expanding internationally to Scotland."
Scotland's international strengths in Food and Drink innovation
As a land of food and drink, Scotland has a seat at the top culinary table.  Food and drink is a leading sector of Scotland's economy and is marked by significant international investment.
Sectors across our food and drink industry are at the forefront of Scotland's sustainable growth ambitions with pathways to achieve net zero by exploring new technologies.
The industry also continues to explore new and innovative methods of production, collaborating with leading universities, with Scotland the home to many Food and Drink research and innovation assets.
You might also be interested in
IGS - Scottish vertical farming innovator goes global

Scottish agritech business Intelligent Growth Solutions (IGS) is taking vertical farming to new heights.

Scottish food and drink industry

Find out more about Scotland's unique opportunities in food services.

Singapore celebrates the delights of Scottish food and drink

Find out how the online Scotland Food and Drink Festival is creating demand for Scottish produce in South-East Asian markets.
Get the latest updates from Scotland
Questions about trade with or investment in Scotland?
We're always ready to help. Send us an enquiry, or give us a call.