How Scottish advances in floating wind energy can reduce oil and gas emissions
31 Oct 2023 • 5 minute read
Learn about the innovative Scottish wind energy projects designed to decrease carbon emissions from North Sea platforms.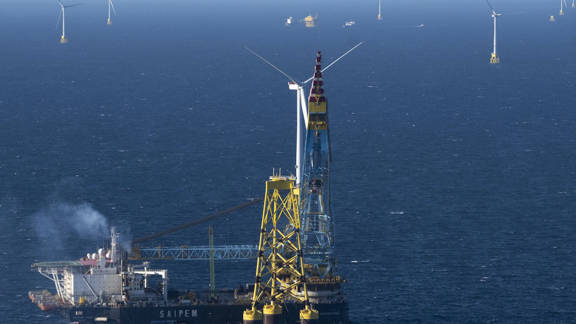 Wind energy generated in the waters around Scotland is strongly predicted to make a significant contribution towards the decarbonisation of oil and gas operations. 
The Innovation and Targeted Oil and Gas (INTOG) leasing round is part of the North Sea Transition Deal between the UK Government and the oil and gas industry. The leasing round invited bids for seabed rights from Crown Estate Scotland to develop new wind energy projects. 
Under the scheme, electricity from new offshore wind assets will be used to reduce emissions from oil and gas production. Projects will also be key to advancing offshore wind technologies, notably floating turbines. Furthermore, Crown Estate Scotland will return all net revenues generated from INTOG to the Scottish Government.
What is INTOG?
INTOG projects are divided into two categories. Innovation (IN) projects consist of small-scale wind innovations of less than 100 Megawatts (MW). While Targeted Oil and Gas (TOG) projects comprise oil and gas infrastructure, delivering power to North Sea operations while lowering carbon emissions. 
Applications opened in June 2022 and and closed in November 2023. Thirteen projects have been offered exclusivity agreements. Five of these have been selected for the IN part, with the remaining eight approved for TOG. 
Companies involved have significant opportunities to develop new technologies and processes that could play a major role in the energy transition. 
Decarbonising oil and gas operations 
North Sea oil and gas production has been a focus of Scottish industry for more than four decades. Furthermore, the North Sea industry is actively participating in the energy transition by offering engineering expertise, skills, and the essential investment.
A typical North Sea oil and gas platform needs approximately 50-100MW to operate. Presently, most energy is provided by fossil fuels, often diesel generators. If energy can be provided by offshore wind, it will have a dramatic impact on reducing carbon emissions from the North Sea. 
INTOG is enabling reductions. Major global corporations with INTOG projects include BP and TotalEnergies. Both have backgrounds in oil and gas but have diversified their portfolios to include renewables. 
Meanwhile, an ESB Energy project on the West Coast will produce e-fuels with energy from a floating wind farm. However, many INTOG projects mark the first venture for oil and gas companies into wind energy. 
One of these companies is Harbour Energy. The company is involved in two INTOG projects, which each have a capacity of 15MW. Consequently, technology proven in INTOG projects could be used in other markets to further reduce global oil and gas emissions. 
"Many companies involved in the North Sea are international companies with a presence all over the world," adds O'Brien. "So, lessons learned here could be duplicated in any of those markets. That's what we're hoping for." 
Harnessing floating wind energy 
The history of the North Sea energy industry was built on oil and gas. However, offshore wind is widely predicted to dominate its future, particularly with floating turbines. 
"There have been massive technology advances over the last decades, having pushed offshore wind generation further. It has moved into deeper waters. Then there's the improved offshore technology and infrastructure, as well as taller turbines. All these factors are leading to more efficient installations," says Barbara Monterrubio, Managing Analyst of energy at GlobalData. 
The world's first commercial floating offshore wind farm, Hywind Scotland, began operations in Scotland in 2017. With multiple projects in the pipeline to enhance wind energy innovation, this will soon be the first of many.
Floating wind projects under INTOG will add approximately 5.4 Gigawatts (GW) in generation capacity once complete. A further 19.2GW will come from the larger offshore leasing round, ScotWind. Provided all projects develop to operations, Scotland's floating offshore wind capacity will rise to a considerable 24.5GW.
Offshore wind innovations in Scotland
Several INTOG initiatives are looking into the idea of manufacturing green hydrogen by using offshore wind to power electrolysers that split seawater into its chemical elements. This approach solves the challenge of renewable energy storage. It also solves grid connection issues that restrict the development of some wind farms. 
"More offshore wind power can be used to produce green hydrogen. And then that hydrogen can be used to produce electricity on the platforms," says O'Brien. "That would dramatically increase the percentage of emissions reductions. But we need to wait and see exactly how all these projects are going to pan out." 
INTOG contractors must agree to procure materials from Scotland as much as possible. This opens new prospects for the domestic supply chain and may help lower asset costs. 
"We are aiming to set up the manufacturing of these steel substructures, along with their serial production. We're looking at ways to try and reduce the cost of offshore wind," says O'Brien. 
The impact of INTOG is already shaping up to be significant for net zero and the decarbonisation of heavy-emitting industries. The first INTOG project is projected to be operational by 2026, with the majority following before 2030. 
Many INTOG projects may develop ahead of the ScotWind initiative. Learnings from INTOG could help support ScotWind developments. This creates an opportunity for niche technologies and specialist skills developed through the schemes to be exported globally. 
In the oil and gas industry, it used to be said that most platforms in the world featured Scottish-built components. Now, Scotland is positioned to be equally influential in offshore wind energy.
Register for the webinar 
Learn more about satellite data and sign up opens in a new window to the GlobalData webinar taking place on the 9th November via Arena-international.com.
You might also be interested in
Offshore wind industry opportunities in Scotland

Learn about Scotland's thriving renewables industry and dynamic offshore wind opportunities.

Renewable energy skills

Learn how Scotland is shaping its energy skills landscape to meet the challenge and opportunity, across the UK and globally. 

Fifth industrial revolution

Wind, sea and the right chemistry - why Scotland is poised to play a significant role in Europe's sustainable energy production to help tackle climate change. 
Get the latest updates from Scotland
Got a question?
We're always ready to help. Send us an enquiry, or give us a call.