Ultrasonic engineering solutions for healthcare and industrial processing
20 Jan 2021 • 7 minute read
Read about the diverse applications of ultrasound technology and new developments taking place in Glasgow's research centres.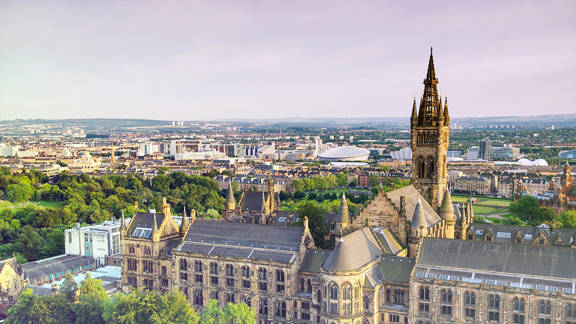 Scotland's ultrasonic technology supports a diverse range of industries – from medical, health and robotics to industrial processing. If you're looking for partners to develop innovative solutions for a brighter, sustainable future, or where to find tech talent to up your game, we can help. Dr Richard Mosses, Programme and Centre Manager at the University of Glasgow's Centre for Medical and Industrial Ultrasonics, shares a snapshot of Scotland's capabilities in the field.
Ultrasonic applications
Ultrasonics, or ultrasound, is the science and technology of sound at frequencies beyond what we can hear. It has a huge range of applications, from imaging and sensing to the remote delivery of energy. Ultrasonic engineering involves putting these applications to practical use and plays an important role across a diverse range of industries.
For example, 20% of medical scans rely on ultrasound for an increasing range of procedures. Many surgical tools operate through ultrasound. In medical therapy, it is used to treat neural dysfunction and cancer.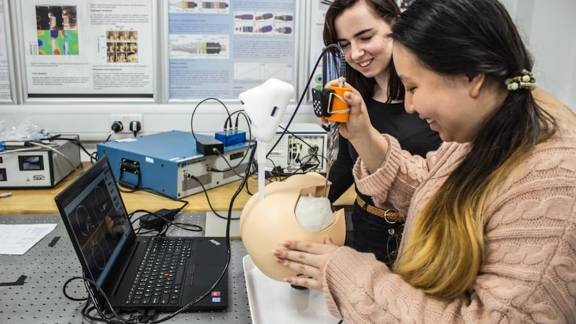 Ultrasonics is widely used in underwater sensing and communication. It's also important in the remote delivery of energy. It forms the basis of a wide group of analysis techniques used in science and technology to evaluate the properties of a material, component or system without causing damage. Ultrasonic devices are an essential part of every mobile phone and are being developed for enhanced biometric security.
As the best way to clean surfaces and bond interconnects, ultrasound is common in semiconductor and electronics fabrication. It's also being explored as a way to deliver power to implants and to give a contactless sense of touch.
With such a broad range of applications, ultrasonics has an exciting future. To maintain a competitive advantage in this dynamic and multidisciplinary field, companies worldwide rely on ambitious, innovative engineers to share their unique knowledge of ultrasonics.
History of ultrasonic engineering in Glasgow
Ultrasound was first used for clinical purposes in Glasgow in 1956, when obstetrician Ian Donald and engineer Tom Brown developed prototype systems for imaging foetuses in the womb. Their work used systems originally developed by Glasgow company Kelvin & Hughes to detect flaws in Clyde-built ships.
This early work shows the partnership which continues today between industry, scientists and engineers to find solutions. It also shows the crossover between medical and industrial uses of ultrasound.
Ultrasonic research started in the early 1980s at the University of Strathclyde, and the Centre for Ultrasonic Engineering (CUE) opens in a new window  was established in 1998 by Professor Gordon Hayward. Professor Margaret Lucas joined the University of Glasgow in 1996 and brought together a core team of experts in ultrasound, now recognised as the Centre for Medical and Industrial Ultrasonics (C-MIU) opens in a new window .
Together, these centres run the Centre for Doctoral Training in Future Ultrasonic Engineering (FUSE) opens in a new window , which took in its first cohort in 2019. Combined, all these centres make up the largest academic ultrasonic engineering unit in the world.
Ultrasonic solutions
Here are just a few of the areas benefitting from practical applications of ultrasound technology.
Medical and health
The Glasgow research centres are carrying out significant work in healthcare and medicine, working closely with the National Health Service (NHS) and a range of partners. Whether improving imaging, developing direct and indirect surgical tools, or promoting healing, ultrasound has gone beyond monitoring foetal development and can be used in all aspects of healthcare.
Non-destructive evaluation
Non-destructive evaluation (NDE) is a way to inspect and monitor the condition of parts, equipment and infrastructure for operational safety across all the major industrial sectors. Ultrasound is used to carry out these evaluations without damaging components or materials.
Industrial processing
Ultrasonics can be used for cutting, welding, drilling, positioning, and monitoring liquid flows, as well as many other processes in industry and exploration.
Robotics
Increasingly, ultrasound is being employed in robotics and mechatronics. For example, it can be used to scan a turbine blade for cracks or control an ultrasonic drill as it penetrates the skull. Combining ultrasound with robotics presents a new set of challenges and many new solutions.
Bioacoustics
By understanding auditory systems in the natural world, scientists can develop new materials, sensor designs, and signal processing techniques for applications such as hearing aids.
Innovations and development
Several ongoing collaborations at Glasgow's ultrasound research centres are taking ultrasonics in exciting new directions, with innovations that will improve efficiency and outcomes in many areas.
The Sonopill programme opens in a new window has produced a pill-sized ultrasound imaging system that can be swallowed by a patient. The capsule is 30 millimetres long and 10 millimetres in diameter and can detect subtle changes in the bowel wall. Using micro-ultrasound, the Sonopill capsule can image the whole digestive tract and detect pre-cancerous changes in the lining in a non-invasive way.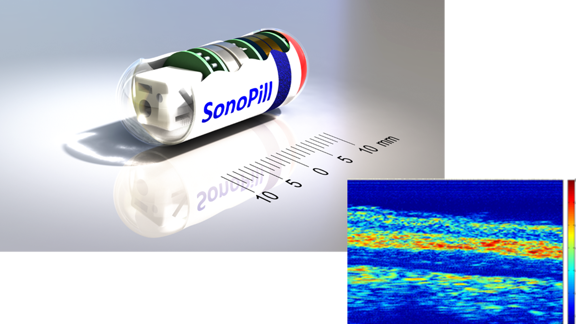 To help make surgery less invasive, the Ultrasurge programme is creating miniaturised ultrasonic tools. These tools can access hard-to-reach areas of the body and speed recovery by removing only diseased tissue. Designed to work with a DaVinci surgical robot and new tentacle robots just a few millimetres in diameter, these tools will slice like a scalpel, cut like shears, and promote healing in soft and hard tissues like tumours and bone.
In the engineering field, a multi-robot, large-scale inspection system has been developed to evaluate the integrity of manufactured wing structures used in aeronautics and energy generation. This system bases its inspection process on metrology (the science of weights and measures) and uses ultrasonic array imaging to increase the speed and quality of inspections.
Company partners
Glasgow's ultrasonic research centres work with more than 50 companies based locally, throughout the UK, and internationally, from micro businesses to multinationals. These companies work in diverse areas with a shared scientific and technological foundation. Their goal is to deliver products and services with economic and societal value.
In the UK, partner companies include startups such as Novosound and ActiveNeedle Technology; SMEs like OnScale and UltraLeap; and multinationals such as Thales, Spirit Aerosystems, and Canon.
Further afield, the centres have links to companies such as Dolfi Sonic, Sound and Bright, Meggitt, Mindray, GE Healthcare and many more.
Take a closer look at a few of these collaborations:
Glasgow-based Alba Ultrasound was established in the early 2000s to design and manufacture high-quality sonar transducer systems, which send and receive signals. Technical advances in active piezoelectric materials (which produce an electric current when placed under mechanical stress) at the University of Strathclyde helped Alba to create sonar technology with both military and commercial uses.
Stryker Corporation is an American multinational medical technologies corporation. Among a wide portfolio they develop ultrasound surgical devices. Glasgow University was approached to support their deeper understanding of the technology.
In a project with NHS Greater Glasgow and Clyde, C-MIU worked with an NHS clinician on developing of an ultrasonic drill for the petrous apex. The project combined clinical experience and understanding of skull surgery requirements with engineering knowledge of power ultrasonics and medical device development. A commercialisation partner is being sought.
To test an ultrasonic drill developed for solar system exploration, C-MIU organised a trial with the British Antarctic Survey in Antarctica. This has led to a deeper partnership for developing ultrasound for use in extreme conditions.
Why work with Scottish universities in ultrasound
Many companies benefit from the Glasgow research centres' expertise in diverse areas surrounding ultrasonic engineering, from SONAR to lead-free transducer materials.
By collaborating with Scottish universities, they can also take advantage of Scotland's innovation ecosystem, with access to grants, technology clusters and specialist companies. Other benefits include independent project management, grant writing assistance and clear contracts with standard terms.
You might also be interested in
Digital and technology industries

Discover Scotland's research and development strengths in data science, AI and smart technologies, software, finance, space and more.

Health and life sciences

Explore Scotland's world-leading life sciences and health technology industry, from centres of excellence in research to medical biotechnology startups and global pharmaceutical companies.

Chemical sciences

Learn how Scotland's innovative chemical sciences and industrial biotech industry is providing sustainable solutions to everyday challenges, from protecting crops to advancing healthcare.
Tech and engineering expertise
Want to tap into Scotland's research expertise or work with our universities? We can connect you to the right people.