From spaceports to satellites: Scotland's thriving space sector
03 Aug 2023 • 8 minute read
Learn how Scotland has developed a full range of space services — from satellite manufacturing to launch and data capture.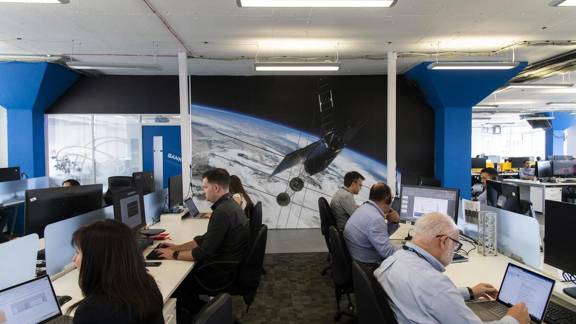 Scotland's space sector is developing rapidly. The nation is building a complete space hub that will soon compete with global players in the same sphere. It has already attracted international attention for its end-to-end capabilities which include talent, research and development expertise, launch services, and data analysis. 
The global space market is projected to hit $1 trillion USD by 2040. Scotland plans to capture a £4 billion market share by 2030. These plans were announced as part of the Scottish Space Strategy at Dubai Expo in October 2021, with the ambition to position the country as a world leader in sustainable space operations on a commercial scale, while attracting inward investment in targeted areas.
A green economy approach to space
Progress is already evident in the number of space businesses in Scotland which has increased by more than 65% since 2016. By 2030, Space Scotland — an industry body formed to support the sector — expects the Scottish space workforce to increase to five times its current number. 
Once fully developed, the Scottish space sector will provide economic benefits to many areas of the country — an advantage that few industries can offer. These benefits range from jobs in data and manufacturing in the major cities of Edinburgh and Glasgow, to skilled positions at a spaceport and ground station in the most northerly tip of the Shetland Isles. 
Even as operations grow with the development of five new spaceports, the Scottish Space Sustainability Roadmap will help to minimise the environmental impact of these activities, and make them more compatible with Scotland's ambitions to reach net zero carbon emissions by 2045. This will be achieved through the use of greener fuels and lightweight materials that can be reused to minimise waste.
Many countries have studied Scotland's approach and are now using the model as a guide to develop their own domestic space sectors.
"What Scotland has done is really impressive," says Craig Clark, Chairman of Space Scotland and Professor of Practice for Space at the University of Strathclyde. "It has been an exemplar for a lot of countries in the world to show what you can do. I think a lot of people look to us and want to replicate it."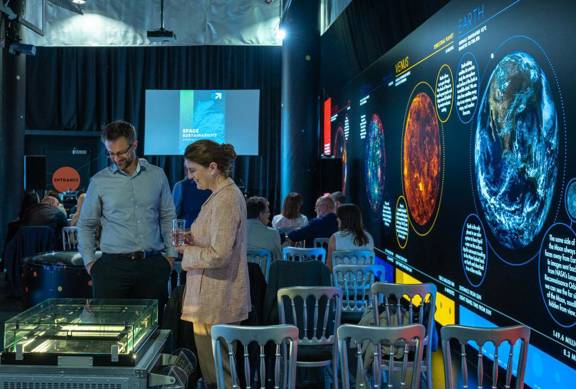 AAC Clyde Space: the catalyst for Scottish space sector growth
Clark is often described as a visionary space engineer and a pioneer of the Scottish space industry. In 2004, he set up satellite manufacturer AAC Clyde Space in Glasgow, as he wanted to move back to Scotland after leading a power systems team at Surrey Satellite Technology in England for 11 years. 
However, in 2004 Scotland had yet to develop a space sector. Seeing the country's immense potential for space operations, Clark contacted Scottish Enterprise and the Scottish Government. Both organisations provided considerable support in terms of funding and connections with specialists. Clark had never started a company before, but soon found himself leading an organisation with 85 employees.
"Clyde Space was challenging the norm as a disruptive technology company," he explains. "It was creating new market opportunities."
Many view AAC Clyde Space as the catalyst for the space sector we see today in Scotland. Its presence attracted US satellite manufacturer Spire, for example, and later international space satellite systems manufacturer Celestia UK, which set up production facilities in Edinburgh. Former Clyde Space employees have also set up their own space companies in Scotland.
Clark named his company Clyde Space after the River Clyde that runs through Glasgow, which has a history of shipbuilding dating back hundreds of years. He envisioned that Scotland could one day build the spaceships of the future, continuing Scotland's industrial legacy of engineering and invention. 
"The space sector in Scotland is still very young, so who knows where it will go," Clark says. "It could be even more successful in the future, to the point that we're building a large percentage of the world's spaceships." 
Clark also chairs Space Scotland, which seeks to promote the nation's space sector by focusing on tangible outcomes. The collegiate forum brings together key stakeholders from across industry, academia and government at quarterly meetings, as well as in regular working groups and ad-hoc work streams.
Reduced costs and increasing demand
Scotland's success is helped by the fact the space sector is easier and more affordable to access than ever before.
In recent years, many private companies have entered the industry by using CubeSats and other small satellites. These weigh less than 500 kilograms and are cheaper to produce than traditional larger satellites.  
As launch costs drop, the satellite market is becoming busier globally. Projections from Morgan Stanley suggest that satellite broadband will account for 50% of the projected growth of the global space economy by 2040 – an increase of up to 70% on current figures.
Though small, Scotland is a powerhouse when it comes to manufacturing satellites. In fact, Glasgow produces more small satellites than anywhere else in Europe – so the nation stands to benefit from increasing demand.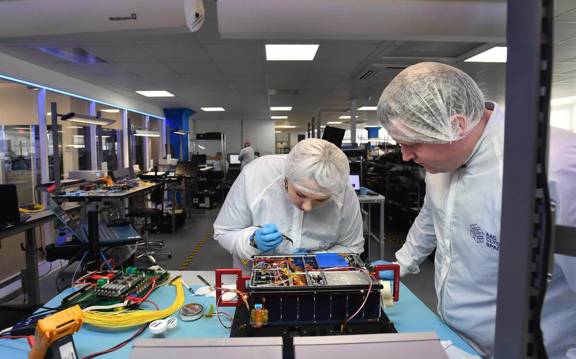 Scotland also benefits from its ability to launch units from domestic spaceports. The nation's vast, empty landscapes and proximity to the open ocean make it a highly suitable location for spaceports. 
At the moment, launches are mostly carried out by international space agencies at major spaceports, but this will change once local options are available. 
There are currently five Scottish launch facilities either under construction or or in the advanced planning stage: Space Hub Sutherland in the Highlands, SaxaVord Spaceport in Shetland, Spaceport 1 in the Outer Hebrides, Prestwick Spaceport in Ayrshire, and Spaceport Machrihanish in Argyll.  
Demand is already so high for launches at SaxaVord in Shetland that operators have decided to build five launchpads instead of three, as originally planned.
Another advantage for Scotland is that rockets are now manufactured domestically, further reducing costs. Orbex has recently secured funding of £40.4 million to develop rockets for launch at Spaceport Sutherland. Financial backers for the scheme include the Scottish National Investment Bank (SNIB) and Jacobs, a service provider to NASA.
Finally, Scotland has the knowledge and skills to capture and analyse satellite data. For example, Edinburgh-based fintech company Trade in Space combines expertise in Earth observation and blockchain technologies, enabling them to use space data and machine learning to inform and facilitate agricultural commodities trading with clients on the other side of the world.
The next generation of space talent
Scotland's network of world-renowned universities and research institutes are another integral piece of its space sector. They possess the facilities and expertise to develop satellites and other space technology, as well as to train workers to fill a variety of space roles.
For example, the University of Strathclyde's space cluster works with industry partners to conduct research and coach talent. The university's Scottish Space School allows 80 students to attend a week-long summer programme each year to help engage that next generation of space talent. 
Meanwhile, the Scottish Universities Physics Alliance was formed by the country's leading universities to ensure that Scotland continues to produce cutting-edge physics research.
"When I was with Clyde Space, I always had a relationship with Glasgow, Strathclyde, and other universities, not only for the talent but also for running projects. We would run a PhD or EngD programme, or other projects to develop new technology, because that is what helps ensure companies are competitive in future," explains Clark.  
Universities are also essential to attract businesses interested in collaborating in the space sector. Many new companies are spin-outs from university departments — several space start-ups have been founded by students in Scotland during their courses. 
However, while many satellites are currently produced by universities in the US, Clark would like to see a similar increase in Scotland. The launch capabilities Scotland is developing will bring this a step closer.   
"I think it's a great model. There are things we're doing in Scotland to encourage more universities to build satellites," he says. "Now that we'll have launch capability in the next year or two, we should have satellite building competitions for universities every year – and the prize is you get to launch it into space. That would be great for the sector – promoting skills and talent while getting more people engaged."
Recent graduates will find plenty of opportunities in the local job market, too, with 170 data science companies based in Edinburgh alone, and more than 130 space organisations and 83 aerospace companies across Scotland.
With its spaceports in development, universities producing world-class research and talent, and a network of companies that can capture and interpret space data, Scotland is uniquely positioned to be at the frontier of the space economy.
"We have come such a long way, and it shows you how vibrant, energetic and ambitious the sector is," adds Clark. "That's what's really exciting for me."
Get the latest updates from Scotland
Want to talk?
If you have any questions or want to talk with one of our advisers, we're always ready to help.
You might also be interested in
Space tech companies in Scotland

Looking to use space data to create innovative solutions? Scottish space tech companies have the capabilities, facilities and expertise to help you succeed.

Why Mangata chose Scotland for its new space engineering hub

Find out why global telecommunications firm Mangata has chosen Scotland for its research and development facility.

Manufacturing next-gen satellite systems in Edinburgh

Learn how Celestia UK's new technology will reshape satellite communications, and why Scotland is an ideal location to develop it.