St James quarter redefines retail-led mixed-use regeneration in the UK
11 Mar 2020 • 4 minute read
Edinburgh's St James Quarter will completely redefine retail-led mixed-use regeneration in the UK.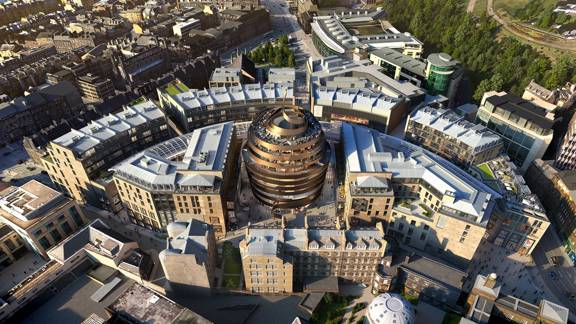 Edinburgh's St James Quarter will completely redefine retail-led mixed-use regeneration in the UK through the scale, innovation and quality of its offer. It will reposition Edinburgh as one of the most exciting, forward thinking and sought-after destinations for retail and leisure operators in Europe.
The £1 billion scheme comprises 850,000 square feet of retail space, the UK's second ever W Hotel, 152 unique apartments, 30 restaurants, a Roomzzz aparthotel and the city's first Everyman cinema.
The scheme also includes 1,600 off-street parking spaces, with a further 1,000 spaces located at the nearby Omni Centre. Seventy five per cent of city centre off-street parking is within a two minute walk
Building the future, sustainably
With a world-leading team of designers and consultants, Edinburgh's St James Quarter is building in optimum energy efficiency and reducing embodied carbon from the start, to deliver a scheme that meets and exceeds international sustainability standards and best practice.
It uses real data from existing projects to inform best-in-class design. An energy centre and a District Heating scheme that will provide hot water and heat to surrounding dwellings and neighbourhoods, is enhancing St James Quarter's sustainability credentials.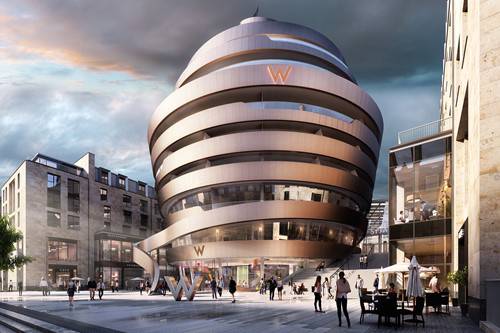 People and skills
The launch of FUSE opens in a new window  at St James Quarter marked the beginning of a citywide retail and hospitality skills academy.
FUSE is the brand which has been created for the retail and hospitality skills academy being delivered by St James Quarter, the 1.7 million sq ft mixed-use, city centre development in the heart of Edinburgh.
FUSE is being delivered as part of the Growth Accelerator Model (GAM) agreement between St James Quarter, the City of Edinburgh Council and the Scottish Government.
The initiative has been established to help drive a world-class customer care experience in Edinburgh. It will help promote the value and appeal of careers in the retail and hospitality sector, both in the city and internationally, by providing support, best practice and training to all.
The academy will work closely with employers at St James Quarter, as well as skills agencies and employers across Edinburgh and the wider industry, to understand and meet recruitment and skills needs.
The facility will seek to meet the needs of employers, both in Edinburgh and across the global retail and leisure industry as a whole, by providing high quality training for potential future employees.
Community engagement
In readiness for the completion of St James Quarter in 2021, FUSE started engagement activity back in 2020, with schools, colleges and universities across Edinburgh, alongside recruitment and skills agencies, to promote the new venture and provide a pathway for future employment.
Sustainable construction
St James Quarter includes over 15,000 tonnes of steel making up some 33,000 individual pieces which have been all designed and fabricated just 45 minutes away from the project by BHC in Carnwath, South Lanarkshire.
Since the acquisition of the site in 2006, the St James Quarter team has worked to engage with local people, community and business groups and other stakeholders to deliver a scheme, which is truly beneficial to the whole city.
A genuine product of city-wide input, St James Quarter will have a transformational impact on the local community in Edinburgh and the surrounding areas by creating a strong sense of place and identity, inspiring civic pride and fostering better integration.
From just over 3,800 people inducted on site since demolition began, 80% have been employed from the local area, ensuring that employment opportunities have been delivered for local people.
Upon completion, St James Quarter is anticipated to deliver over 3,000 new full time jobs in a variety of sectors, and up to 5000 construction jobs are being created during the build, further supporting the city's job market.
Over 800 students from different schools, colleges and universities have been engaged thus far through the project's curriculum engagement activities and work experience opportunities (including engineering, sustainability, digital engineering and construction activities). 15 Design Engineer Construct lessons have been supported at Drummond Community High School by members of the development team, from architects to digital engineers and landscape architects to building services engineers.[1]
[1] Updated quarterly by LOR
A home for top brands
Four Inditex brands have signed to prime locations at the development. Zara will open a 37,000 sq ft store over three floors at St James Quarter, while Bershka, Stradivarius and Pull&Bear will take stores located within the main multilevel shopping galleria.
The brands will join an exclusive line-up of shops, restaurants and leisure outlets at St James Quarter, which already boasts a flagship John Lewis and Next.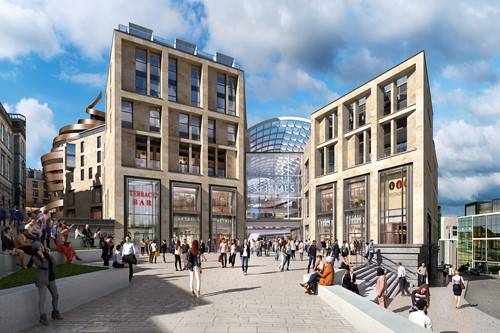 You might also be interested in
Capital investment

Learn more about Scotland's commercial property opportunities, our low carbon ambitions and how we support investors.

Infrastructure and connectivity

Scotland has excellent transport links to the the UK, Europe and the rest of the world, as well offering a first-class digital infrastructure.

People, skills and recruitment

From traditional industries to the latest in digital and tech, Scotland's people have the skills you need. Find out how we could help your business.
Find out more
Want to learn more about UK commercial property and investment opportunities?