DSM invests £100 million in Scotland facility to cut methane output from cattle
10 Nov 2021 • 4 minute read
The Dutch health science firm's ground-breaking feed additive can cut methane emissions from cattle by at least 30%.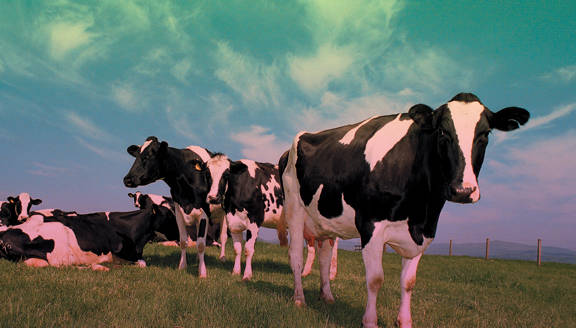 A ground-breaking cattle feed additive developed by Royal DSM that cuts methane emissions from cattle by at least 30% will be globally manufactured in Scotland.
Long-term strategic investment in Scotland 
Dutch multinational Royal DSM has unveiled plans for a large-scale production facility at its site in Dalry, North Ayrshire to manufacture its new product Bovaer®, a methane reducing feed additive for cattle.
This £100 million plus project is a long-term strategic investment for Royal DSM into improving sustainability.
Royal DSM made the announcement following a meeting with Scotland's First Minister Nicola Sturgeon at the global climate change summit, COP26 in Glasgow.
Scottish Enterprise, Scotland's national economic development agency, is supporting the project with a £10 million funding package. This deal will safeguard around 300 existing jobs and create between 100 and 150 new construction roles across two years.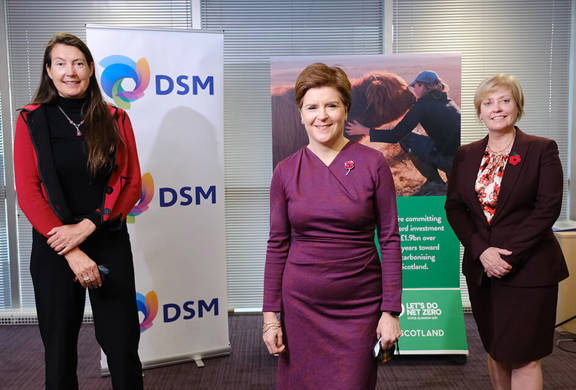 Reducing methane gas emissions is vital for tackling climate change in the short-term, a major UN report opens in a new window says.
Co-CEOs of Royal DSM, Geraldine Matchett and Dimitri de Vreeze said:
"We are pleased the Scottish government is supporting the buildup of our production capacity of Bovaer® in Scotland, particularly within the context of COP26, where the importance of fast climate action through reduction of methane emissions is emphasized again.
"We are looking forward to offer a scientifically proven effective solution to the challenge of methane emissions by farming.
"As food systems and climate crisis are intrinsically linked, addressing the challenge of sustainable animal farming for a healthy planet is pivotal."
Agritech research and development
DSM has been researching and developing its cattle feed additive for more than 10 years. Results show that just a quarter teaspoon of Bovaer® per cow per day consistently reduces burped methane emission by approximately 30% for dairy cows – enabling a 10 to 12% reduction in greenhouse gas emissions per kilo of milk.
An even higher percentage (up to 90%) reduction in methane emissions is reported for beef cows. The feed additive Bovaer® therefore contributes to a significant and immediate reduction of the environmental footprint of meat, milk and dairy products.
Scientists agree that reducing methane emissions is an important lever to reach the Paris Agreement target of limiting global temperature rise to 1.5 degrees Celsius, especially since methane's warming effect is shorter lived and much more potent than carbon dioxide.
DSM has made a commitment to enable "double-digit on-farm reduction of livestock emissions by 2030". DSM can help make a sizeable reduction in emissions from farms by changing the feed that animals eat every day.
Sustainable food production
Scotland has set an ambition to be among the lowest carbon and most efficient food producers in the world by 2032. We're on track. Scotland has also opted out of the production of genetically modified (GM) crops to preserve the clean, green environment that supports our food and drink sector.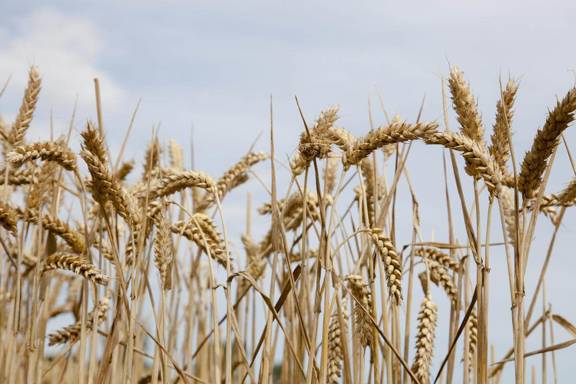 With DSM's breakthrough technology right on our doorstep, the Scottish farming community will benefit in lowering its carbon footprint. It will also reinforce Scotland's credentials as the place for sustainable food production and delivery of a more sustainable export product to the global market.
New manufacturing facility fully operational by 2025
Work on the new plant at Dalry is underway and the site is set to be fully operational by 2025. The existing North Ayrshire site has been in place for more than 60 years and produces high quality micro-nutrients.
Scottish Enterprise's Managing Director, Linda Hanna added:
"Royal DSM's Project Bovaer® has the potential to be a game-changer for the world's net zero ambitions and I am delighted that Scotland was chosen as the ideal location for this project.
"Alongside our partners, Scottish Enterprise worked closely with Royal DSM to build a strong relationship and provide support to help it choose Dalry as the site for this global manufacturing opportunity."
You might also be interested in
Sustainable food production

When you combine our world-renowned natural produce with our flair for innovation and technology, you start to see why Scotland is the ideal location for your food and drink innovation project.

Vertical farming innovation

Got an appetite for real change? Scottish agritech business, IGS has developed innovative vertical farming technology to deliver organic, reliable and sustainable food production globally.

Data and farming

How one Scottish agritech business is harnessing technology, data and intelligence to help reduce the use of pesticides, reduce CO2 emissions and improve efficiency and yields.
Get trade and investment updates, news and insight from Scotland direct to your inbox.
Want to hear more about food innovation in Scotland?
Get in touch to find out why Scotland is the ideal location to grow a sustainable global business.