Aberdeen: a flourishing global tech hub in the race to net zero
21 Jul 2021 • 12 minute read
In the race to net zero, Aberdeen and north-east Scotland have a buzzing tech scene that extends beyond the energy industry.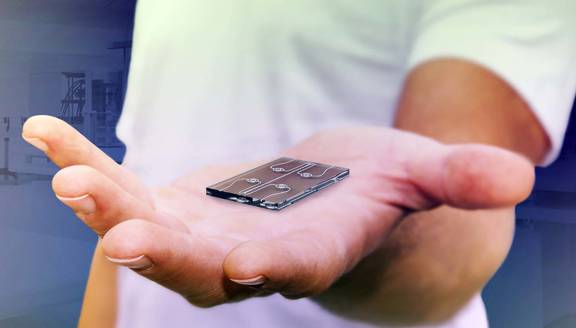 Written by Graham Hatton opens in a new window  
In the race towards net zero, Aberdeen and the north-east of Scotland have clear advantages. Graham Hatton, our inward investment team leader reveals a diverse and buzzing tech scene that extends beyond the energy industry.
Since North Sea oil first came ashore from BP's Forties Field in 1975, the region has established itself as a global centre of excellence in the energy industry. This legacy now underpins the north-east's ambition to lead the transition to a carbon neutral economy across Scotland, the UK and internationally.
Technology and innovation are driving this shift, and opening up new opportunities and markets for software and IT companies across the region.
"A huge development for us is the emergence of a distinctive tech cluster that we probably hadn't recognised before," says Michael Boniface, director of the Opportunity North East ONE Tech Hub opens in a new window , an incubator for startup and scale up tech businesses.
"These are companies that had their roots in the oil and gas supply chain and are now building on that industry sector experience. They're developing their own suite of products and addressing common problems across other industrial sectors. They have really big ambitions. And they're able to address international market challenges which stretch far beyond traditional oil and gas."
Transformational growth
ONE has ambitious plans to drive transformational growth across all of the north-east's key sectors, including food, drink, agriculture and fishing; life sciences; tourism and digital – as well as energy.
In the digital tech sector, for example, ONE's ambition is to grow 10 to 20 of the region's more than 200 digital companies to a turnover of around £20 million, and to have international operations by 2028.
Through its Business Growth Programme opens in a new window , ONE is mentoring high growth potential business leaders to develop their growth strategy and plan for the future with confidence.
The initial cohort of eight includes Solab IT Services opens in a new window , developer of a software platform that manages offshore crewing, training and certification, and Intelligent Plant opens in a new window , which uses real-time data to monitor and improve the performance and energy efficiency of equipment and processes.
Solab's software is now used in more than 50 countries and on more than 70% of the manned rigs in the UK Continental Shelf.
Intelligent Plant recently signed a deal to install its monitoring system on Orbital O2, the world's most powerful tidal turbine opens in a new window , which is being installed at the European Marine Energy Centre (EMEC) in Orkney.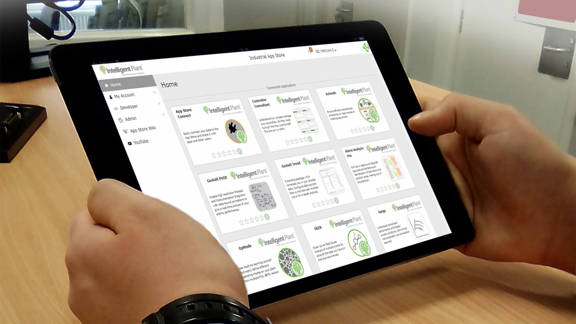 Evolving energy tech
Other companies in the region include Arnlea, which specialises in mobile software for tracking, inspection and maintenance in the oil and gas industry, and Imrandd, which designs integrity management solutions for energy industry assets.
There are several partners in EnergyTech opens in a new window , an initiative to bring together major players in the energy industry with emerging businesses to drive digital transformation and culture change. The initiative is delivered in partnership by ONE, Barclays Eagle Labs opens in a new window – a network of more than 20 incubators across the UK – and CodeBase opens in a new window , the UK's largest technology incubator.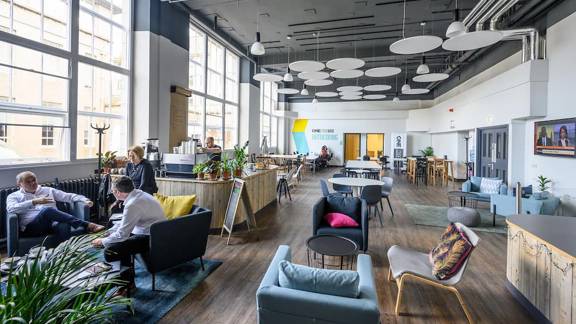 "The energy space is evolving at pace," CodeBase chief strategy officer Steven Drost said at the launch of EnergyTech last year. "New technologies, climate change and societal demands are shaping how we create, package and price energy – and digital is very much part of this mix."
North Sea know-how
For businesses used to the tough environment of the North Sea and its remote workforces, Covid-19 has brought challenges – but also opportunities.
For example, tech firm Xergy opens in a new window has raised around £3.5 million in funding, including more than £2.2 million over the last year, to develop its cloud-based work management system Proteus opens in a new window . The company has been awarded a £425,000 grant by Scottish Enterprise. The Scottish Enterprise funding will be used to add further innovations to the platform, creating new roles for software developers in Scotland.
Nigel Filer, chief operating officer at Xergy, said: "Coming hot on the heels of funding from the Scottish Enterprise Early Stage Growth Challenge Fund, this latest funding underlines their investment in our success and their confidence in Proteus to help digitally transform companies in Scotland."
This is a subscription-based software platform for those looking to manage projects, find, employ, remunerate, and rate the best talent, globally. It also reduces costs and boosts efficiency, for example by facilitating remote working and reducing the need for travel.
Founders James McCallum and Colin Manson initially built the platform to help the energy industry resource complex engineering projects efficiently and cost-effectively.
"But as we developed the product, it became clear it had the potential to transform any business operating model in any sector," Nigel said. "This is also creating opportunities for the growing number of people who want to, or are forced to, work flexibly and remotely."
For IT services company ISN Solutions opens in a new window , the move to remote working during the pandemic has led to significant new business.
"Some of the challenges that the corporate world now faces are similar to those historically experienced in the oil, gas and energy markets," said ISN Solutions managing director Scott Davidson. "Typically this has involved building and maintaining resilient and secure IT infrastructure to connect onshore and offshore environments and unifying remote workforces scattered across the country."
New wins for ISN include a significant contract with Vysus Group, the rebranded energy spin-off company from London's Lloyds Register. This has involved rolling out ISN's service to 600 remote users across 18 countries – a project that was completed in fewer than 90 days.
Innovation and ambition
Another tech company helping its clients cut costs, reduce their carbon footprint and increase efficiency is Aberdeen-based RAB-Microfluidics opens in a new window , which announced in January it had raised £1.24 million in a funding round.
Its 'lab on a chip' technology allows firms to monitor the condition of oil used in heavy machinery on location rather than having to transport it to laboratories.
"We deliver oil analysis more than 1000 times faster and around ten times cheaper than the current approach, which is based on sending oil samples to laboratories," said founder and chief executive Rotimi Alabi (pictured).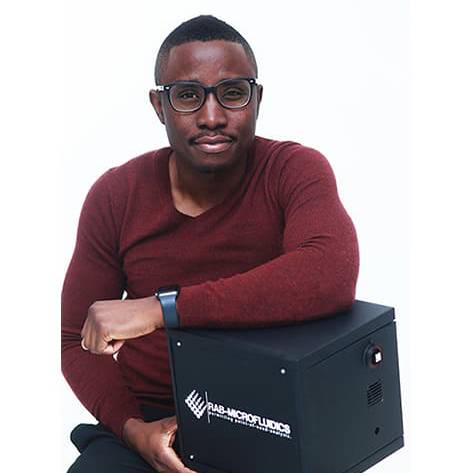 Aberdeen-based investors in the north-east's tech sector include business technology specialist Sword IT Solutions opens in a new window , part of Luxembourg-based Sword Group.
It works with more than 350 technical consultants in the UK, Europe, Asia-Pacific, and North America and is increasing its focus on the oil and gas, finance, public and renewables sectors.
"Despite the past 12 months being recognised as the most challenging in recent memory, Sword has created over 50 new roles in energy while protecting existing jobs," said Phil Brading, Sword's energy sector director. "Our goal is to create at least 200 more positions within energy in the next three years, with continued local investment in new talent and skills development."
World-class energy cluster
In its energy transition vision and prospectus, Aberdeen City Council points out that the city has the highest concentration of energy supply chain companies in the world and is home to around half of Scotland's energy sector jobs, with around 36,000 in total.
Pioneering partnerships
How can companies get access to support and money flowing into Aberdeen? What are the specific opportunities for companies?
Transformational projects include the Aberdeen Energy Transition Zone opens in a new window , a new hub for developing and deploying clean energy technologies including offshore wind, hydrogen and carbon capture.
It has received a total of £53 million in funding from the Scottish Government's Energy Transition Fund opens in a new window and from the UK Government.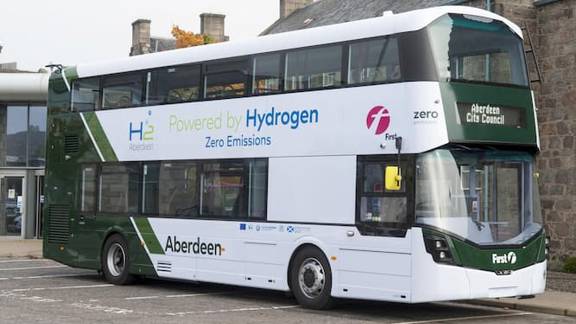 The Energy Transition Zone is predicted to create up to 12,500 jobs across the region and grow a new energy cluster around the UK's largest marine infrastructure project – the £350 million South Harbour expansion opens in a new window at Aberdeen Harbour.
Technology hubs for the energy sector include the £180 million Net Zero Technology Centre opens in a new window – set up in 2016 to help industry develop and deploy technology to accelerate the transition to an affordable net zero North Sea. It hosts the Net Zero Solution Centre opens in a new window , a £50 million centre aimed at making the UK North Sea the world's first decarbonised oil and gas region.
Aberdeenshire is home to the National Decommissioning Centre opens in a new window  at Newburgh in Ellon – a £38 million partnership between the OGTC Net Zero Technology Centre and the University of Aberdeen to position Scotland as the global research and development leader in the decommissioning of existing oil fields.
Aberdeen University also hosts the Centre for Energy Transition opens in a new window , where researchers are working with industry in areas including renewables generation, carbon capture and storage and the circular economy.
The rise of agritech, healthtech and quantum tech
At Opportunity North East, Michael Boniface points out that digital and tech firms are also growing fast in sectors other than energy.
"The two main areas where we've seen growth, especially amongst startups, is in agritech and health tech," he says. "Both sectors are growing very rapidly, with quite a pipeline of new, early-stage companies coming through."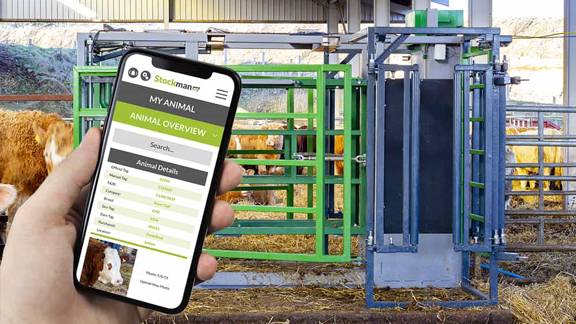 From herd management to vertical farms
Examples include Herd Advance opens in a new window , set up in 2018 by Aberdeenshire beef farmer Murdoch Duncan and agribusiness expert Jilly Grant. The company develops on-farm tech including real-time livestock monitoring to improve herd management and help the beef sector boost efficiency, reduce its carbon footprint and increase profitability.
Indoor agritech specialist Intelligent Growth Solutions opens in a new window (IGS) first opened its vertical farming demonstration facility at the James Hutton Institute in 2017, giving an insight in to vertical growing technology, which has since attracted global interest. In 2020, IGS completed a deal with Vertegrow opens in a new window to build Scotland's first commercial vertical farm in Aberdeenshire.
Graham Warren of Vertegrow commented: "Growing quality, nutritious food in North East Scotland will allow us to reduce food miles for our customers. Combined with our renewable energy sources and rainwater harvesting, the efficiency of the IGS system is a key part of our ambition to grow crops in a carbon neutral way."
Digital health and wellbeing
In health tech, Aberdeen-based LiberEat opens in a new window has developed a mobile app for people with special dietary requirements, while TL Tech Smart Home Solutions opens in a new window , based in Inverurie, Aberdeenshire, has developed a new voice-activated wellbeing service on the Amazon Alexa voice system.
A landmark health tech project being funded by Opportunity North East and the Scottish Government involves using artificial intelligence in hospitals to detect wrist and ankle fractures, freeing up radiologists to focus on more complex cases. The project includes teams at NHS Grampian, the University of Aberdeen and Canon Medical Research Europe.
Quantum computing
Researchers in Aberdeen University's Department of Chemistry were also recently awarded funding to 'push the boundaries' of quantum computing. This is a science that involves using the physics of subatomic particles to deliver immense processing power.
"If successful, this research could result in the design of new quantum technologies, such as advanced quantum computers and sensors. This would have major benefits in sectors such as healthcare, aerospace, transport, finance, and telecommunications," said Professor Abbie McLaughlin, one of the researchers leading the project.
Startup success
Aberdeen's Robert Gordon University (pictured) is also a hub of innovation and runs its own five-month programme to support and scale spin-out companies, called the RGU Innovation Accelerator. Since its launch in 2018, the programme has supported 46 businesses, with more than £1.4 million raised in investment and revenue.
One of the university's spinouts is Celerum, which is using artificial intelligence to help make logistics and supply chains more efficient.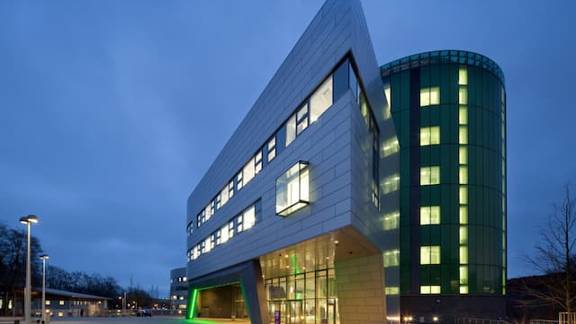 "Our software and artificial intelligence algorithms are based on natural processes and behaviours, an area of technology called nature-inspired computing," the company explains.
"Ant colonies, for example, are extremely effective at finding the best routes to food sources. We digitally mimic how they do so to solve human logistical problems, such as automatically redirecting lorries to the most efficient alternative routes in the event of accidents, traffic jams or other unforeseen circumstances."
Join Aberdeen's tech scene
My own role as team leader at Scottish Development International involves working with software and IT businesses looking to invest or develop operations in Scotland. We can help you identify investment opportunities, access funding, find premises and connect with potential partners. We also support recruitment and training, market intelligence and competitive insights.
Find out more about digital and technologies industries in Scotland
In the meantime, if you'd like to chat about specific support, contact me direct through LinkedIn.
You might also be interested in
Energy and low carbon industries

With the growing shift away from fossil fuels, Scotland can help companies to transition from non-renewable energy sources to more sustainable solutions.

Hydrogen energy future

Could hydrogen be key to Scotland achieving net zero? Scotland's hydrogen, energy and low carbon specialists Dave Holman and Meinolf Otto share their thoughts.

Scottish suppliers and partners

Scottish companies are leading the way in the development of new technologies that can be used to improve, evolve and expand existing solutions across industries such as health, energy, and space.
Get the latest updates from Scotland's digital and technology industries.
Need help?
Want to find opportunities in Scotland to grow your tech business? Get in touch to see how we can help.