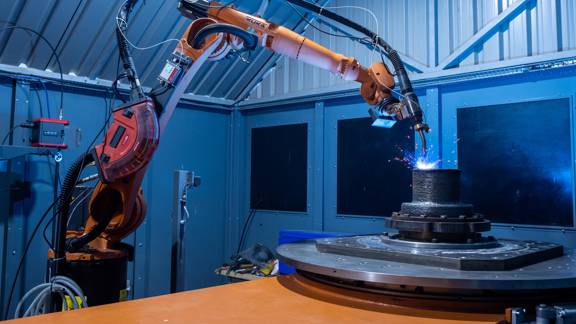 Scotland was the first country in the world to declare a climate change emergency, and now we're going greener, faster.
There are opportunities across offshore wind, hydrogen, green heat and the decarbonisation of industry and transport. Join us in changing the world one energy target at a time. 
Benefits of working in the energy transition
Career sustainability

The shift to low carbon heating could create up to 16,400 new jobs in green heat by 2030.

A growing sector

The low carbon and renewable heat sector generates an estimated annual turnover of £5.5 billion.

Ambitious targets

Scotland plans to supply 50% of the country's total energy from renewable sources by 2030. 
There are around 20,500 people employed in our low carbon and renewable energy sector, which is estimated to be worth £5.5 billion. This is a growth industry that needs new talent like you.
Your skills are in demand
50% of Scotland's total energy will be supplied by renewable sources by 2030.
To decarbonise our heat, transport, oil and gas industries, we need to ramp-up production of renewable energy and clean hydrogen in Scotland. This will mean better resources, increased funding and more jobs across renewable energy sectors, such as:
Offshore Wind
The UK's Offshore Wind Sector Deal will invest up to £250 million to build a stronger supply chain and deliver 50 gigawatts (GW) of offshore wind by 2030. 
Hydrogen
Scotland is set to become a world-leading hydrogen nation and major exporter. There are a number of pioneering projects in production and planning, including H100. This will be the world's first 100%-green hydrogen-to-home network. Help us to reach 25GW of clean hydrogen production by 2045.
Green Heat
Decarbonising Scotland's heat has strong government support, including £1.8 billon of funding to create 16,400 new jobs by 2030. The scale of green heat opportunity in Scotland is enormous, across heat pumps, heat networks, heat tech and energy efficiency. 
Offshore energy integration
Supported by the North Sea Transition Deal, there is £14-£16 billion in place to fund new technologies. There are also up to 40,000 new jobs in decarbonising oil and gas production, carbon capture and underground storage (CCUS) and hydrogen. There's also opportunity to combine new and established energy sector skills to push forward the transition to green energy.
If manufacturing is your area of expertise, we need your skills in specialisms from robotics and automation to low carbon energy and big data. Start your careers journey with the National Manufacturing Institute Scotland (NMIS) opens in a new window , an industry-led institution for ground-breaking manufacturing research to boost the capabilities of our workforce.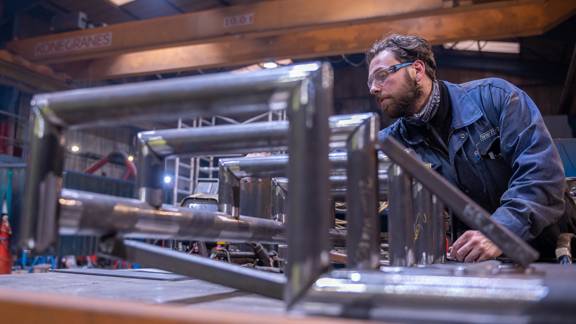 The energy transition at a glance
As a global energy hub, with offshore infrastructure and a robust supply chain, Scotland's low carbon economy is ready for big growth.
Find your place at the cutting-edge of the energy transition with trailblazing low carbon solutions, including Kincardine Offshore Floating Wind Farm opens in a new window . This is the world's first floating wind project to use 9.5 megawatts (MW) turbines.
You could work across projects as pioneering as ACORN opens in a new window , which is the world's first at-scale blue hydrogen production facility. You could also work on Whitelee Green Hydrogen opens in a new window , a ground-breaking project that will connect the UK's largest onshore wind farm to the UK's largest electrolyser.
If you're more interested in green heat, you may have heard of Queens Quay opens in a new window , a £250 million regeneration project in Clydebank. This will be home to Scotland's largest single-heat network. 
You can find out about opportunities from influential industry networks including Scottish Renewables opens in a new window , HeatSource opens in a new window , Global Underwater Hub opens in a new window , Scottish Hydrogen & Fuel Cell Association opens in a new window and NECCUS opens in a new window .
Advanced research and development
With a connected culture of academic excellence, research and innovation, including 19 world-class universities, you'll be a welcome addition to a strong ecosystem of pioneers and practitioners. 
Broaden your knowledge within the many centres of excellence and innovation, including: 
Start your career at the forefront of the energy transition in Scotland.
Quality of life
Scotland has lots to offer outside of work. 
 
Wherever you decide to work in Scotland, you'll discover welcoming communities, rich history and vibrant culture. 
Enjoy shorter commutes, world-class education, free healthcare, and plenty of green space on your doorstep. Building a career in Scotland comes at a lower cost of living than many other major locations. You'll benefit from flexibility for hybrid and remote working while being fully supported by reliable digital connectivity. 
As one of the best-connected places in Europe, Scotland has six airports with daily direct flights to 150 destinations worldwide. We also have fast and frequent rail links to all parts of the UK.