Thermo Fisher Scientific expands its manufacturing in Scotland
08 Oct 2020 • 3 minute read
Find out why Thermo Fisher Scientific expanded its manufacturing site in Perth, Scotland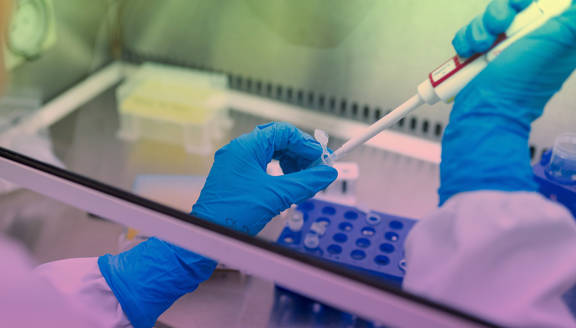 Vital solutions for better treatments
Given the significant demand for Covid-19 testing, Thermo Fisher Scientific will significantly ramp up its manufacturing capacity of its sample collection products at its site in Perth, Scotland - creating around 200 new full-time jobs.
The company's investment in added capacity and increased efficiencies will allow it to scale production to more than eight million filled tubes per week.
Sample collection products are vital for effective testing of individuals. Sterile media is dispensed into tubes that are used to safely collect and transport clinical specimens containing viruses. This ensures that the sample collected from a Covid-19 nose swab maintains its integrity while it is shipped to a lab for testing.
This news is the latest among Scotland's life sciences community mobilising and responding to the challenges arising from the Covid-19 environment - from drug discovery and manufacturing to researching potential Covid-19 treatments.
In support of the site expansion, Perth & Kinross Council helped the project through the planning and building warrant process, getting planning in place in record time.  
Thermo Fisher has also benefited from Scotland's supportive business environment for recruitment and skills development through our partners including Perth College UHI and Skills Development Scotland.
Scotland is already the most attractive location in the UK outside of London for foreign direct investment.
In November 2019, Thermo Fisher invested $24 million USD in its Inchinnan, Scotland site to expand global bioproduction capabilities with additional large-volume liquid manufacturing capacity for cell culture media.
Further expansion of its Inchinnan site was announced in Sept 2021 as part of $650 million USD investment in global bioprocessing capabilities across 11 manufacturing sites across North America, Europe and Asia.
Linda Hanna, managing director at Scottish Enterprise said:
"We've worked with the company for a number of years, initially with its Inchinnan manufacturing site expansion, and we're pleased to continue this support, alongside our partners, with its Perth expansion."
Thermo Fisher's announcement of further investment in its Perth site reinforces Scotland's position as a great place for life science companies to invest in and attract the right talent and skills to grow.
Ivan McKee, Scotland's business minister said:
"Thermo Fisher is a huge part of Scotland's life sciences industry and plays a key role in our response to the Covid-19 crisis supplying test kits, analysers and logistical support to the Lighthouse Lab in Glasgow, and NHS labs across the country.
"The planned expansion in Perth will help to meet future demand for testing supplies, and will support Scotland's economic growth by creating skilled jobs in the life sciences sector."
You might also be interested in
Scotland's diabetes research

Discover how the life sciences community in Scotland is helping the world manage diabetes.

Covid-19 testing response

How our thriving life sciences sector supported international efforts to develop innovative Covid-19 testing and supply chain solutions.

'World's first' assisted living lab

A new lab facility launching at the UK's National Robotarium in Edinburgh is set to revolutionise the way we deliver assisted living care in the community.
Ask our experts
Got a question about trade with or investment in Scotland? We're always ready to help.