Scotland's seafood sector draws global attention at Seafood Expo Global
25 Apr 2023 • 3 minute read
Find out more about how Scotland's seafood industry was represented at the event.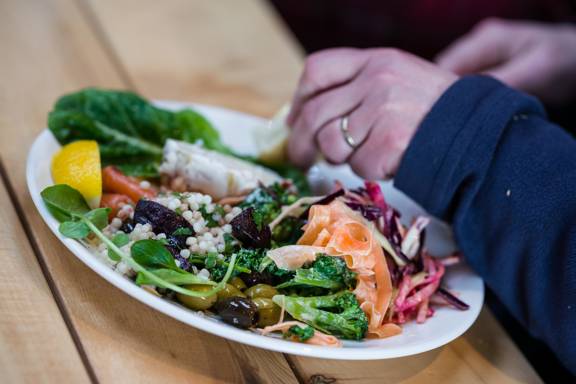 The world's biggest seafood trade exhibit saw international seafood companies gather to showcase their products and services, and Scotland took centre stage.
'Team Scotland', which was formed of companies, trade bodies and members of our global trade teams, represented the Scottish seafood sector in front of tens of thousands of industry professionals and buyers at Seafood Expo Global (SEG) in Barcelona in April.
Scotland at Seafood Expo Global
Almost 20 companies participated in the Scotland Pavilion at Seafood Expo Global, with another 10 Scottish seafood companies having their own stands at the trade fair.
Our evaluation of the 2022 Seafood Expo Global found that the Scottish companies attending the event identified more than 200 potential new customers, with 40% of the firms securing new business. In total, the Scottish companies have estimated increased international sales of £223 million through their attendance at SEG.
Scottish Government Cabinet Secretary for Rural Affairs, Land Reform and Islands Mairi Gougeon said: "The Seafood Expo Global [was] an excellent platform to promote our delicious, high-quality Scottish seafood for global exports to the 77 countries represented.
"We published our Strategy for Seafood in October as a key component of the Blue Economy Vision, which sets an ambition for Scotland to be a global leader in providing healthy, high-quality and sustainably produced and harvested 'blue foods' for consumption at home and abroad."
Read the Strategy for Seafood on the GOV.UK website  opens in a new window
Team Scotland showcased the best of the Scottish seafood sector
In attendance as part of Team Scotland was Salmon Scotland, which hosted a VIP networking reception in Barcelona to promote the premium products that Scottish Salmon offers consumers around the globe.
Tavish Scott, Chief Executive at Salmon Scotland, said: "Scottish salmon is Scotland and the UK's number one food export. Last year our member companies exported £578 million of premium Scottish salmon to 54 countries in Europe, North America and Asia.
"With demand for premium Scottish salmon stronger than ever, our event at Seafood Expo Global in Barcelona will bring together Scotland's salmon producers with top seafood buyers and suppliers. We are delighted that the Scottish and UK governments continue to champion the global success story that is Scottish salmon."
Visit the Salmon Scotland website  opens in a new window

Natalie Bell, Head of Trade Marketing for Seafood Scotland, added: "Seafood Scotland Expo is always a fantastic opportunity to showcase the wide array of premium and sustainable seafood available from Scotland to international markets.
"As the largest SEG yet, we [anticipate] another year full of high-level interest in Scottish seafood, and we'll be working hard to turn that interest into sales."
The biggest seafood trade event in the world
Seafood Expo Global is an annual three-day event where seafood professionals from more than 160 countries come to meet with existing suppliers, source new products and network with other industry professionals.
This year the event was be bigger than ever before, occupying 49,299 net square metres – making it approximately 20% larger than previous Seafood Expo Global fairs.
Learn more about the event on the Seafood Expo Global website  opens in a new window  
You might also be interested in
Singapore celebrates the delights of Scottish food and drink

Find out how the online Scotland Food and Drink Festival is creating demand for Scottish produce in South-East Asian markets.

Foodservice companies in Scotland

Discover the quality ingredients and food and drink innovation that make Scotland the number one supplier among foodservice customers.

IGS - Scottish vertical farming innovator goes global

Scottish agritech business Intelligent Growth Solutions (IGS) is taking vertical farming to new heights.
Get the latest updates from Scotland
Questions about trade with or investment in Scotland?
We're always ready to help. Send us an enquiry, or give us a call.