New report underlines Scotland's global wind FDI project potential
02 Mar 2023 • 3 minute read
Find out why Scotland is becoming a global destination for wind power projects.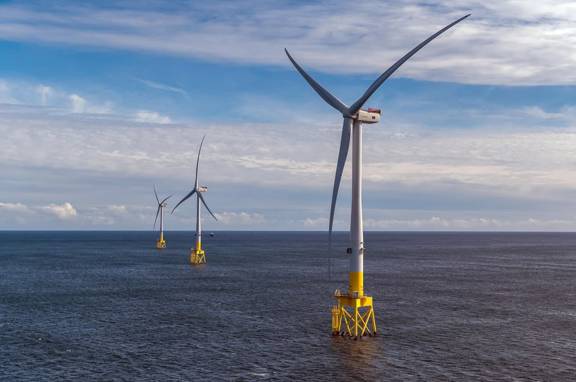 In 2022, Scotland attracted more foreign direct investment pledges than any other comparable market in the world, according to a new report published by fDi Intelligence, a specialist division of The Financial Times Ltd. Find out why Scotland is the destination of choice for wind projects.
Scotland is a natural choice for wind power investment. Known as the 'windbreak of Europe', it boasts incredible potential for offshore renewables. This, combined with decades of energy industry experience and world-class research and development facilities, has seen Scotland become a top destination for Foreign Direct Investment (FDI) into wind energy projects.
New figures from fDi Markets, a service from the Financial Times Ltd that provides a comprehensive online database of cross-border greenfield investments, show that foreign investors pledged $54.8 billion (including estimates) to wind electric power projects in Scotland in 2022 — over four times that of the second-placed Vietnamese province of Binh Thuan.
According to fDi Markets, the global total for wind power generation investment was $111.3 billion. This means that Scotland attracted almost half of the total global investment pledges, and more than the rest of the world combined.
These figures show Scotland's potential as a powerhouse for wind energy, and the global appetite for developing wind projects in Scotland.
Why Scotland is the place for wind power projects
Scotland has a unique combination of assets that make it a perfect location for wind energy projects. The most important of these is its unrivalled natural resources. Scotland has 12,000 kilometres of coastline and more than 790 islands perfectly positioned to take advantage of the natural energy contained in the big blusters that blow its way.
Scotland's rich history of innovation and engineering experience has seen it harness that power to deliver dozens of world-first projects for over two decades. From opening the very first open sea wave and tidal testing site in 2003 to developing the world's largest floating wind farm in 2017, Scotland has an incredible track record of using its innovative spirit and engineering prowess for world-leading energy projects.
Facilitating these projects is committed government support and world-class research and development facilities. Our connected infrastructure allows for strong academic and industry collaboration, meaning projects can benefit from diverse expertise and research.
This combination of capabilities has allowed Scotland to build an impressive project pipeline in offshore wind. The latest boost of investment will take this even further, helping Scotland shape a greener future for all.
Scotland's offshore wind projects and energy services
Scotland boasts some of the largest offshore wind projects in the world and, as of November 2022, already has 3.5GW of offshore wind already operational or under construction. This figure is predicted to grow massively over the next decade or so, as the 27GW pipeline of ScotWind projects enters into construction.

Helping to make these world-leading projects possible are several hundred energy supply chain businesses, world-class innovation facilities, and key test and demonstration assets such as the European Offshore Wind Deployment Centre opens in a new window .
Scotland's offshore wind leasing
As well as world-leading projects, Scotland has also recently concluded its first offshore wind leasing round in more than a decade via ScotWind leasing. This multi-billlion pound investment opportunity is set to be a major part of powering the transition to a net-zero future.
Companies at the cutting edge of offshore renewables have been invited to help build Scotland's new generation of offshore wind farms, with a potential capacity of more than 27GW over 20 new sites.
fDI Intelligence estimates that ScotWind will generate £50 billion of investment over and above the billions of pounds already in the pipeline of projects.
This means Scotland will be a world top ten offshore wind market, with a project pipeline in the order of 37.6GW. And with 14 of these sites set to deliver up to 18GW of floating wind, plus the potential for a further 4GW to 5GW in the new Innovation and Targeted Oil and Gas (INTOG) decarbonisation round, Scotland is now the largest floating offshore wind market in the world.
You can read more about this report opens in a new window on the fDI Intelligence website.
Scotland's additional renewables opportunities
Scotland's wind energy potential is just one facet of its wealth of renewable energy capabilities. As the first country to declare a climate emergency, Scotland is committed to facilitating the shift from non-renewable energy sources to sustainable solutions.
Scotland has opportunities across the breadth of renewable energies, particularly in:
Carbon capture
Energy storage
Hydrogen
Decarbonization of heat and transport