Film, TV and media tech in Scotland – power behind the pictures
14 Oct 2021 • 9 minute read
Graham Hatton shines a spotlight on the tech, software and IT skills at the heart of Scotland's film, TV and media scene.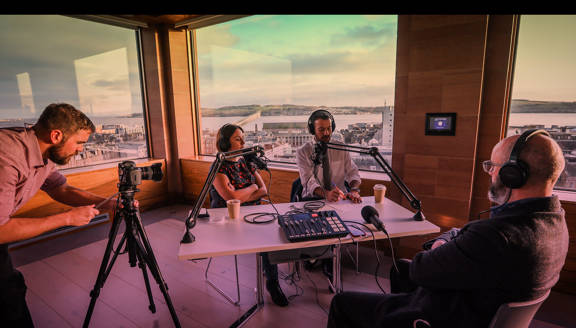 Scotland's breathtaking landscapes and urban spaces make it an ideal filming location. You may already know that movies including Indiana Jones 5, Fast and Furious, Good Omens, Avengers: Infinity War and upcoming superhero film The Flash have all been filmed here, alongside TV series such as The Rig and Outlander. But are you aware of the deep seam of technical, software and IT skills that make it all possible?
Written by Graham Hatton opens in a new window
Across film, TV, radio and news media, Scotland's expertise in the technology that delivers and manages content is impressive – and this cluster is growing. 
For example, Buckinghamshire-based film services company Digital Orchard opens in a new window opened its Scottish operation in 2017 while working on Outlaw King, the Netflix historical action drama about Robert the Bruce.  
The company supplies technicians and technical services to movie and TV sets and has worked on productions including the latest James Bond movie – No Time to Die – Rogue One: A Star Wars Story, Jason Bourne, Peaky Blinders, Succession and Game of Thrones.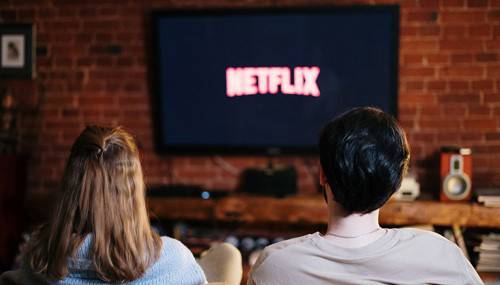 "We process all the material that's shot on set, at a facility or lab near the set," explains Digital Orchard founder and director Callum Just. "That means downloading it, adding some colour correction and then creating specific files ready for editors, the effects department or studio executives to watch."
The company's digital imaging technicians are an important link between the director of photography, who oversees capturing the look and feel of a film, and the technical elements – equipment and data.
Support for creative industries
New studios are being built in Scotland as demand grows from film and television productions. A new £11.9 million studio, backed by the Scottish Government and Glasgow City Council, is being created in Glasgow's Kelvin Hall opens in a new window .
And in Edinburgh, FirstStage Studios opens in a new window in Leith opened last year with £1 million funding support from Screen Scotland opens in a new window , the national partnership supporting Scotland's screen sector. FirstStage is the filming venue for two new Amazon Prime series – The Rig and Anansi Boys.
Scotland's studio spaces also include Wardpark Studios opens in a new window in Cumbernauld – the home of TV drama Outlander.
Specific initiatives to support creative and cultural businesses in Scotland include the Creative Digital Initiative opens in a new window , which was launched to help small and micro businesses in the sector develop their digital capabilities in response to the limitations imposed by Covid-19.
Animation and visual effects expertise
Scotland's reputation for creating blockbuster computer games like Rockstar's Grand Theft Auto has helped to grow animation and visual effects companies which now service top TV and film studios.
These include Glasgow-based Axis Studios opens in a new window , which creates animation and visual effects for film, television, games and theme parks.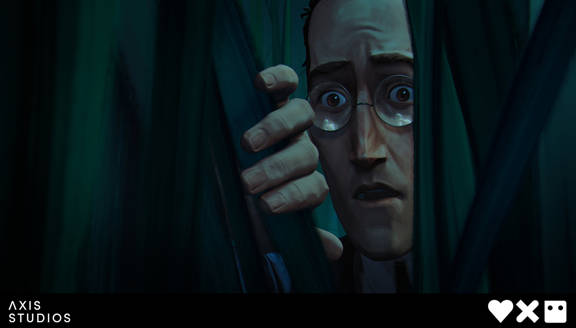 Its visual effects team has worked on productions including Sky Atlantic's Chernobyl, Sky One's A Discovery of Witches, HBO's Catherine The Great and Shaun The Sheep Movie 2: Farmageddon, the stop motion film by Bristol-based studio Aardman Animations.
Axis's animation credits include Nickelodeon series Lego City Adventures and the animated Netflix series Love, Death + Robots.
Underpinning this expertise are teams of specialist software and hardware engineers working in areas including research and development.
"Our R&D and Pipeline opens in a new window teams are software developers who create the software backbone of our production systems," explains Axis Studios chief executive and co-founder, Richard Scott. "This might include developing new systems and tools for our artists or researching next generation filmmaking techniques.
"We also have an IT team who provides our technical infrastructure in terms of hardware. Both support the creation of our content and the artists and animators who do the work."
Entertainment technology
Entertainment technology – using tech to enhance the entertainment experience – is another significant area of expertise in Scotland. In Edinburgh, Krotos opens in a new window has seen its sound design software used by Hollywood and top game titles including Stranger Things, Game of Thrones, The Lion King, Avengers, Captain Marvel and Star Trek.
"Content creators in film, TV, games and music can use our sound design software and libraries to create high quality audio for monsters, animals, robots, weapons, vehicles, footsteps and everyday sound effects – as well as unique sound effects," says founder and chief executive of Krotos, Orfeas Boteas.
"Ultimately we're helping them to be more creative – while speeding up the production and injecting more fun into the process."
New investment 
In the radio sector, media and entertainment group Global has just announced it is opening a technology hub in Glasgow, creating 30 jobs in engineering, data and product roles.
The business is Europe's largest radio company, and owns UK radio brands including Heart, Capital, Smooth, LBC and Classic FM.
"From leading technological institutions to dot coms, there is an outstanding digital skill set in Scotland," says David Henderson, Global's chief technology officer, "which we recognise as a fantastic opportunity to help us build the future of audio and pioneering ad tech.
"Global's digital transformation is happening at a colossal rate. The new Scotland Tech Hub will be instrumental in building the technologies that transform our industry."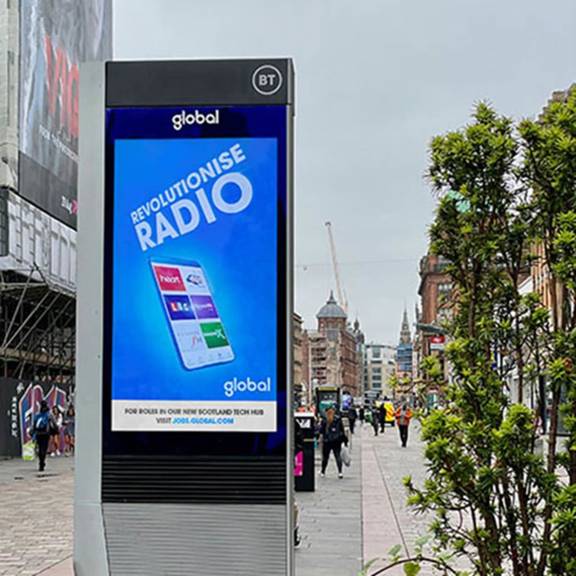 Breaking the news
In newsrooms across Scotland, software and IT tools are already transforming the way news is packaged and delivered.
"Using new digital tools and technology to enhance our storytelling is transforming how we connect with our communities across our news brands," says lan McCabe, head of product at DC Thomson Media opens in a new window .
The Dundee-based publisher has its roots in the early 19th century – but is now using tools and techniques including data mining, audio and video, 3D imaging software and livecasting – streaming live video online – to create and distribute content.
"In terms of digital content, we're developing new ways of storytelling," Ian says. "One of the best examples is our team of data content specialists who have been hugely successful in a short time, creating bespoke content and also training some of our mini publisher teams to use visualisation tools like Flourish."
Flourish is a software tool that allows publishers to turn data into high quality graphics and animated stories.
"Using data to help tell stories in an engaging way has now become part of everyday work in our newsrooms," Ian says.
Data-driven tech
The Data Lab opens in a new window was set up in 2014 as Scotland's innovation centre for data and artificial intelligence (AI) and has bases in Edinburgh, Glasgow, Aberdeen and Inverness. It helps businesses apply data science to real world challenges. Current projects include the BBC and the University of Glasgow partnership opens in a new window to develop next generation voice assistant technology.
From a global perspective, there's enormous pressure on the games and media industries to innovate through technology and data – arguably more than in any other sector.
Data is already driving a lot of decisions around the way media is created and consumed. Netflix is a prime example, with data-driven innovation impacting everything from the cover designs we see for each programme, to the original content they create.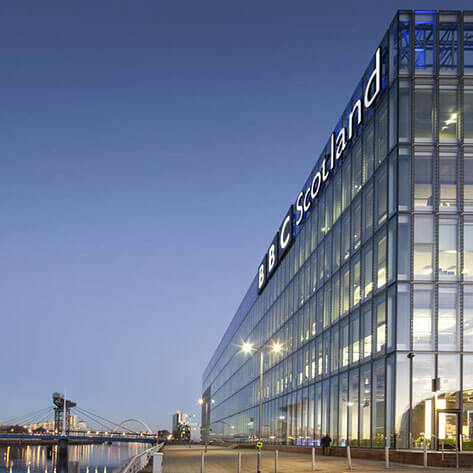 With so much TV content available these days, finding something to watch can be tough.
This is the challenge that Glasgow-based ThinkAnalytics opens in a new window helps solve for the world's largest studios, broadcasters, distributors and media platforms. Around 400 million TV viewers globally currently use the company's machine learning and AI technology to help them find something to watch.
Global reach
ThinkAnalytics is an advanced technology partner of Amazon Web Services – Amazon's cloud computing platform. It also has offices in Los Angeles, Singapore, London and Pune, India. The company works with more than 80 video service providers including media and telecoms group Liberty Global, the Latin American operation of pay TV network DirecTV, Indian satellite broadcaster Tata Sky and German telecoms and TV group, Deutsche Telekom.
The quality of IT and software graduates from Scottish universities like Glasgow, Strathclyde and Edinburgh has been critical to the company's development.
"You've got very high quality graduates here in IT and software development and other related technology, expertise and skills," says Peter Docherty, founder and chief technology officer of ThinkAnalytics.
Another Scottish company using data is TVSquared opens in a new window . The Edinburgh-based company helps advertisers understand the reach and performance of their TV campaigns, in real time.
More than 5,000 advertisers in 75 countries have used TVSquared's ADvantage platform to measure over one million TV campaigns that have reached 150 million homes globally. The company has offices in New York, Los Angeles, London, Munich and Sydney.
"Today, viewers consume content whenever, however and wherever they want. This has turned TV into a powerful converged channel for advertisers to reach and engage with diverse audiences," explains TVSquared founder and chief executive Calum Smeaton.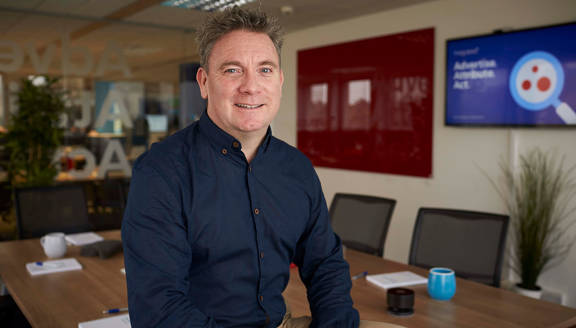 "TVSquared measures television the way people watch it – across time, platforms and devices. Our platform harnesses real-time data sources to help advertisers find, reach and engage with audiences. It also helps them optimise campaign performance against key performance indicators like online and offline sales, app activities, website visits and in-store traffic."
Join Scotland's digital media and creative industries community
My own role as team leader at Scottish Development International involves working with international software and IT businesses, including media technology companies, looking to invest or develop operations in Scotland. 
We can help you connect with potential partners and find premises. We also support recruitment and training, market intelligence and competitive insights. 
More about Scotland's games and creative industries
In the meantime, if you'd like to chat about specific support, contact me direct through LinkedIn.
You might also be interested in
Global launches Scotland tech hub

Glasgow is one of the UK's top three fastest-growing technology investment hubs, according to Tech Nation, making it the perfect fit for Global's future growth ambitions.

Software and IT opportunities

Setting up your software and IT business in Scotland gives you access to a dynamic and supportive ecosystem including the best tech talent and creative minds.

Meet Scotland's creative community

Scotland's buzzing creative industries is rich in talent driving innovation in areas such as animation, gaming, film, mobile, screen and digital content.
Want to know more about Scotland's tech scene?
We're here to help. Find out how your business could flourish here.