Global health and nutrition company DSM begins construction on large scale production facility for world-leading methane-reducing product
30 Nov 2022 • 3 minute read
DSM Royal start construction on a new, large-scale production facility in North Ayrshire.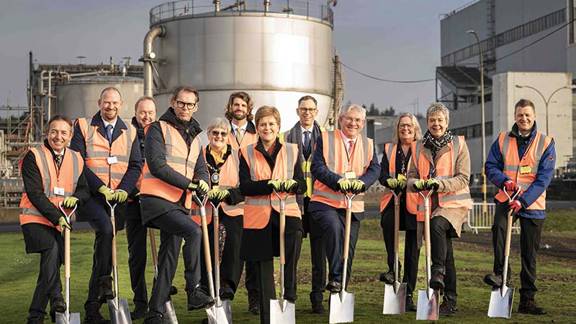 Scotland's First Minister Nicola Sturgeon has visited North Ayrshire on St Andrew's Day to break ground on the construction of a new plant at the DSM site in Dalry to support the production of world leading feed additive Bovaer®.
First Minister visit highlights project significance in Scotland
The project was first announced by Royal DSM and the First Minister during a meeting at COP26, the UN Climate Change conference in Glasgow in 2021. The First Minister's site visit today (30th November) marks the start of the construction phase of the project that will help DSM scale up production of Bovaer®. It marks another milestone in the Company's ambition to bring its methane-reducing feed additive to the market worldwide.
The project plan for the construction of the new plant has been supported by a £10m funding package from the Scottish Government's enterprise agency, Scottish Enterprise.
The £100m plus project is a long-term strategic investment by DSM to commence commercial production of the additive. Bovaer® is in the early commercialization phase in many countries around the world, including the EU/EEA, Argentina, Australia, Brazil, Chile, Pakistan, Switzerland, Turkey, and Uruguay.
Bovaer® enables farmers to consistently and conveniently achieve an average reduction in methane produced of 30% in dairy cows and 45% by beef cattle, with some tests demonstrating emission savings of up to 90%. Researchers have proven that feeding just a quarter of a teaspoon of Bovaer® to each cow once per day creates an immediate reduction in emissions, significantly reducing the environmental footprint of meat, milk and dairy products.
Since the start of the development of Bovaer® an estimate of 15,000 tons of CO2e has been saved, and reductions will accelerate further once the Dalry plant is fully operational, expected in 2025.
The new Bovaer® production facility in Dalry indicates DSM's long term commitment for a sustainable future of the site which today employs about 400 employees and over 150 contractors. The new facility will create additional employment for over 30 employees, as well as provide a significant boost to the local and national economy.
The existing North Ayrshire DSM production site has been in place for more than 60 years and is a world-leading production facility for high quality micro-nutrients.
Rt Hon Nicola Sturgeon MSP, First Minister of Scotland, said: "Just one year on from the announcement at COP26, I am very pleased to see the progress being made on site and the fact that spades are now in the ground.
"We are here today to celebrate a world-leading project and multi-million pound investment which will make Scotland the home of this innovative product, underlining that Scotland continues to lead the way in delivering a net zero future."
Dimitri de Vreeze, Co-CEO of DSM, commented: "After many years of hard work and dedication, it's a wonderful feeling to attend the groundbreaking ceremony for such a large-scale production facility. This is a historic moment for DSM: We are continuing to deliver on our 2030 methane pledge, one of our food systems commitments. I wish the construction team every success as they develop this plant in the coming years."
Scottish Enterprise's Chief Executive, Adrian Gillespie added: "Today's groundbreaking ceremony is a significant milestone and the next step in delivering such an innovative project for Ayrshire and Scotland.
"Royal DSM's Project Bovaer® has the potential to be a game-changer for emissions reductions from cattle. Scottish Enterprise has developed a close relationship with Royal DSM over many years and we were delighted to work with the company to secure Dalry as the home for this global manufacturing opportunity."
If you have any questions or want to talk with one of our advisers, we're ready to help.