Back
£9 million grant helps XLCC build a green energy future in Hunterston
13 Nov 2023 • 2 minute read
Scottish Enterprise has awarded XLCC £9 million to help develop its £1.4 billion Hunterston cable manufacturing facility.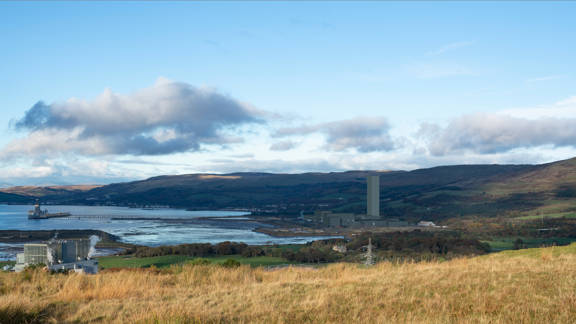 XLCC, an England-based high voltage direct current cable (HVDC) manufacturer, has been awarded a £9 million grant by Scottish Enterprise to support the development of its £1.4 billion cable manufacturing facility in Scotland. 
The UK's first HVDC factory will be built in Hunterston. When fully operational, the site will employ up to 900 high-skilled permanent workers, transforming the job market for the local community. It will also create wider investment opportunities for North Ayrshire, which is becoming a key hub for Scotland's net zero industry.
Scotland: an ideal choice for renewable energy businesses
Scotland is often identified as a perfect location for renewable energy projects. With unrivalled business support, world-leading net zero targets and massive renewable energy resources, more and more businesses like XLCC are choosing to set up and develop here.
HVDC cables enable efficient long-distance electricity transmission, which is perfect for connecting power grids via undersea connectors. They have a significant role to play in global electricity supply as countries look to boost energy security by identifying more renewable sources.
XLCC will produce HVDC cables that run deep under the sea in most cases, enabling power generation facilities to transfer renewable energy to end users. This means subsea cable technology can have a serious impact in reducing the environmental consequences of electricity generation and use around the world.
Recent industry projections indicate that subsea cable demand will outstrip supply by two and a half times in 2030. Some of the existing manufacturers have supply backlogs of nine years, presenting a bottleneck for the energy transition that XLCC can help resolve.
An investment in Scotland's renewable energy revolution
The grant to XLCC follows planning approval of the proposed site from North Ayrshire Council in May. 
The grant highlights not only Team Scotland's commitment to facilitating the green energy transition but also the desire of all partners to invest in the nation as it works towards its net zero transition goals. 
Neil Gray, Scottish Government Wellbeing Economy Secretary, said: "This milestone £1.4 billion project is a welcome vote of confidence in Scotland's renewable energy revolution. That is why Scottish Enterprise is supporting with £9 million to attract wider private sector investment.
"We are working with industry to deliver a net zero economy in which no one – not least our energy workforces and the communities they support – can be left behind. There are expected to be more jobs in energy production by 2050 than there are now so I hope this investment spurs on further progress.
 
"Our offshore renewables capabilities are accelerating more widely over the next five years, with up to £500 million additional Scottish Government investment and work progressing on our Green Industrial Strategy. This will help create thousands of sustainable jobs and can secure a just transition for our energy sector and a fairer, greener Scotland for everyone."
Councillor Marie Burns, Leader of North Ayrshire Council, said: "This is one of the largest ever investments in Scotland and the significance of this development cannot be overstated. It is incredibly exciting for the north coast, North Ayrshire and beyond.
"Not only is the development likely to create 900 full-time jobs and a range of training and apprenticeship opportunities, but it will also secure offshore renewable energy supplies for the entire country.
"As a Community Wealth Building Council, we are determined to grow our economy for the benefit of local communities and bring investment into the area and are delighted that XLCC has committed to growing their operation here, in Hunterston underlining our belief that Hunterston's unique location and connectivity is of national economic importance."
Get the latest updates from Scotland
Got a question?
We're always ready to help. Send us an enquiry, or give us a call.